60 FL project page 2
The flywheels and rods I have for this project have been kickin' around in my shop for about 4 decades. They came out of a '59FL that got a bore and stroke job. They actually have very few miles on them, and the cylinders off the '59 still had rough but stock bores in them. The heads also are in good shape and will only require a minor rebuild to get them cherry. I'm going to use all these '59 parts with this rebuilt '60FL case I have.
Let's Check Out These Flywheels...
Dug out my old Panhead shop service manual and took a look at the flywheel pages....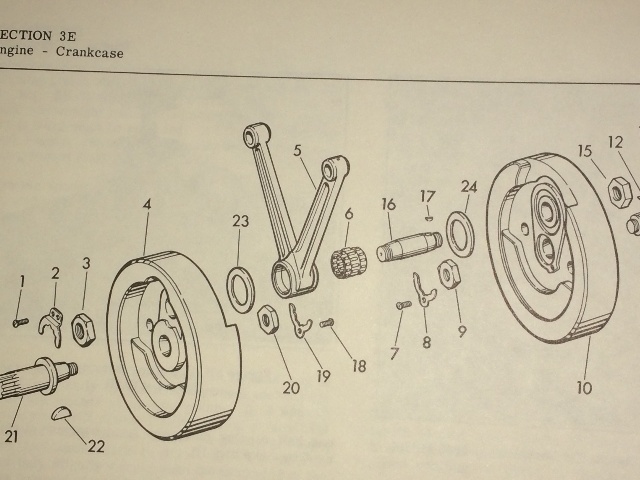 I've always been fascinated with the way the early motors were designed and put together, I'm sure these flywheels have never been apart....
These Old Pistons are Stock!!
First look at these pistons out of the motor, the wear pattern is straight up and down, indicating a good alignment on the flywheels, and straight rods. And the pistons are stock bore size, so lots of room for future rebuilds....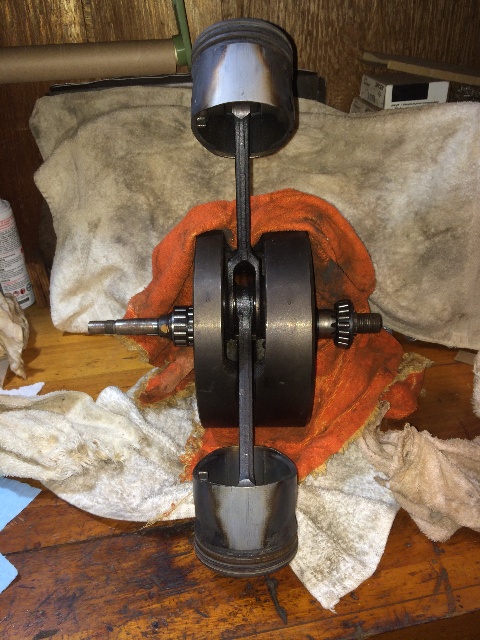 These '59 Flywheels are tough....
These '59 flywheels have not ever been apart, and have proven very difficult to split. The crank pin nuts are off, using wood wedges both sides, pounding the wedges in, even heated up the flywheel around the crankpin on the sprocket shaft side, no dice !!!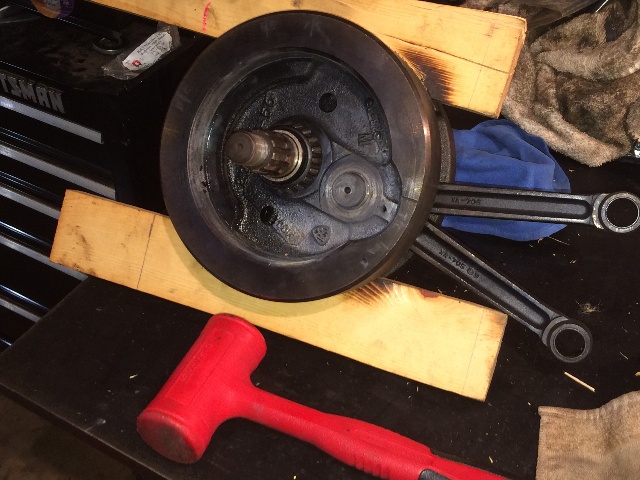 Needed a bigger hammer....
Got out the aluminum wedges, added one to the mix, and kept hammering on all three....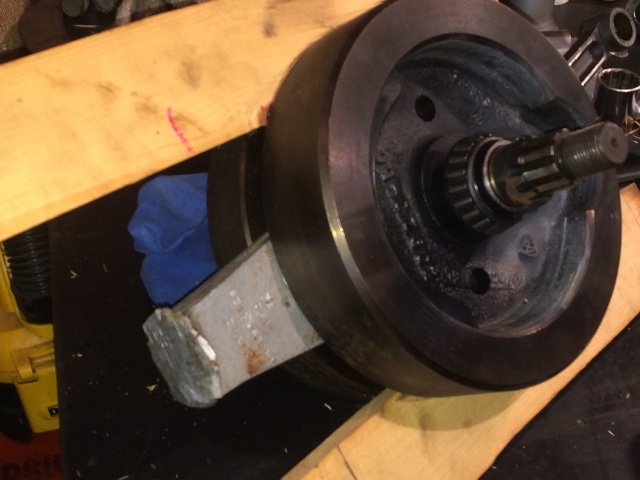 SUCCESS !!
After much pounding and profound language, it finally "popped" loose on the pinion side of the crank pin....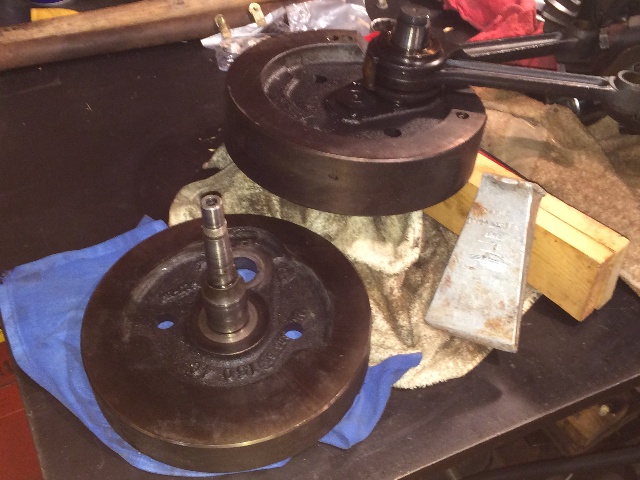 The Rods Look Good....
The wear pattern on the old pistons was straight up and down, and the rods look great, no wear obvious on the crank pin or the side washers in the flywheels....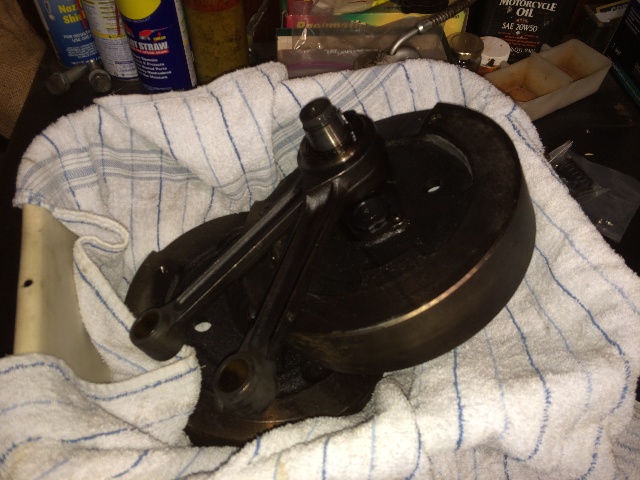 Rod Bearings Also Look Great....
The rod bearings look great, but a quick check with a mike and all the bearings are 0.1865', stock is 0.1875", so these rod bearings are 0.001" undersize? From the HD factory?? Never heard of that before....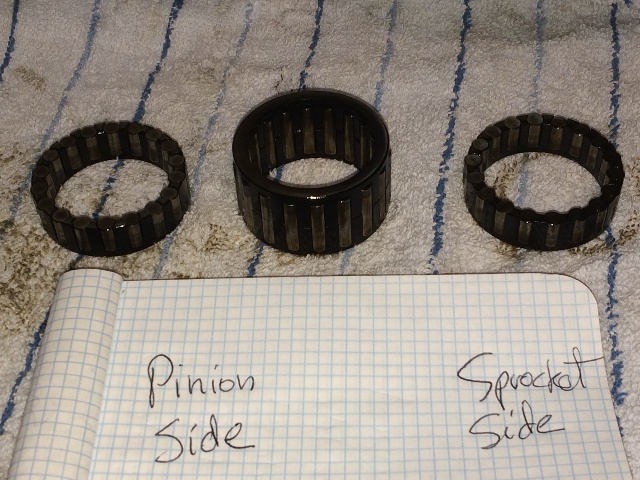 A Cherry '59 FL Crankpin....
This crankpin is perfect, can't see a thing wrong with it, it mikes out to a perfect stock size, 1.2490" everywhere I checked.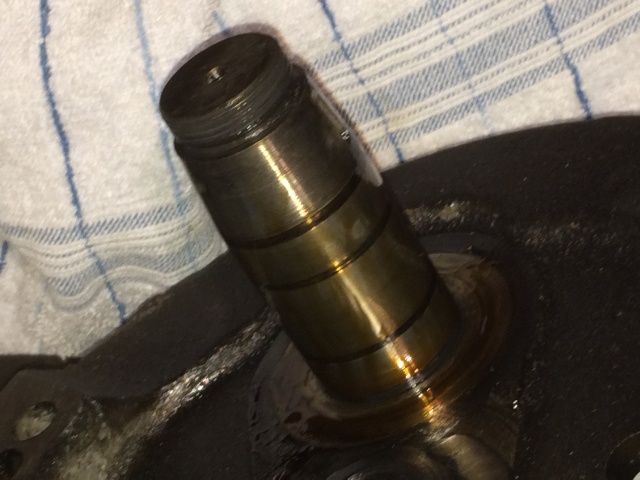 Rod Bushings Nice and Shiney...
The bearing races in the rods are nice and shiney, but are undersize for stock bearings, so they were obviously fitted to the 0.0010" undersize rollers that I removed. Never heard of that before! There is some wear though, side to side is 1.6240", about a half a thou over the max allowed for these smaller bearings (allowable spec is total fit of 0.0010" - 0.0017", and up and down mic'd at 1.6245" about a thou over. Starting with the pin at 1.2490", add the stock bearing in twice, so plus 0.1875" two times, then add the clearance of 0.0010", and I get a stock ID for the rods of 1.6250", instead of the 1.6230" for the undersize bearings. Since my rods are at 1.6240" - 1.6245", I can hone them to 1.6250", taking out the "out of round" condition, and sizing them for stock bearings. Did that, fitted the new bearings in, and ended up with a very nice, stock, fit!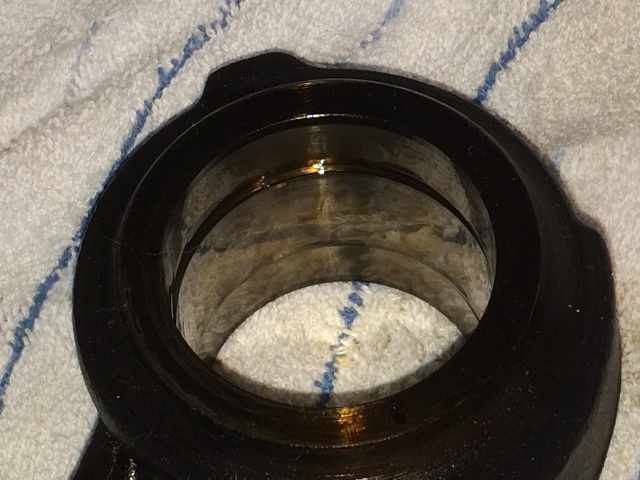 Got a good fit with stock bearings....
Honed the rod bushings to stock size, put stock bearings in, and they feel nice and solid. The numbers check out right on for a stock fit.
All Laid Out....
The new 'stock' rod bearings are in, the rods are reamed to size, all ready to go back together, after I get a new pinion shaft. Those are the old rod bearings there on the towel, they still look good, but are 0.001" undersize. Wonder if anyone would want them???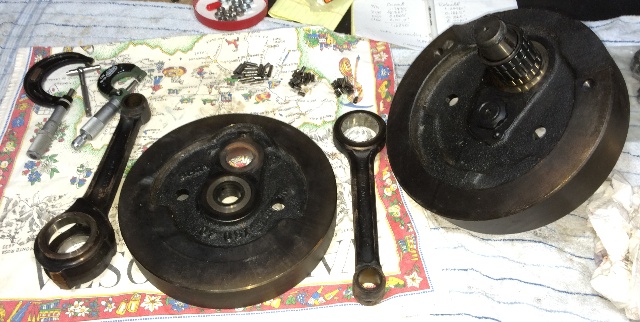 Side Washers ??
The FL's had side washers staked into recesses in the flywheels on each side of the crank pin. These can wear, and the rod sides can wear, there are new washers available in added thickness over stock to compensate for the rod wear. I should have measured this side to side clearance on these rods to see if they needed new wear washers or not, before splitting the flywheels, but I did forgot! Did a close inspection on both sides and they look great, no visible wear, using my fingernails, can not find any grooving or other problems with them, so am leaning toward leaving them alone and checking them after assembly, hoping I get lucky. Mic'd the female rod side to side, it checked out at 1.746" - 1.747", slightly oversize, stock is supposed to be 1.743" - 1.745" with 0.006" - 0.010" side clearance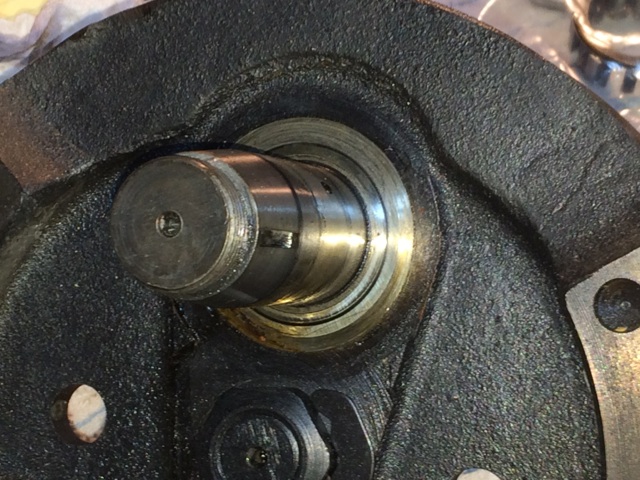 .
Let's Check The Side Play
Needed to try to find out where I was on side play with these new rod bearings, so assembled the flywheels, but did not torque down the crank pin nuts, just snugged them down firmly. The sprocket shaft side has not been apart, so think it is good to go, and the sprocket shaft itself is in great shape, am reusing it. As I found I was unable to get a feeler gage in between the rod and flywheel to check the side play, I set up a dial indicator to get a side play reading.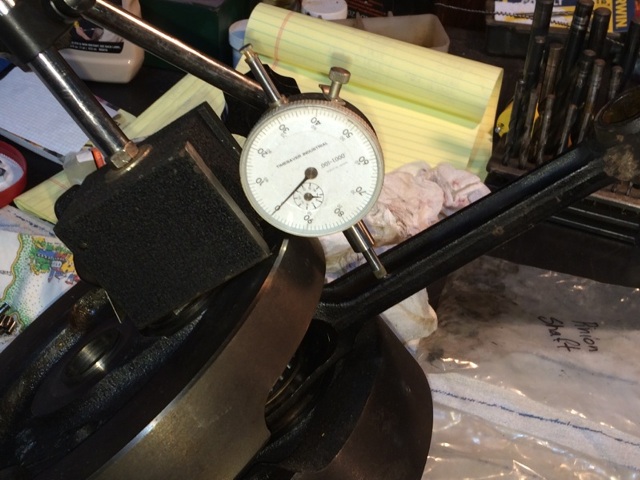 Got a Reading
Keeping the rod in one position, I checked the amount of side to side "tilt" in the female rod with the new bearings, I got a reading of 0.005" at a point on the side of the female rod, 3" out from the center of the crank pin. Then I slid the rod over to the other side of the crank pin, checked that I still got the same 0.005" of "tilt" in the rod bearings, and taking that out of the measurement, my total side to side clearance is 0.028". Allowable is 0.006" - 0.010", according to the book (HD Panhead service manual). However, the crank pin has not been torqued down on the pinion shaft side, that will close up the clearance a bit, how much? I don't know. The "word" around is that these Panhead setups will tolerate more than the spec'd max of 0.010". So I'm leaving it as is, and after aligning and torquing these flywheels, I'll check it again and see how it looks. I'm bettin' a couple of bloody mary's it'll be just dandy!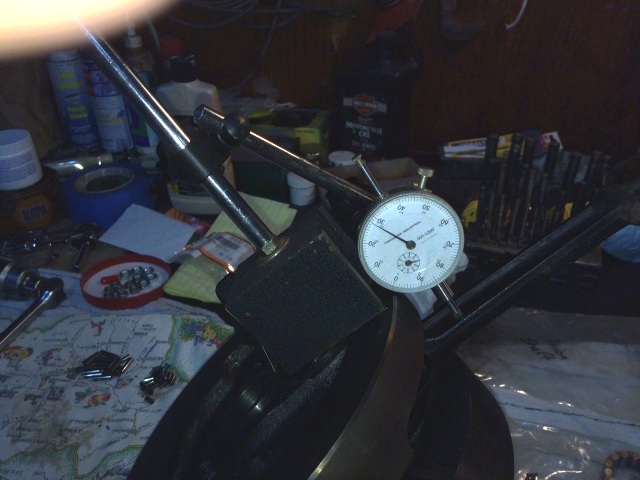 Pinion Shaft is Bad
The pinion shaft is galled, will need a new one....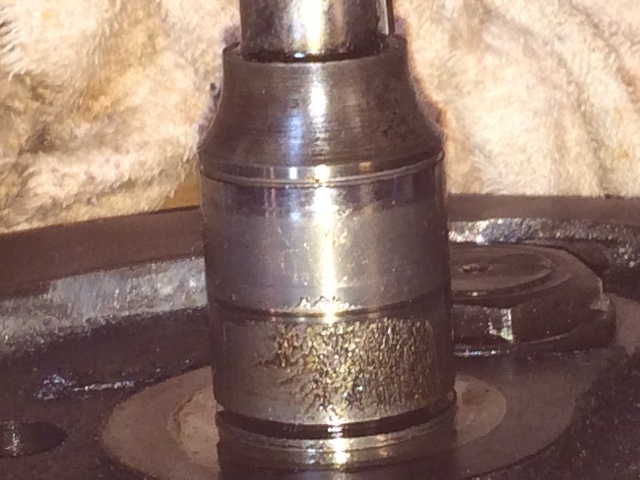 What Size Pinion to Get ?
Most of these old cases need to have the pinion bushing align lapped to the next oversize, and there are supposed to be combinations of oversized pinion shaft bearings to make it all fit. So needed to check these '60FL cases to see how the pinion side bushings looked....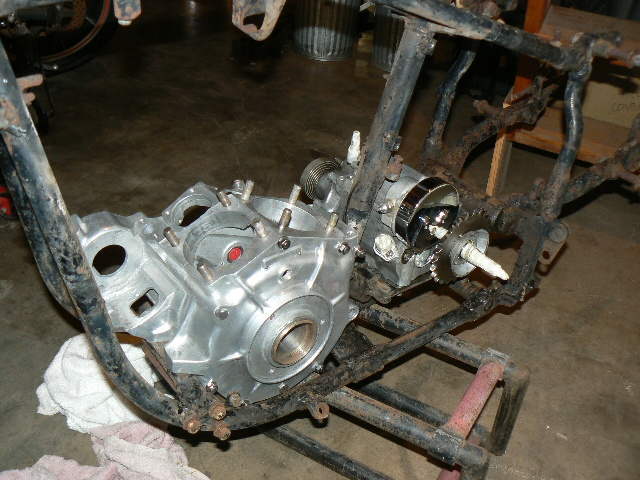 Well, How About That !!
I had forgotten that the previous owner had installed new bushings and had them align lapped to stock size, ending at 1.7511"....
I haven't checked out the numbers, but have ordered a new Jim's stock pinion shaft, and stock pinion shaft bearings. Should be good to go with that !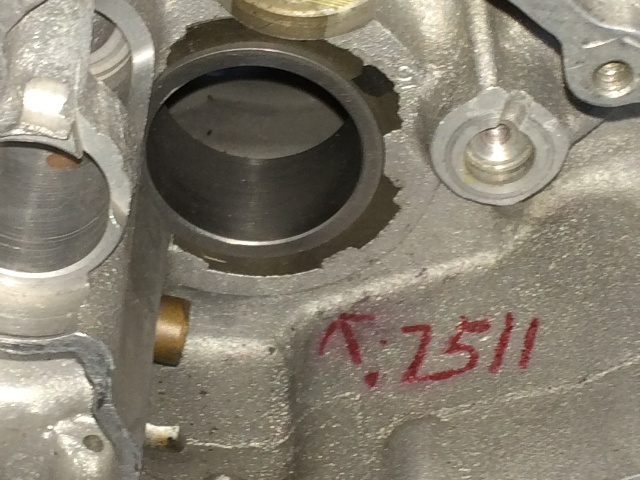 More Later
The new pinion shaft, bearings have been ordered.

A severe injury has slowed things down, but
I'll be back at it....
MORE LATER!