62 FL Chop Rebuild 2
Link Back to new '62 FL page 1 (collection of old pages)
Have had this '62 FL since the late 60's, rebuilt it into a chop in '68-'69.
Instead of cutting the neck, built a different style hardtail that dropped the rear
of the frame down to about 2" off the ground, and I fabbed my rear wheel mount
plate so that it was parallel to the ground. A bit weird, but it handled well....

This is an early assembly pic during the first build in '68, in Puunene, Maui: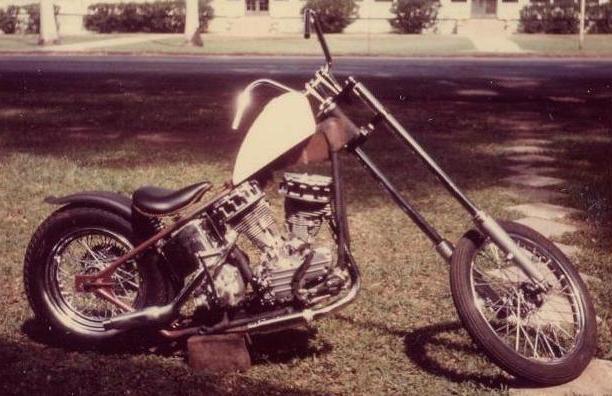 Had Denver's Cycles build a frame for me for this bike back some 30
years ago, stashed it in the shed, and finally pulled it out and proceeded to
pull parts off the original '62 chop job I did back in '68, and put them in
the Denver's frame.
First time 'out the door' with the 'new' Denver's frame....
Had to add tabs for the fuel tank (also new), seat, rear fender, footpegs, fork stops,
sissy bar, now it's time to pull it apart and try to cherry it out as much as I can
for the final assembly.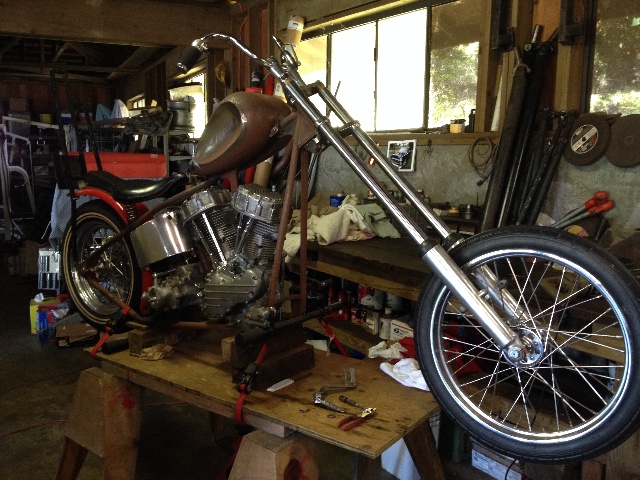 Pulled the motor out and will strip down the rest of the bike for paint and detail...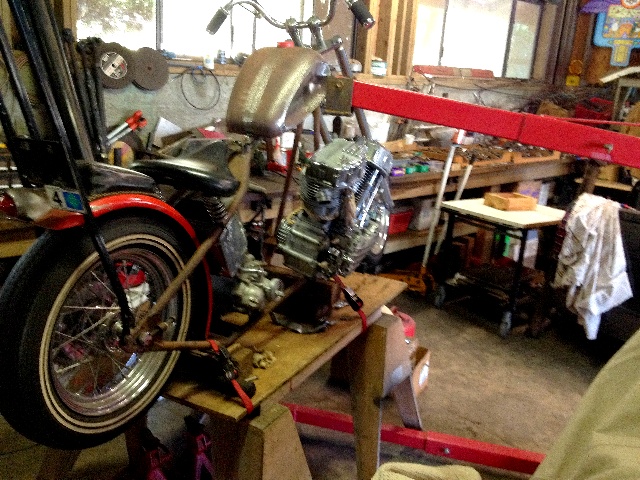 And to think I used to pick up these motors like they were nothing, can't do that anymore!!!

Never ran a front brake, probably don't need one now!
At age 73 I think I might put one on....

OH WAIT, I am 73, guess it's gonna get a front brake.
My front forks are narrowed, not a lot of room to fit one on there....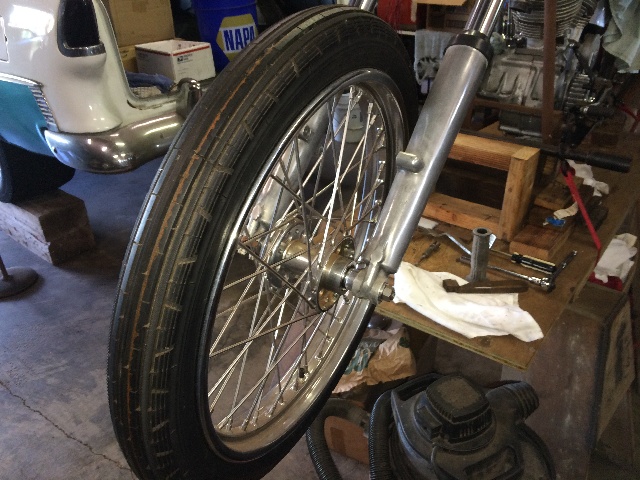 One inch available, and that's an old style star hub, it's gonna
need a custom hub adapter to mount the rotor on....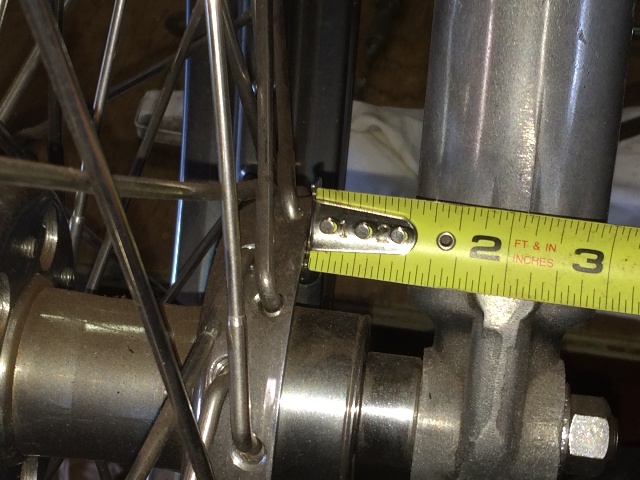 I have an '85 Suzuki Madura GV700GLF front end in the junk pile,
pulled it out and took a look, 10-3/4" rotor, and it can be cleaned up pretty easily....
And it's a dual disk, so I'll have a spare rotor....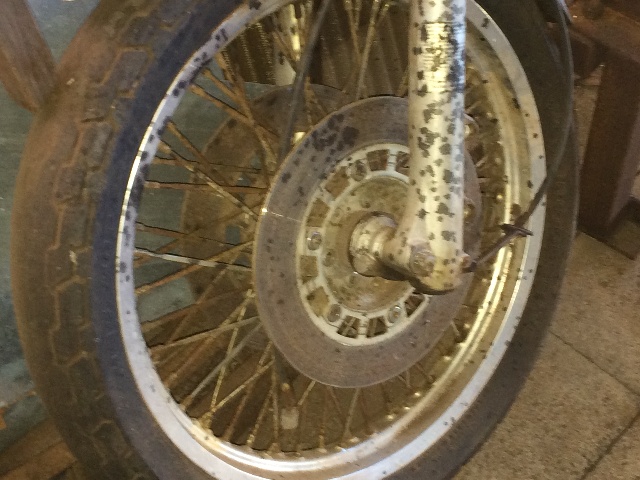 I had pulled the calipers off, they were balls of grease !!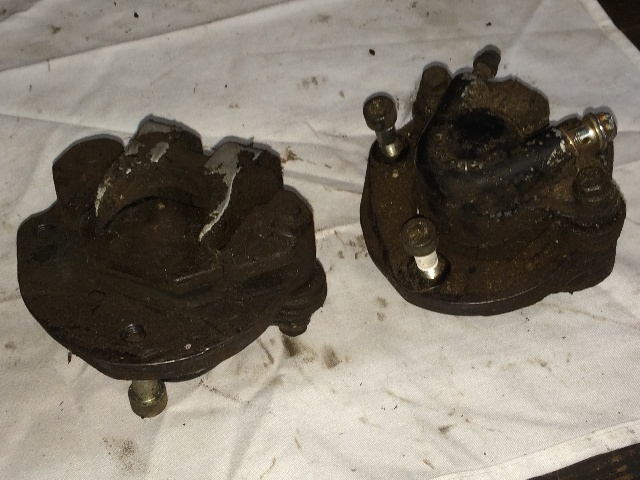 Took the left one, gave it a bath in the solvent tank, then pulled it apart and did some more cleaning...
The piston and bore are good. The pads look pretty good also.
Just need a rebuild kit, if I can successfully ID this caliper for the parts.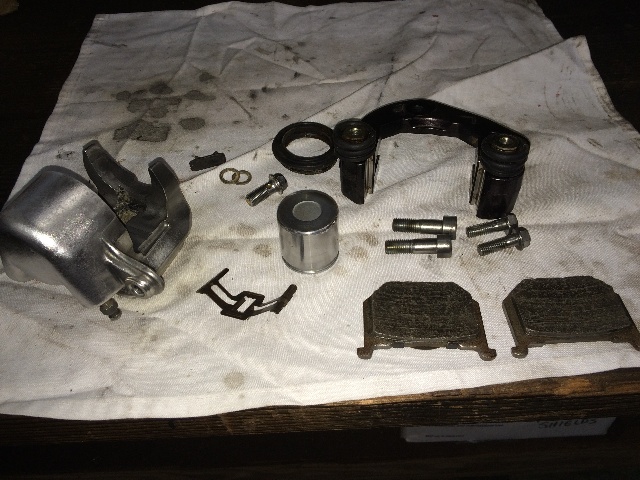 The caliper body cleaned up nicely. I removed the "Suzuki" name from it....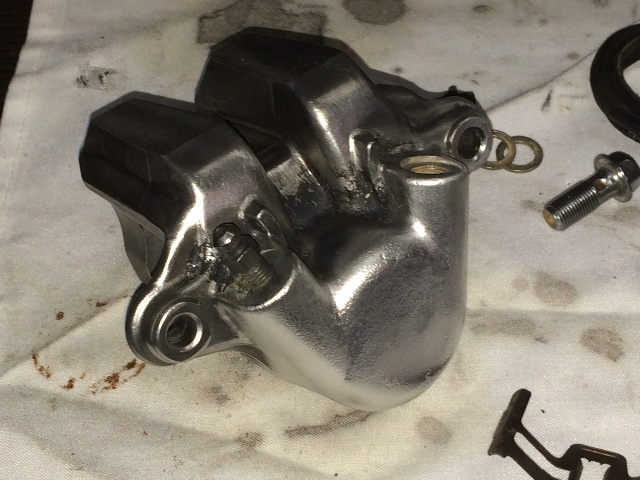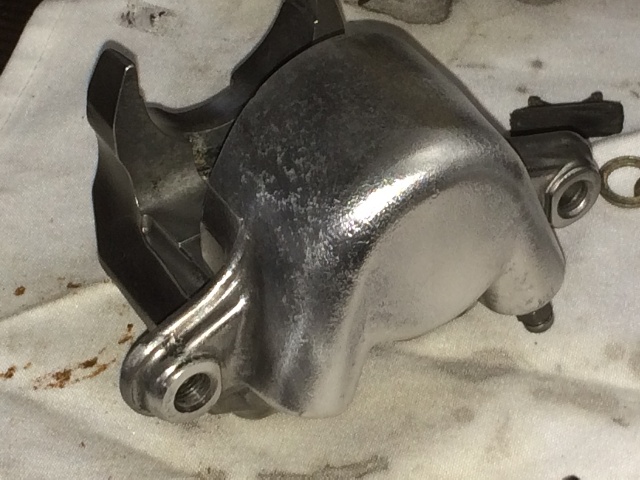 It will get a little more cleaning and polishing. Loaded in all the parts.
Now to find a rebuild kit for this caliper....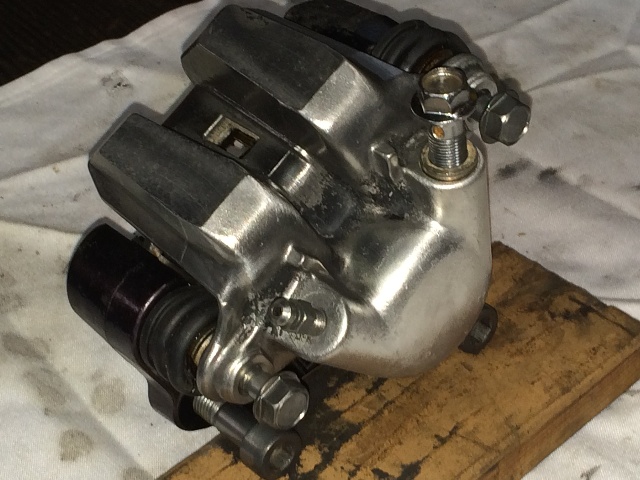 Decided to pull that wheel apart, check out the rotors and the Suzuki rotor mounts.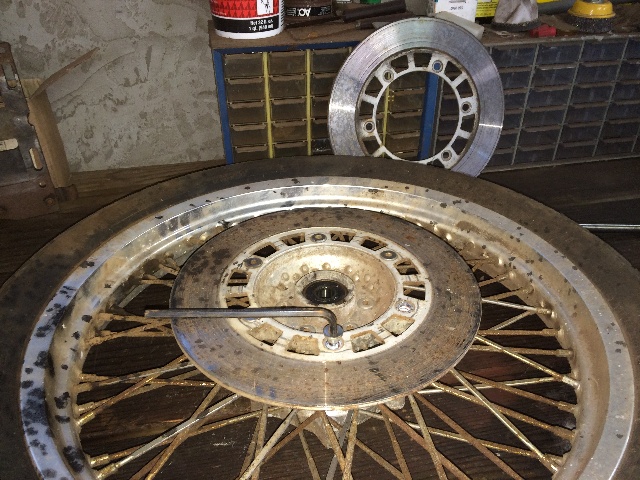 Locktite everywhere, probably could have heated it up a bit,
but this "cheater" worked ok, and I didn't bend the allen wrench!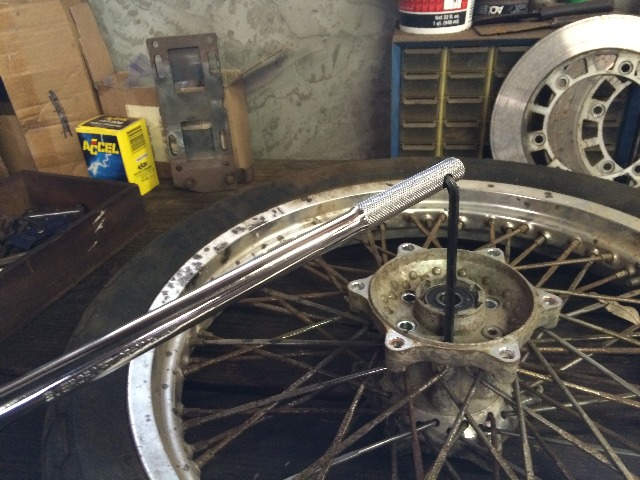 Used the "quick n dirty" method of removing the hub....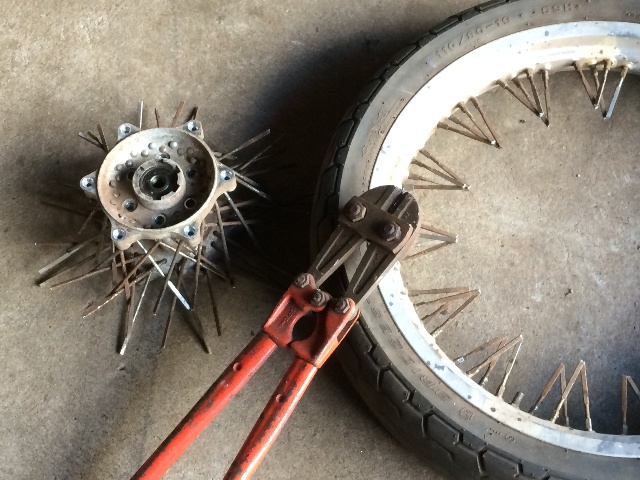 Other than needing a good cleaning, the parts all look good....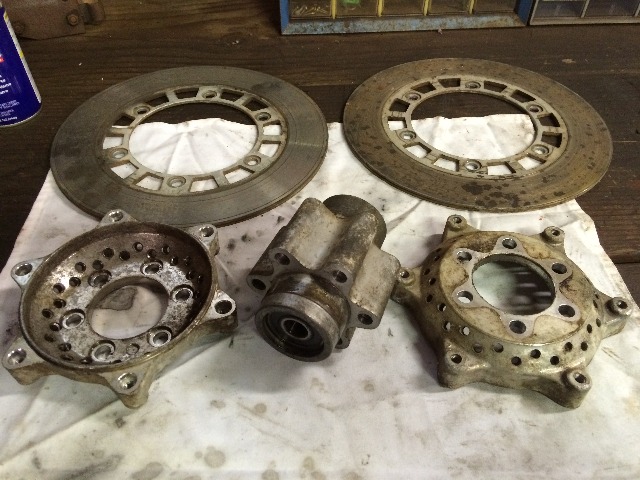 Got one set cleaned up a bit, just a soft wire wheel, but there's essentially no wear on this rotor....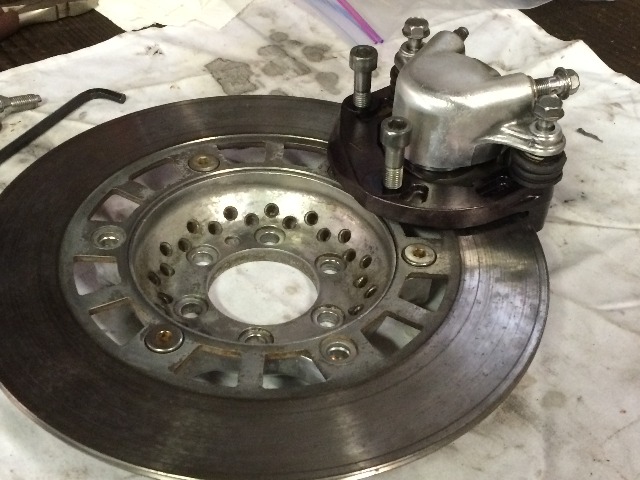 Just for kicks, set this setup on the wheel, the rotor carrier is too wide, but just wanted a good look at it...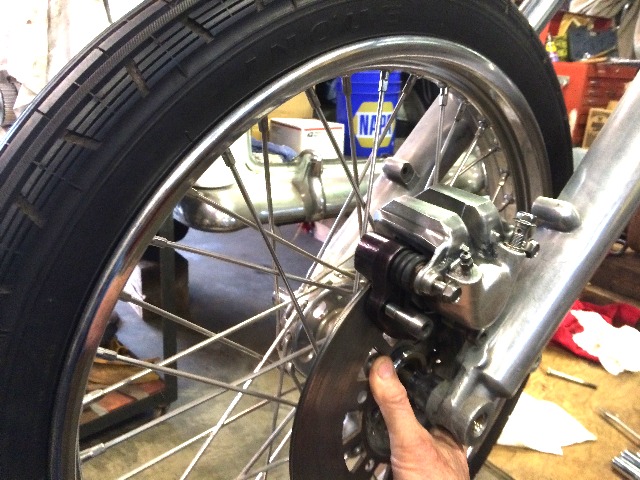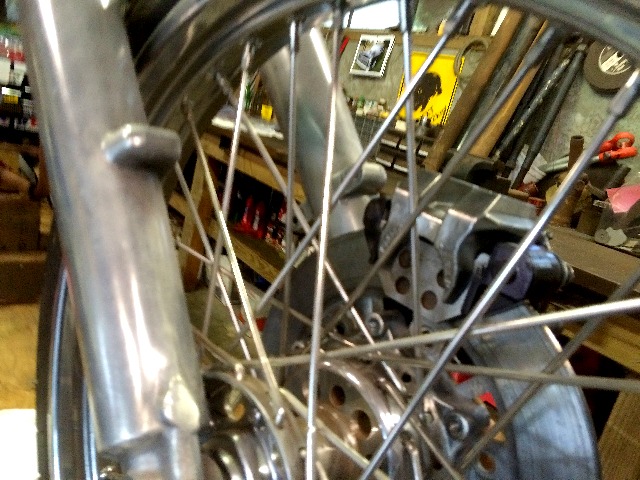 Now I need to design an adapter to fit that rotor, and my star hub, and fit correctly between the forks....
Here's the oem '62 hub and front brake, and the Suzuli 11" disk and carrier...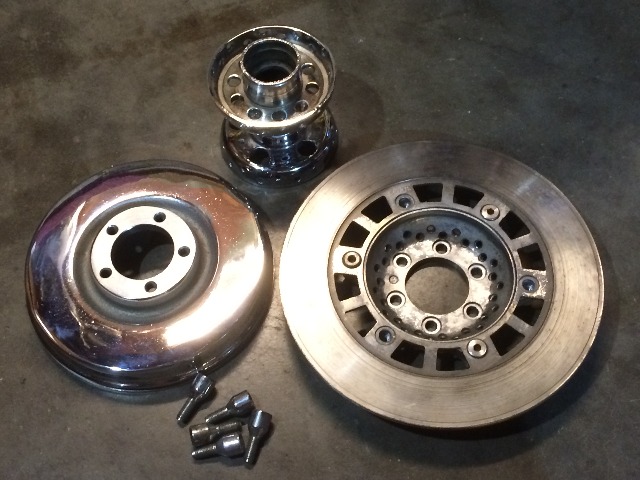 Just threw 'em together for a "look-see"...
That Suzuki carrier just might be modded to work, with the correct aluminum disk tigg'd in there....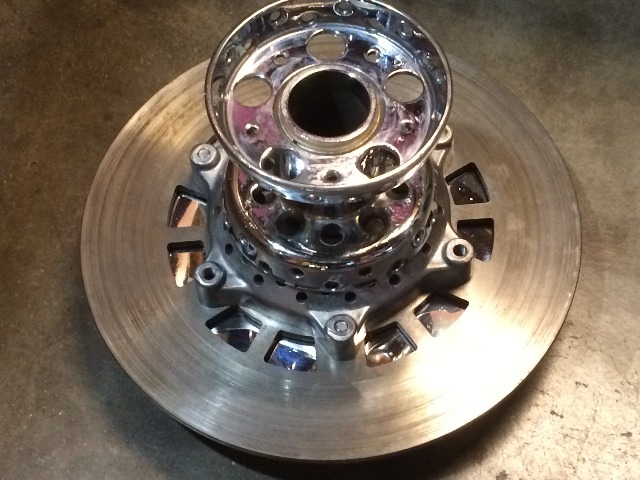 Dreamed this up, don't have a lathe, so working with a local machine shop on maybe a coop deal....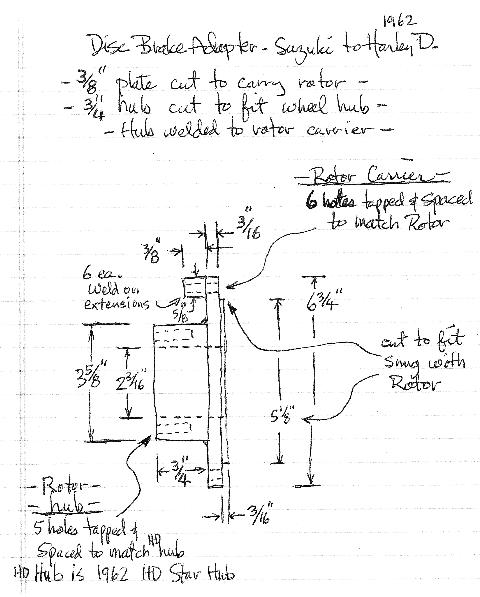 Modify the Suzuki carrier, or build my adapter??
The alloy in that old carrier is unknown, I don't want to go tigging new aluminum
onto it for the front brake, too easy for a crack to form between the old
and the new alloys if it is not done correctly,
so going with mild steel on this one.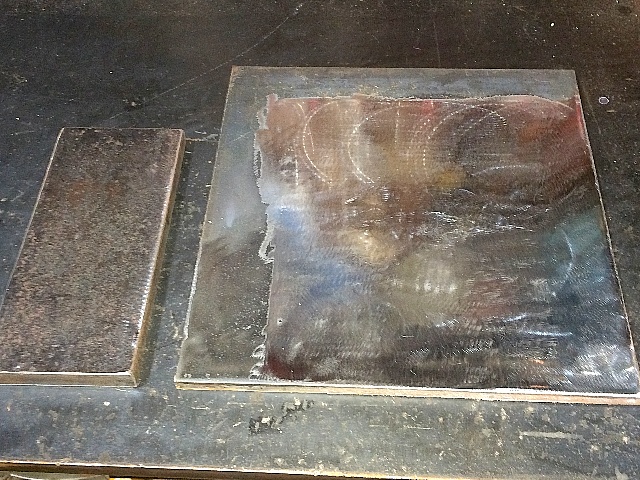 Did find this steel plate, a piece of 3/4", and a piece of 3/8"
Scribed and center punched the circles I need to cut out, will stay outside of these marks
and clean it up to the final dimension on the lathe.


Dug out my little Miller plasma cutter, don't have a circle pivot, so this will be freehand....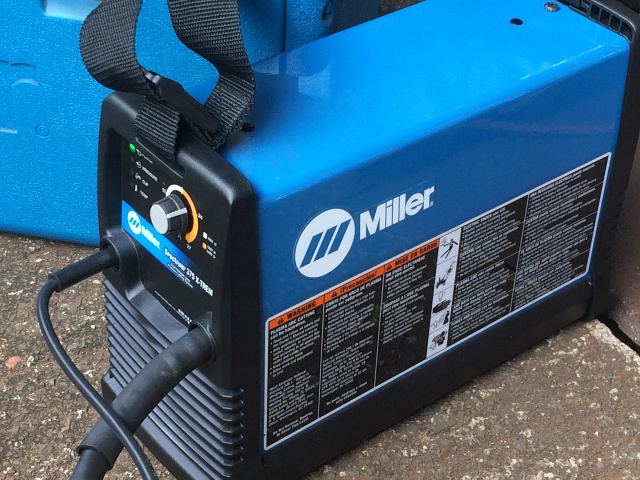 The 3/8" cut easily, but my hand is not as steady as it was when I was younger....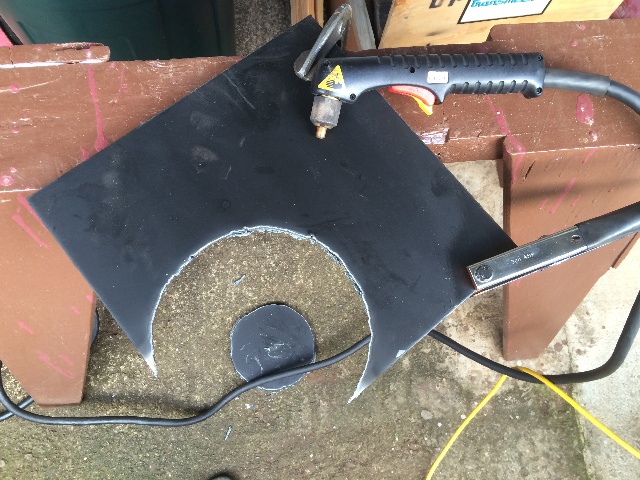 The 3/4" was a little tougher, at max setting and 125 psi air pressure,
couldn't quite get full penetration with the plasma rig.
Finally gave up and pulled out the oxy-acetylene rig, no problems with that.
It's an old Harris "Calorific" rig I've had since high school...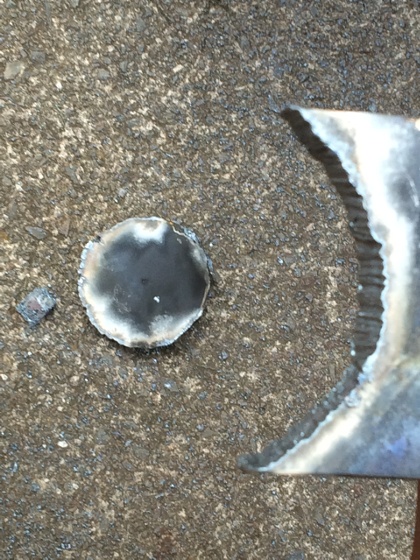 As with the plasma rig, my hand is not as steady as I would like....

A little grinding to clean them up a bit, final cuts to be done on a lathe...


3/8" hole in the center, bolt them together, and weld 'em...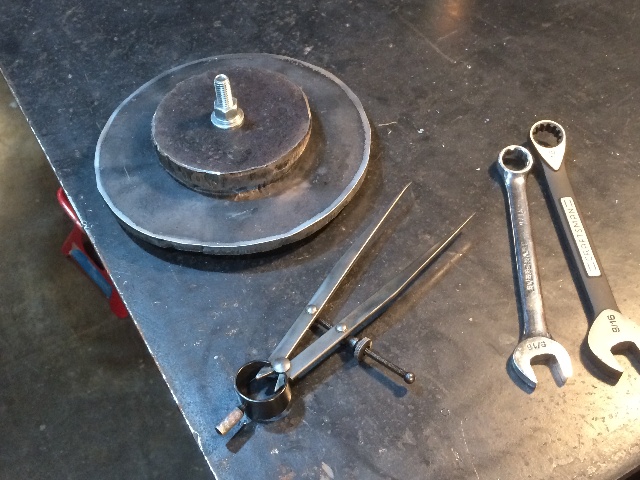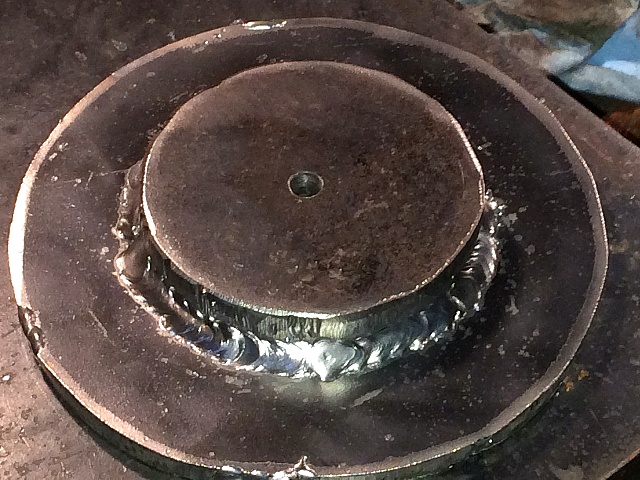 I don't have access to a lathe, but a buddy does, so now it's time for machining
this to fit the '62 Star front hub, and the 11" disk rotor.
Link Back to Page 1 (a collection of old pages)

Link To '62 FL new Page 3......

Link to '62 FL home page