55 HT Project Page 4
A Link Back to the '55 HT Home Page
Decided to fit the LT1 in with new sidemounts, and with the tranny bolted on, placing it as far back as I could....
Gotta Change This Firewall
This stock '55 firewall is actually in pretty solid condition...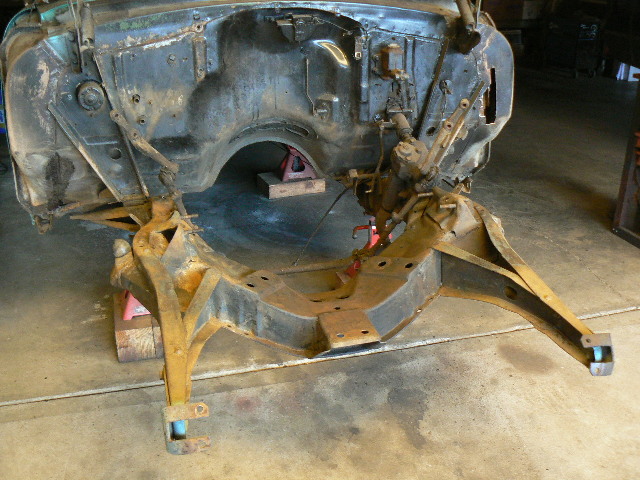 Set the LT1 where I wanted it, and the tall valve covers will hit the firewall when I try to remove them,
ok, move the motor forward or take a hammer to the firewall ??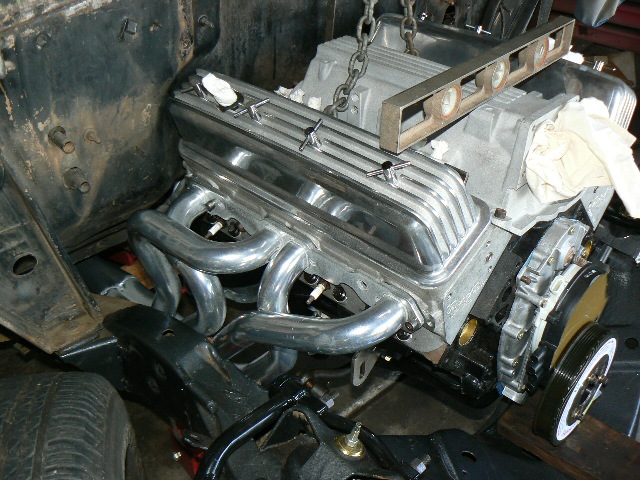 Used a ball peen hammer and reworked it until it looked good to me....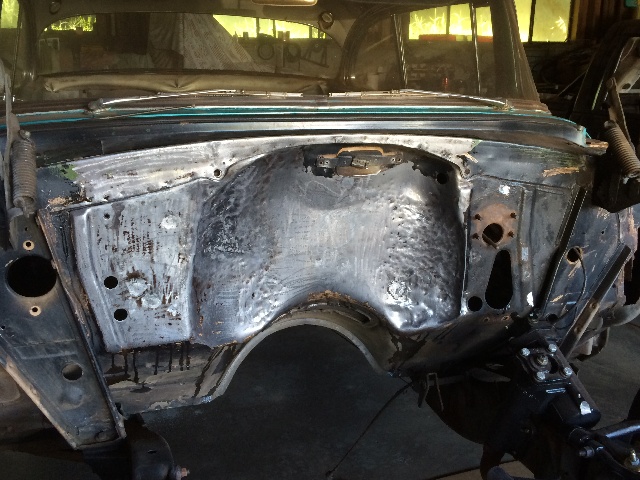 Primered the firewall, but it's gonna need some body filler to smooth it out....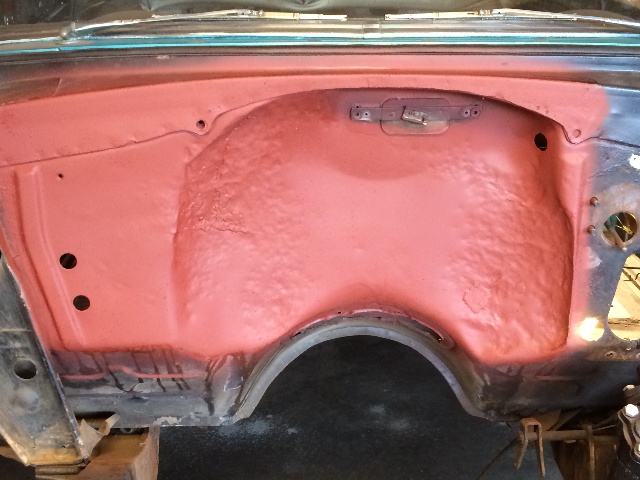 I sanded quite a bit, and added more primer.
It's a thick bodied Rustoleum "Professional" that I like to use...

Working the body filler in a little bit at a time.
Mixing it pretty hot and getting it on as fast as I can.
Then sanding it with some 100 grit. Still got a little ways to go....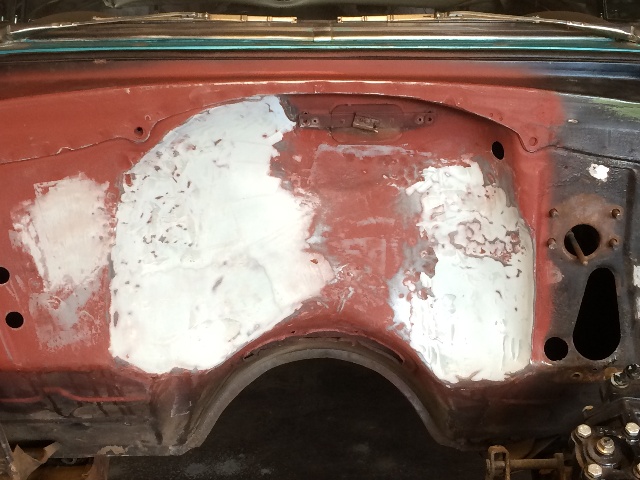 Then more primer and sanding, it was starting to look better....

Got it smoothed out as much as I could, just ran out of time, and used Rustoleum Hammertone Black on it, it's ok,
just not as "pretty" as I had wanted.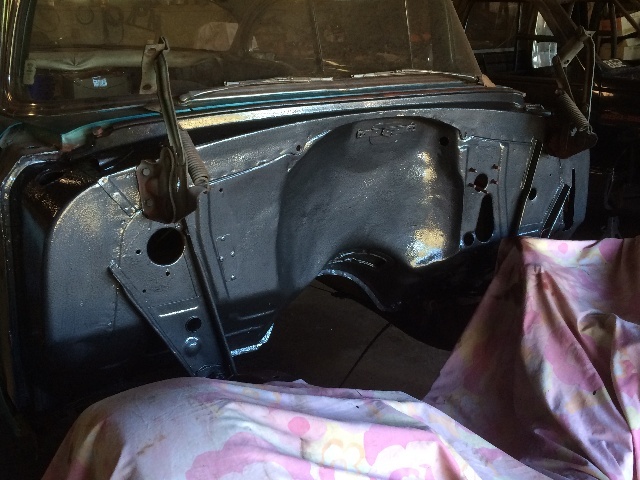 Cleaned up and painted the motor mounts,
Looking at other things to do before putting the motor back in....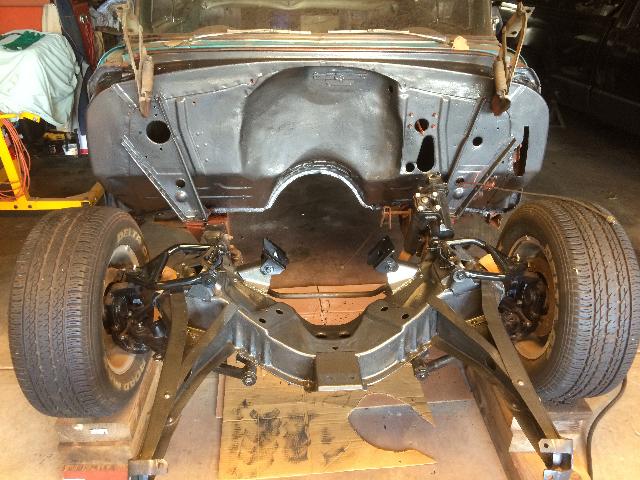 Still have these levers for the manual clutch,
But since this is a T56, with a hydraulic clutch, think I can cut them out...
Also the little cable pulley for the emergency brake, will run a cable w/ housing back there...
So think I can remove that also...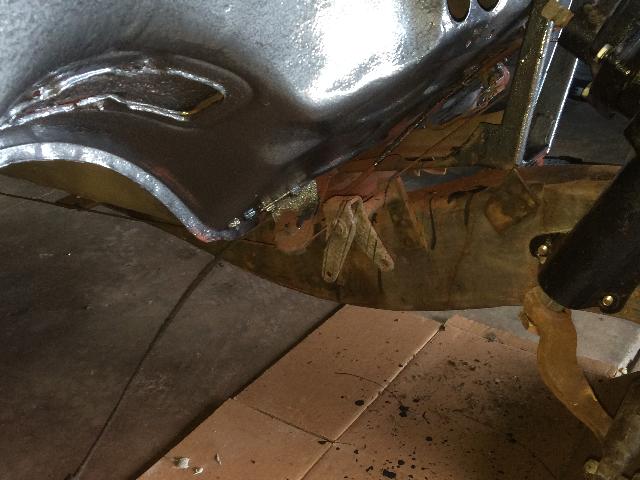 More Later....
Link back to the main '55 HT menu
Yanking The Wiring Out
When I'd get tired sanding, I'd take a break and pull some more wire out from under the dash...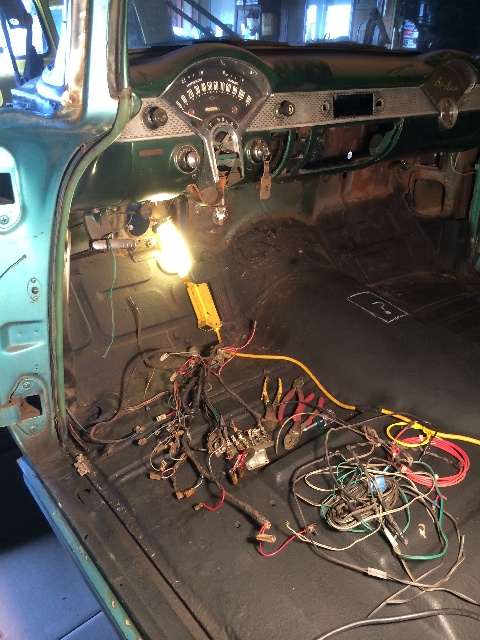 I have a complete aftermarket wiring system for "modified" Tri-Fives,
More Later....
Yanked the body off the frame (1)...
Decided to pull the body off first before doing anything else....
Cutting the body mounts and lifting the body a little at a time off the frame.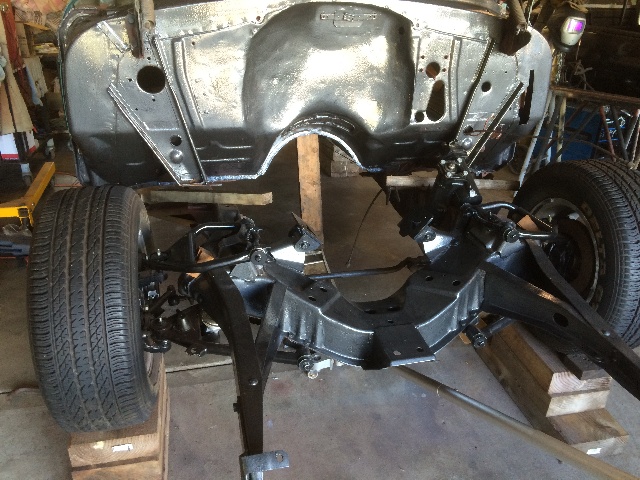 Finally got the body blocked high enough on the frame to get these 4x4's under the body....
Then jacked the 4by's up one side at a time and put the steel sawhorses under them.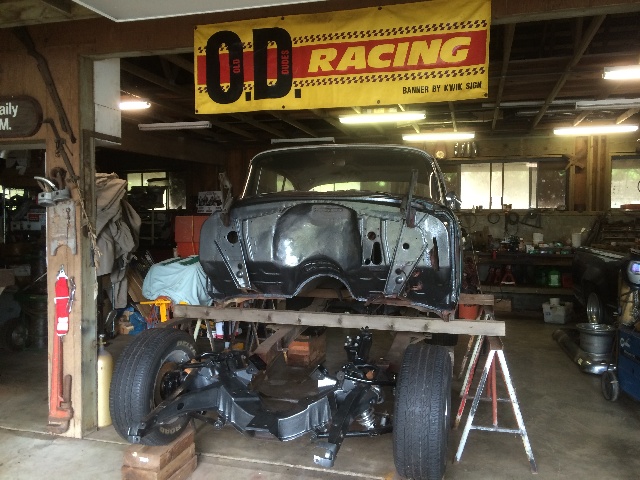 It's solid, not gonna fall....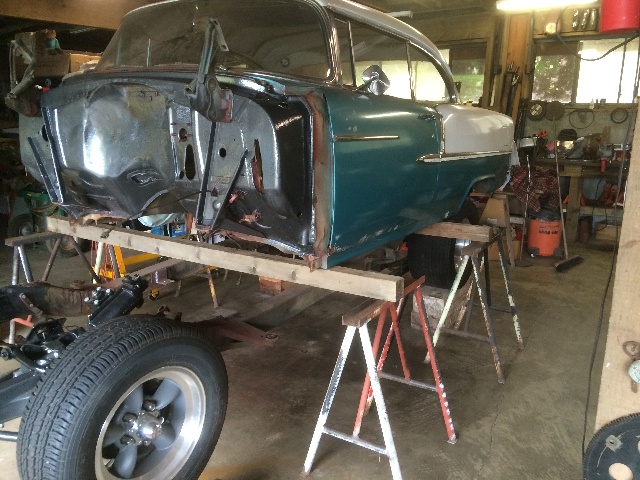 Now I can roll it out and work on it and the underside of the car....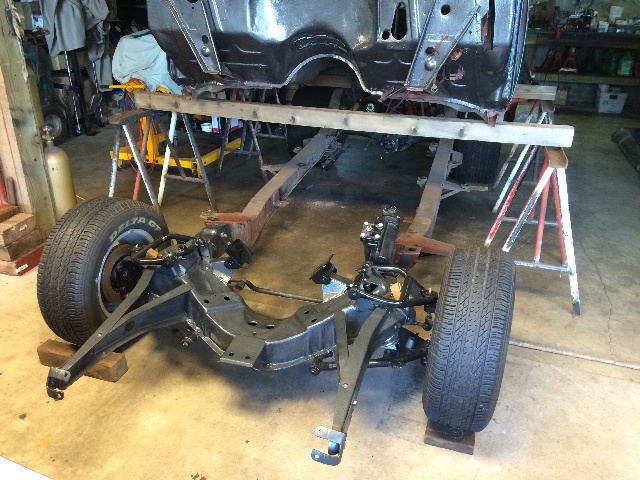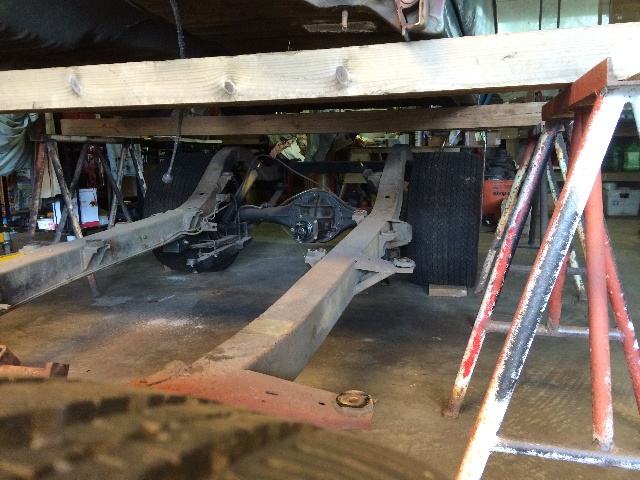 Rolled the frame out for a good look at it....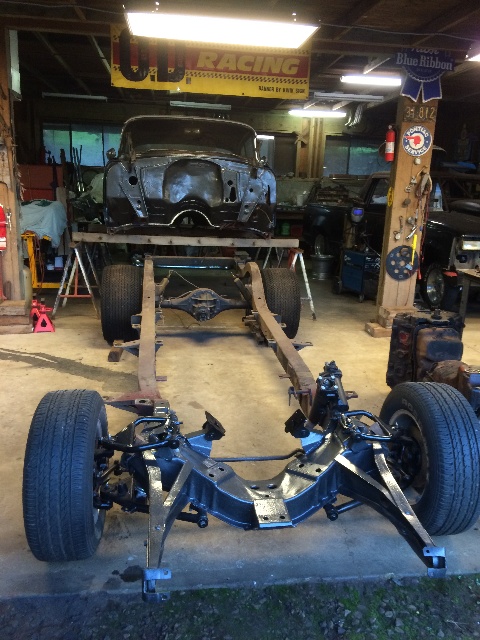 Frame is in good condition....
I have a set of CalTracs I'm thinking of putting on,
But I like the old style slapper bars too, and have had good luck with them over the years.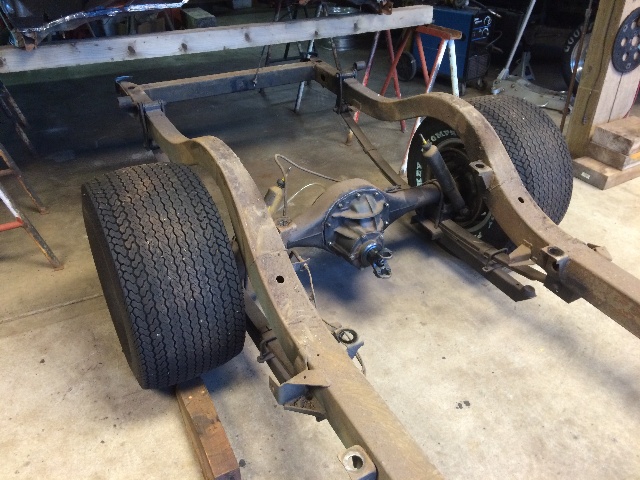 Got some old tabs to remove and cherry out the frame,
and a sway bar to install, then fresh paint....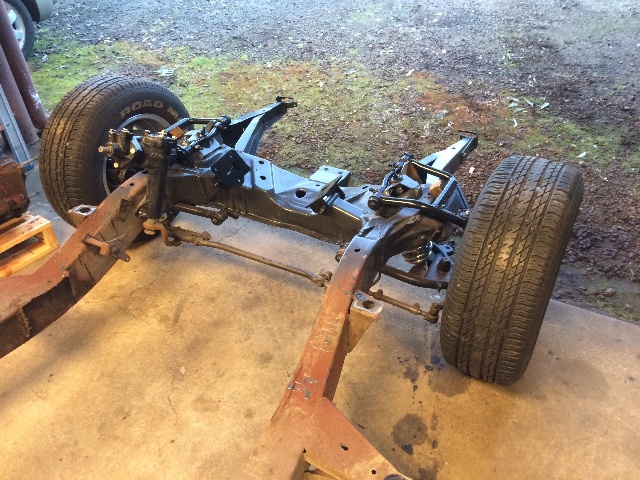 Got the motor hoist out and picked up one side of the frame to get the underside clean....
Some of you were asking how I did the spring relocation without a pocket kit....
Here's how, and 2-1/2" lowering blocks to get the ride height I wanted.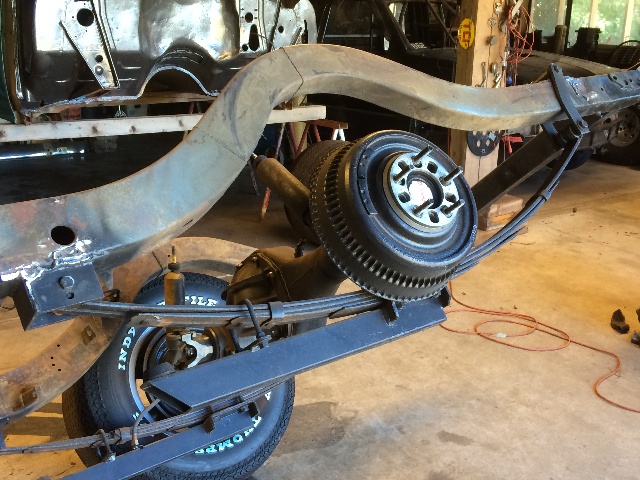 Scrubbing all this with a wire wheel, hit it with ospho, then when dry a little sanding with 200 grit
then a generous coating of Rustoleum Hammertone Black.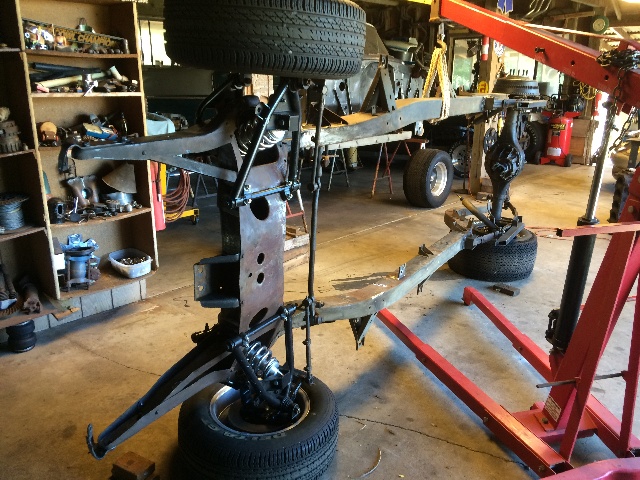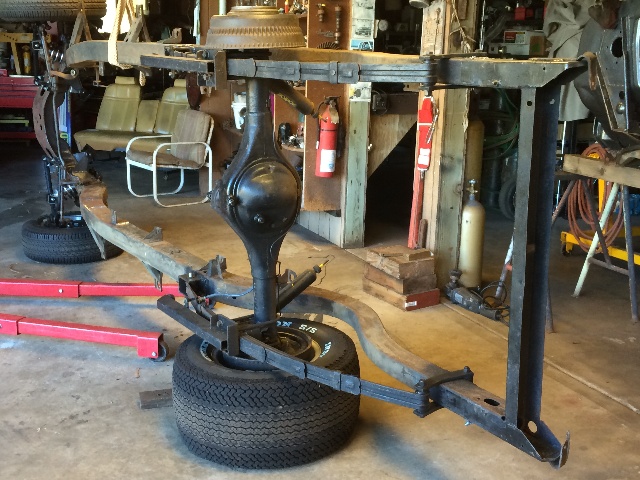 Then crawl under the body and cherry out the underside....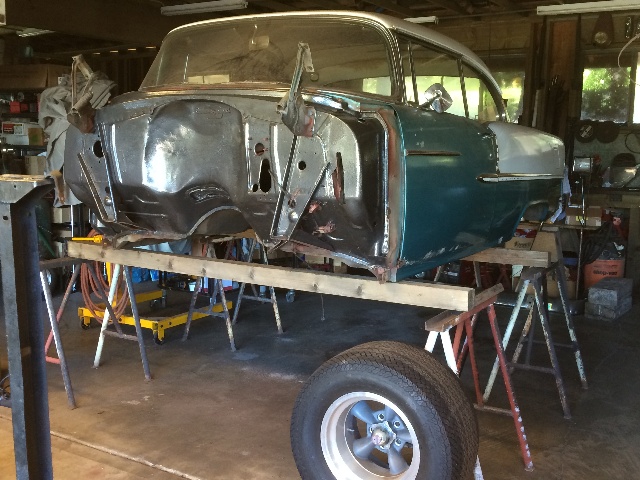 More Later.....
Link Back to 55 HT home page...