62 FL Chop Rebuild 5
Link Back to '62 FL new page 4
Parts for my '62 FL chop were fitted in my "new" Denver's frame,
tabs welded on for the gas tank, fork stops, foot pegs, rear fender,
sissy bar, using all the original stuff from my original setup that was
done back in the late sixties....

The motor, tranny, wheels, front forks all have been rebuilt.....
Nothing special here, warmed over 74", Sifton 468+ cam, solids,
10:1 pistons, and mildly ported heads, just the way it was done back in '68 !
Everything fit pretty well on the 'new', needed to add some brackets here and there,
foot pegs, fuel tank, stuff like that...

After paint, all fasteners will get locktite on final assembly...
My Dad used to say my bikes were flyin' formations of locktite...

(yeah, that's my '55 Chevy in this pix, it's gettin' a total rebuild, hot rod style...)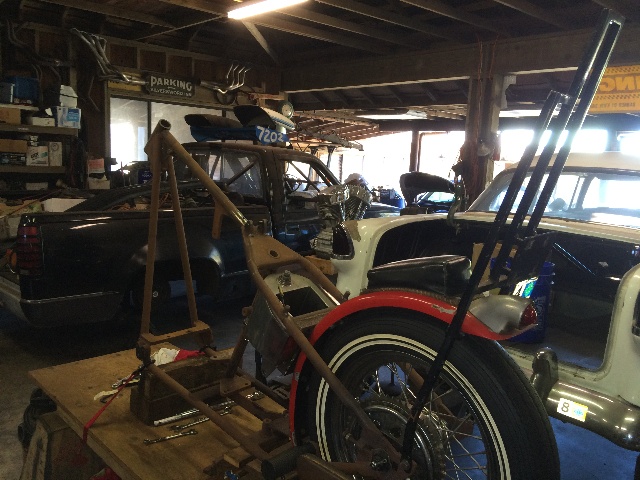 Hawaii requires annual "safety checks", it's a joke really, but ya gotta do it....
The last one is still on the bike, expired on 4/30/1990...
That's the last time I rode the bike!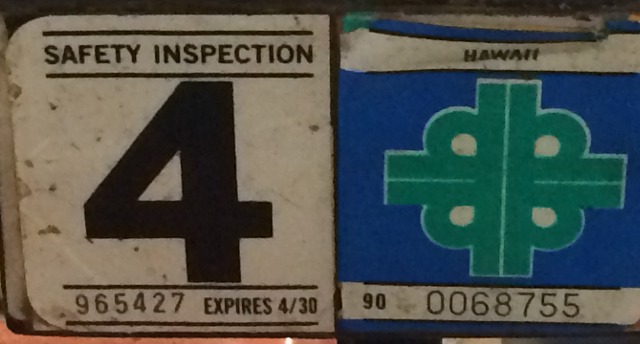 About 1970 a buddy was working on his Indian Scout,
The seat upholstery was gone, but when I sat on the seat pan, it fit my butt perfectly!
So we made a mold from that steel seat pan, and cast several fiberglas pans from that mold...
This is the one I cast, should have done several of them, made the T-bar and upholstered it myself.
It still fits my skinny ass perfectly !!
I had machined the end of two bolts to get a nice, snug fit into the front of the T-bar....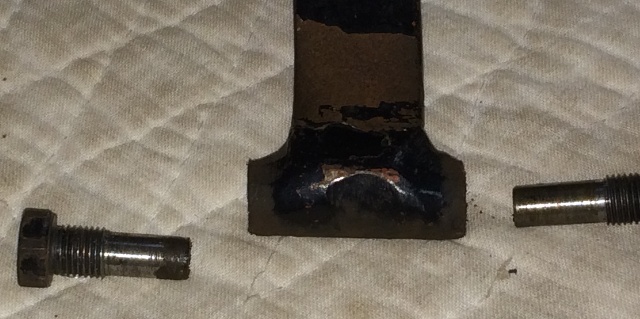 And the tabs on the frame are set up for a snug fit side to side, the T-bar has to be tapped into place...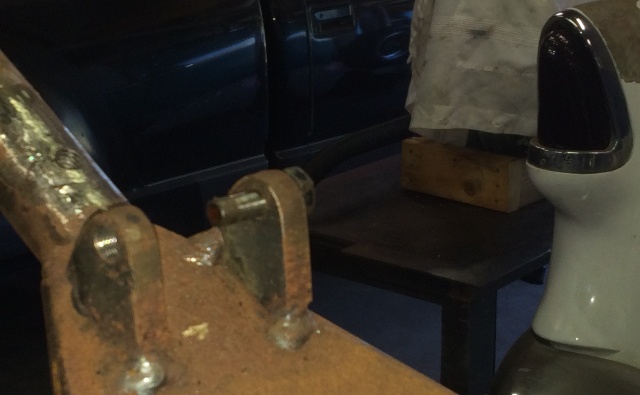 I drilled holes for three positions, the rear position fits me best with my forward foot pegs,
But others with shorter legs might like it more forward...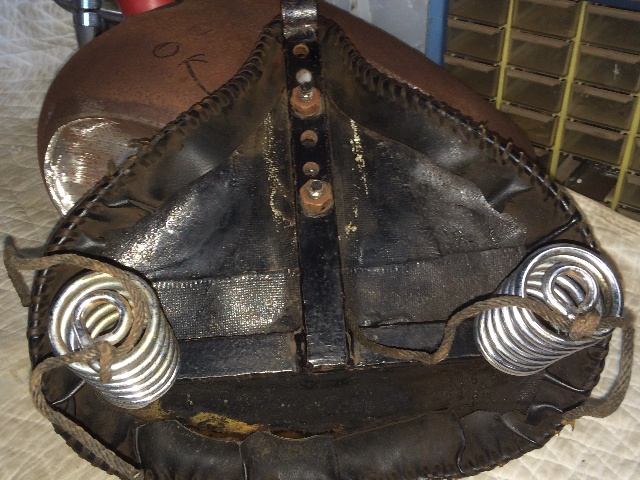 On a hard bump, sometimes I'd bounce up enough that the springs would come up off the pegs on the frame,
So I took to tying them down with pieces of cord when on a long road trip once, and just left it that way...
Just might finally do something better this time, but I kinda like the way I did it back then....
Funky....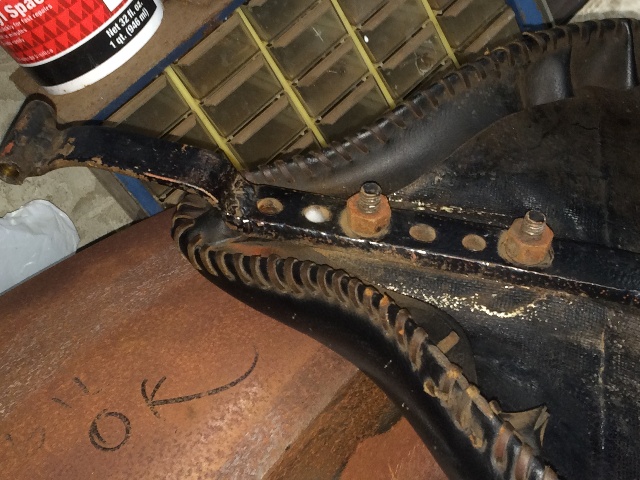 Also on a hard bump if I don't catch it in time with my legs, the seat will bottom out
on the frame rails, that's what's cut the leather lacing on the bottom of the seat edge you
see in this pic above....

The bolts on the sissy bar/fender also involve the taillight and the P-Pad, and they were rusted in tight,
Had a helluva time getting them out....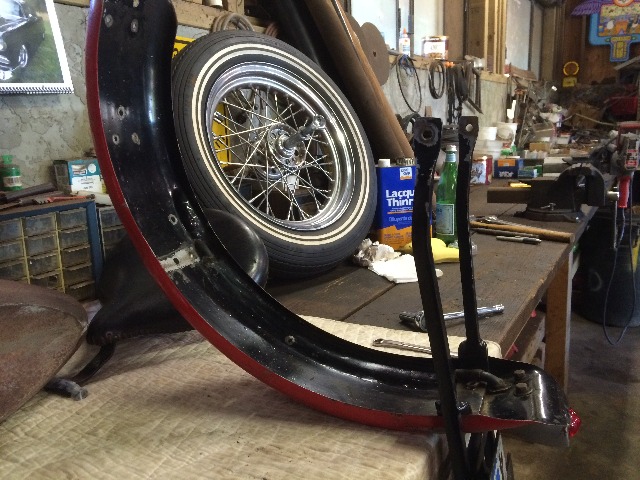 Always had this plate in the battery compartment of the oil tank,
As I don't run a battery on this bike, just a
magneto and a "battery eliminator",
Always used this space to carry some tools, a small flashlight,
all wrapped up in a towel to keep 'em from rattling around.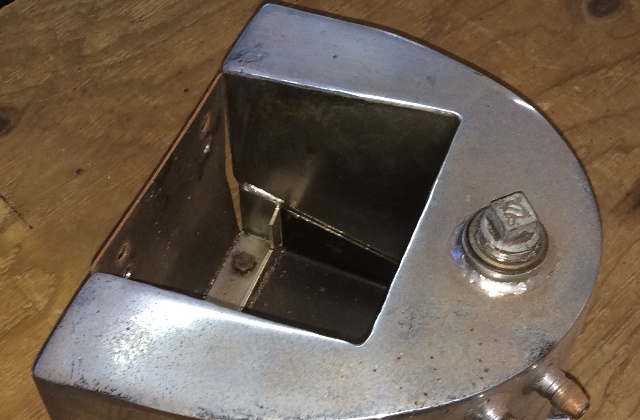 There, the frame is stripped down, now to get it, the tank, and the rear fender
media blasted, and paint 'em the original red...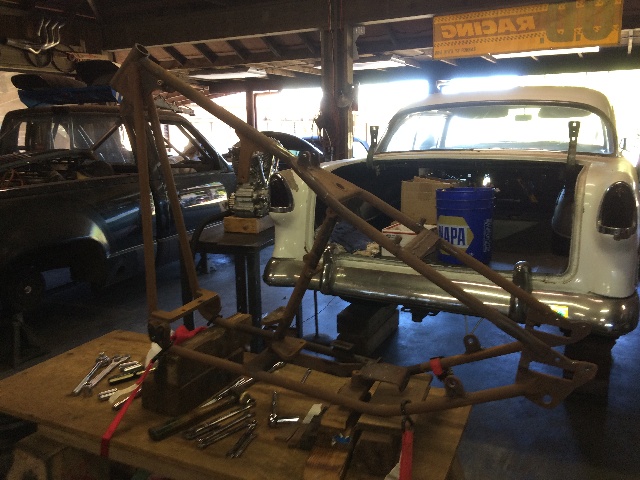 And I still have a lot to do on the rest of these parts.
Motor, tranny, forks, wheels are done, the rest all need some work....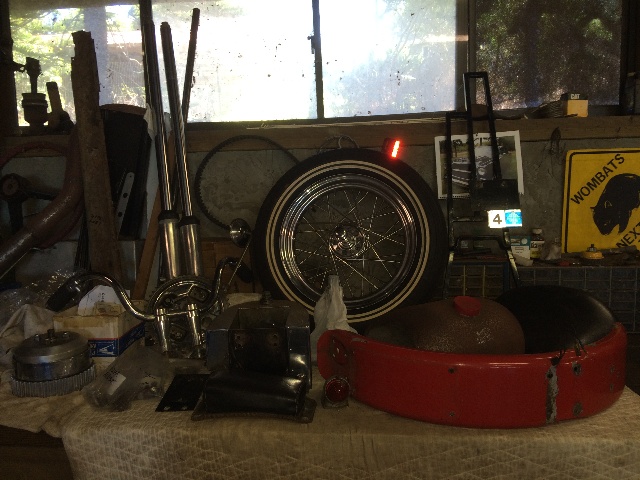 More later....

Update:

Still workin' on the '62 FL Chop Rebuild

Tryin' to match the original red I used back in the late 60's on this bike.

Compared it to the red on my '58 Chevy truck, which is a GM Torch Red,
It's pretty close....
Think I'm gonna go ahead with the truck color

In the meantime, sent the frame, tank and rear fender off to the sandblaster....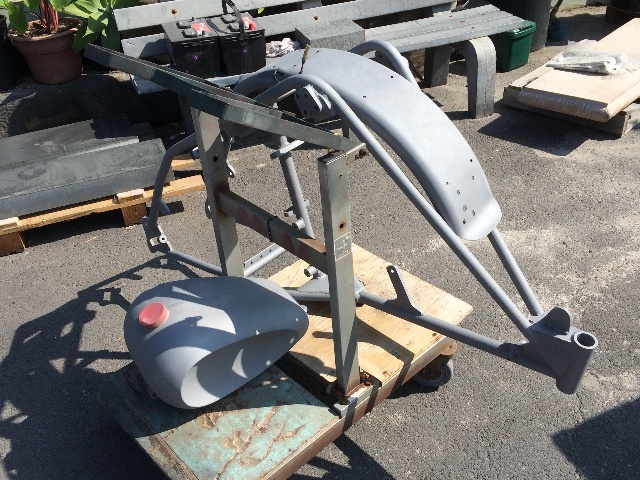 I actually like that light gray color a lot !!

Yeah, that's my '55 Chevy Viking series 4x4 parts chaser....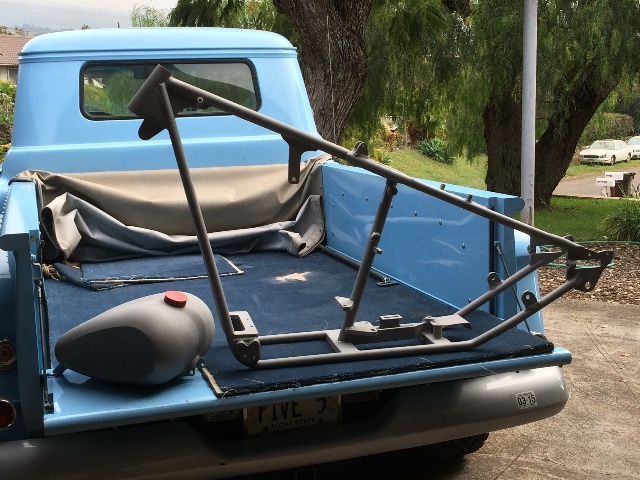 I love this tank, want to do something special with the concave on the sides....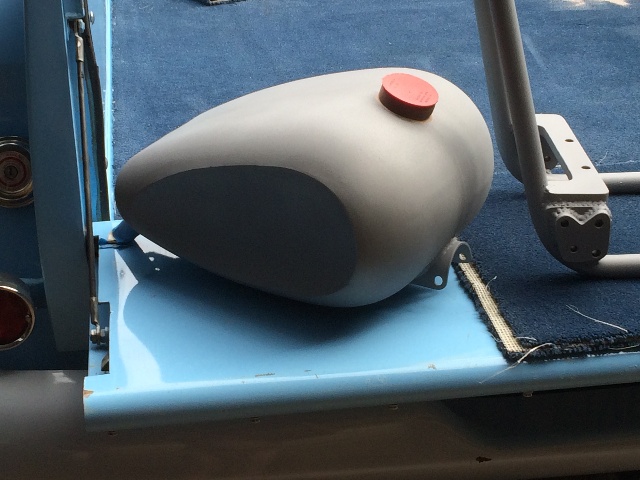 Etched those parts with Ospho, then when dry a good coat of light gray primer.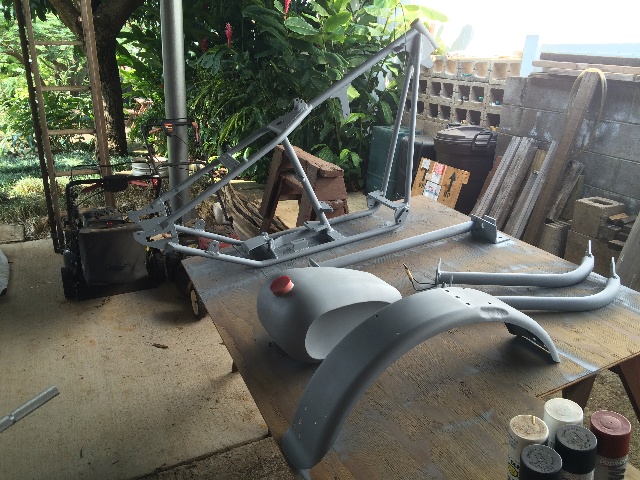 Bought a quart of PPG, JAU Direct Gloss Acrylic Urethane in Torch Red.
Got my gun out and blew some red on the tank and rear fender.
Now we're gettin' back to the old color, I had originally sprayed this color in '69 in lacquer,
don't remember how many coats, but there were a bunch, each hand rubbed....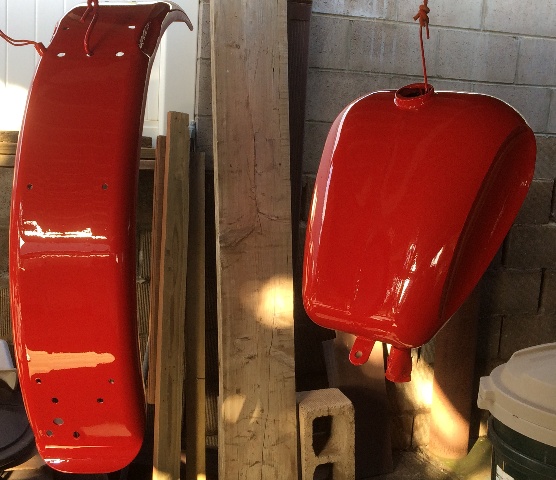 Ya don't wanna breath this stuff, so I did it in my carport, a very light breeze was flowing through
which made it perfect!
Later in the afternoon a little sunlight peeked in through the trees outside and lit up that red paint,
This pic just doesn't do this paint justice !!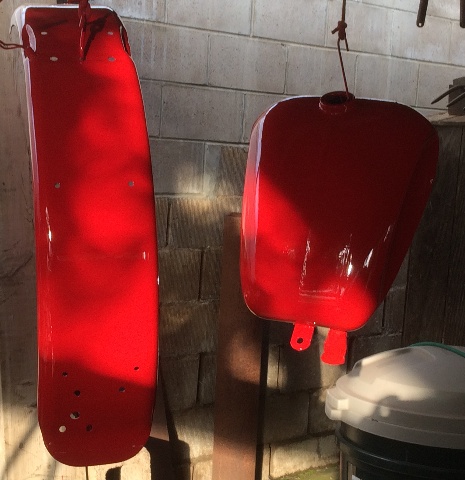 The frame is not ready to paint just yet, but I had a little paint left in the gun, so I blew
that last bit on some of the frame tubes just for a look-see....
Yup, that's the color I remember....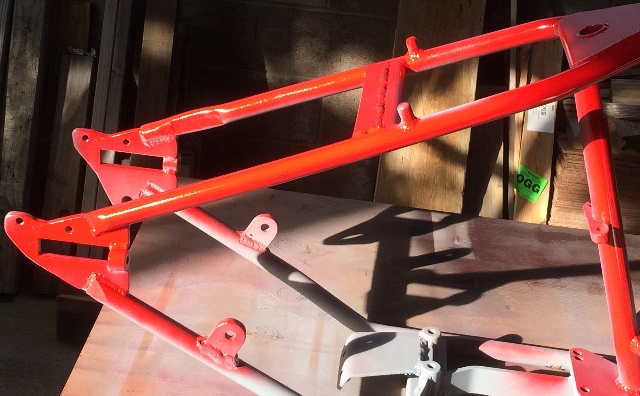 I want to smooth out some of those welds before I paint the frame.

After a year's layoff due to a severe injury, I'm finally getting back on this project....

More Later....
ON to '62 FL new page 6
Handlebar controls
or, ON to '62 FL new page 7
More paint and reassembly....