62 FL Chop Rebuild 31
Last page (so far)
Just some "here and there" things to fix....
Had to change out the front pan cover gasket,
it was leaking oil down on the front exhaust pipe....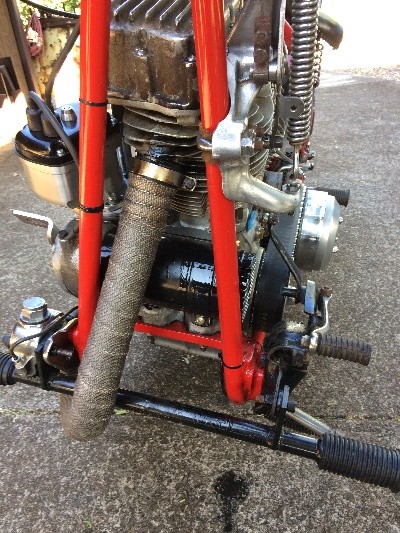 I installed this???
Big piece of the gasket is missing....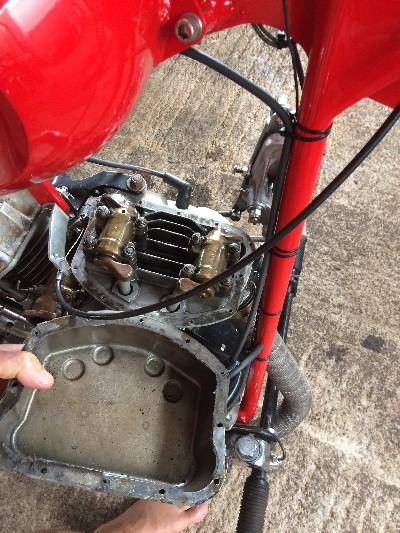 Cleaned it up, put on a fresh gasket, good to go !!!
Now I need an air cleaner, and better front brake pads....
For this front disk brake system off of an '85 Suzuki Madura GV700GLF motorcycle,
I fabbed and mounted an adapter on my '62 star hub....
(Link back to pages on this disk brake setup)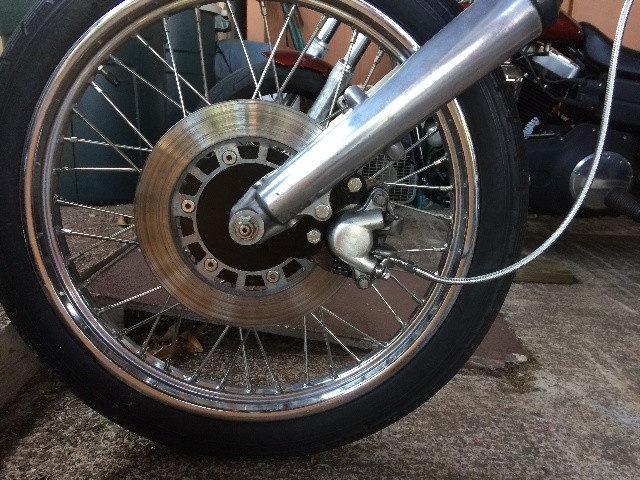 It works, but not very well, I need to improve this setup...
Looking at these "organic" brake pads: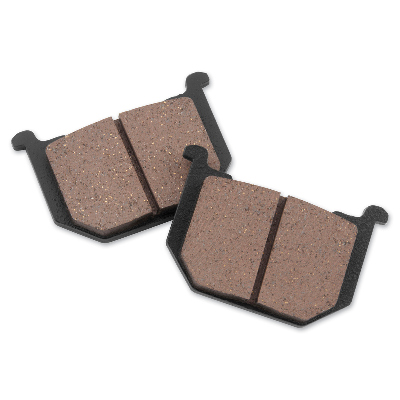 Or these Kevlar pads....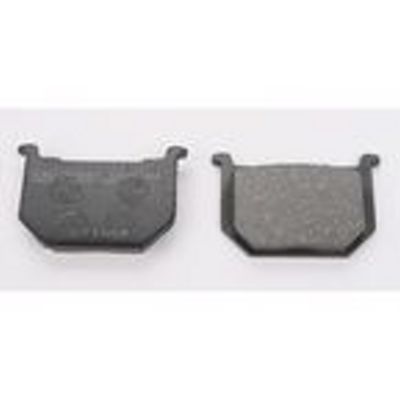 Or these sintered metal pads....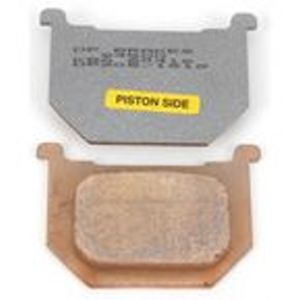 And a new, aggressive rotor similar to this, if I can find the right one:
I need a 10-3/4" diameter rotor,
with the correct 6 hole mounting bolts.....
I found this one recently....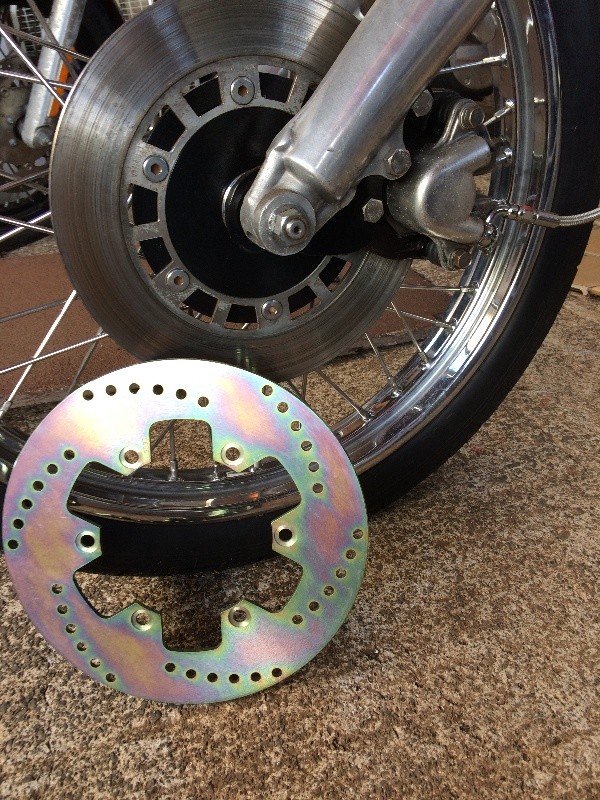 The '62 is sitting there just waiting for me to get on and ride....
I think it gets jealous every time I crank up the Dyna and ride away...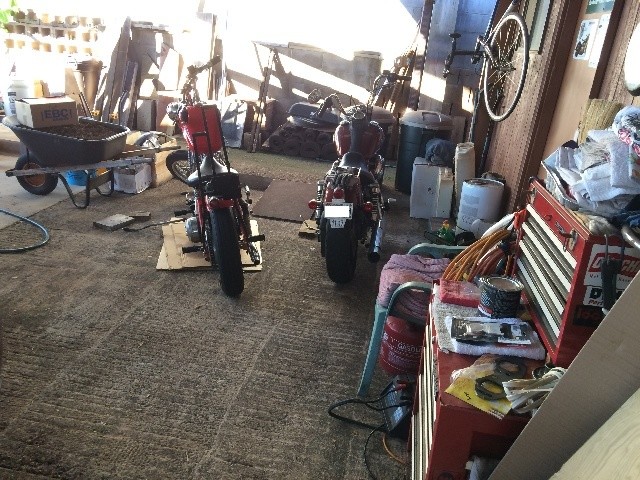 Other projects and some family traveling have kept me away from this
bike's brake issues, but another issue has me thinking about the fuel
supply to the carb, and wondering if the carb is starving at the high end...
The last couple of runs I did with this bike, opening up the carb beyond
about half, or trying to go beyond about 50 mph, it would cut out and pop,
sounding like it just was running out of fuel....
My initial thought was that the high speed jet was plugged or otherwise
not functioning, and needed tuning or rebuilding, but then I wondered if the
fuel supply was just inadequate with the tank valve and the tubing and the
inline filter I'm using, possibly restricting the fuel flow to the carb....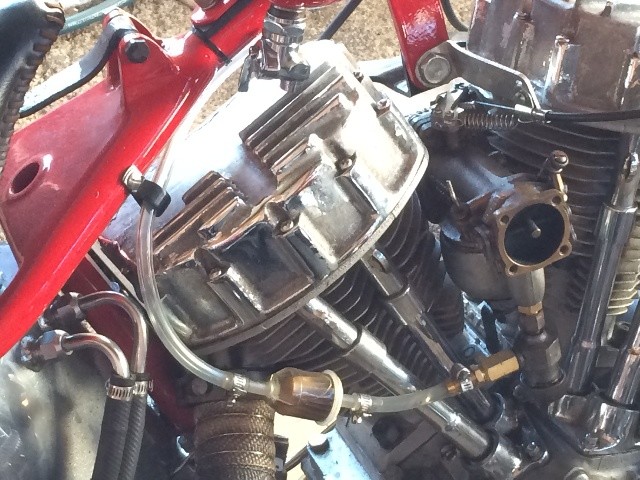 This fuel valve at the tank could be restrictive, it just acts weird
and doesn't seem to flow very well when I turn it on with an
empty fuel line....
There could be restrictions in the old LInkert system that I still have on there....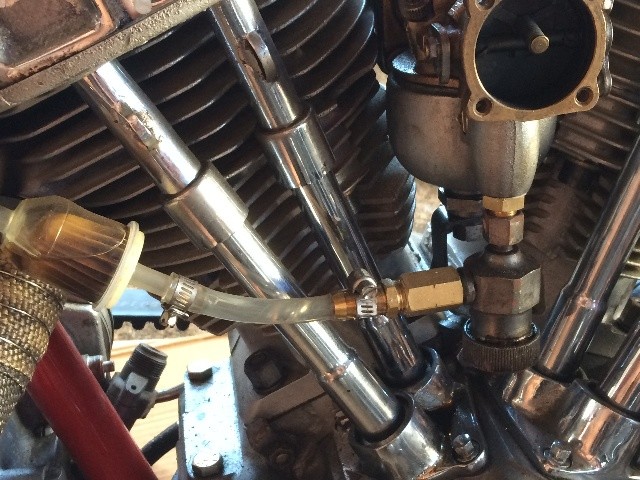 And I never seem to be able to get that air bubble out of this fuel filter....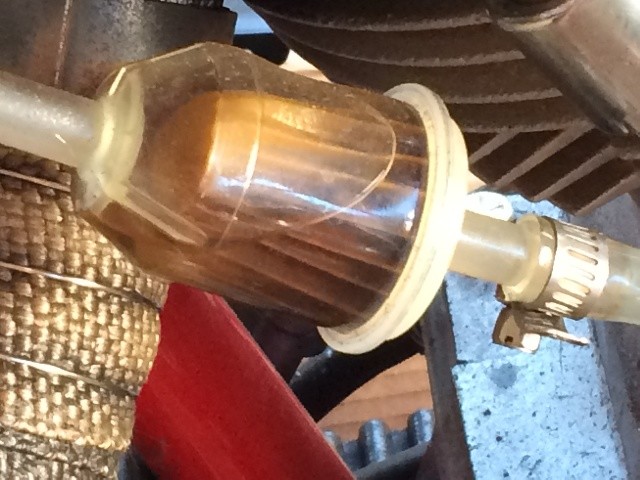 The line from the tank valve to the inline filter never seems to fill with fuel,
it always seems to be empty....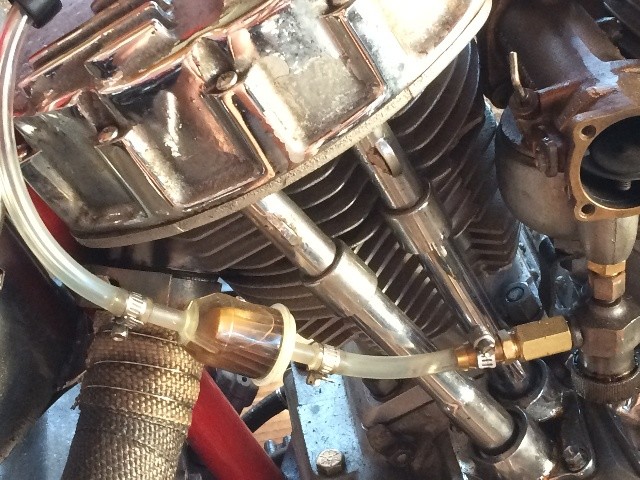 The throttle cable setup opens all the way, so no problem there....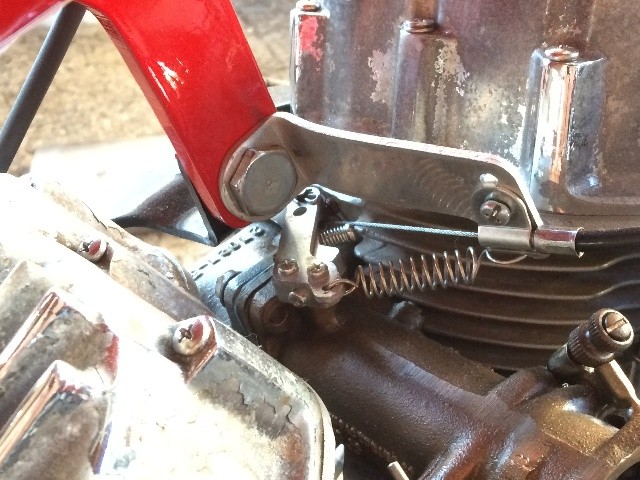 So, I ran some fuel flow tests....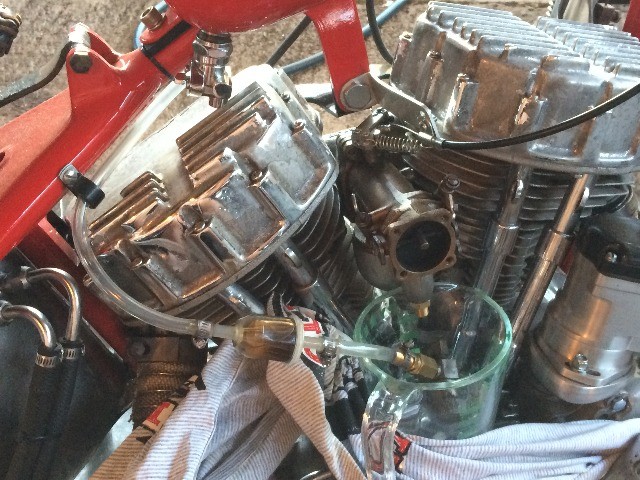 Disconnected at the bottom of the float bowl, and it ran 450 ml/minute...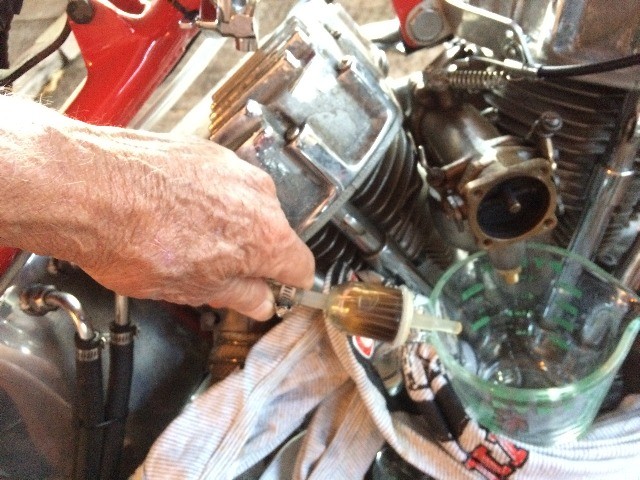 Then ran just through the inline filter and got 600 ml/minute...
I'm thinking I need to somehow measure what the fuel flow
is into the float bowl when the float is down and the inlet
needle is open....
Hmmmmmm......
OK, got some new hose and removed the in-line filter...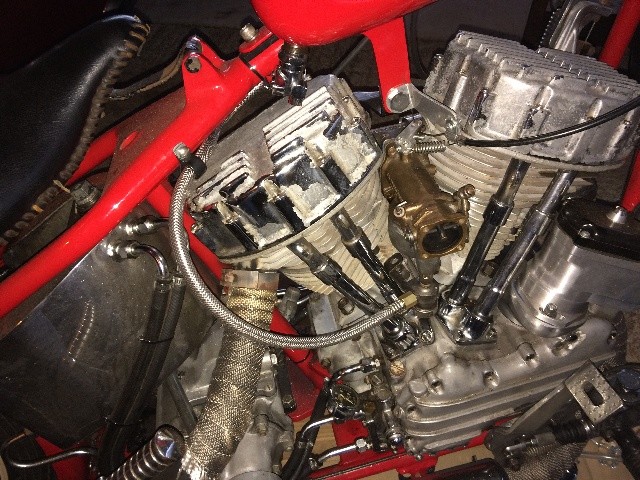 Pulled the screen out of the filter that feeds into the float bowl....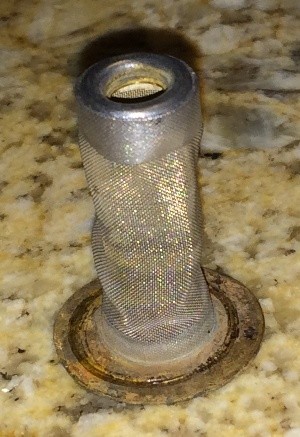 Ran the hose open and got 675 ml/min., about 22 oz or 1.4 pints per minute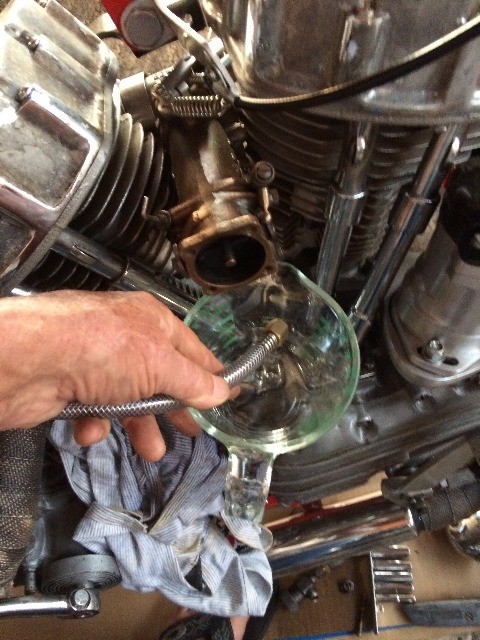 Then hooked it up to the float bowl and measured the flow through the float needle valve,
got 450 ml/min., or about 14 oz or 1 pint per minute....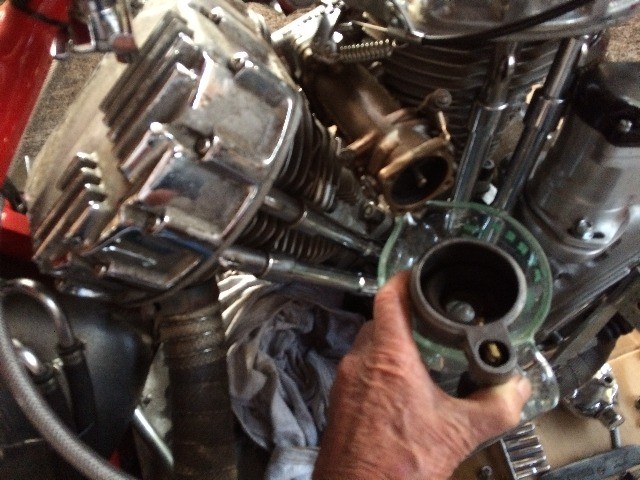 Haven't figured out how to post a video, so go to youtube....
LINK TO VIDEO
A couple of kicks on full choke, then choke half off and full open throttle....
Still not back on the road full time, still messin' with it....
So there will probably be more, ya just never know.....
Later......
Much Later.....
Trying to get back at it, family and other projects taking all my time
Here's how she sits right now, needs brakes and an oil leak fixed...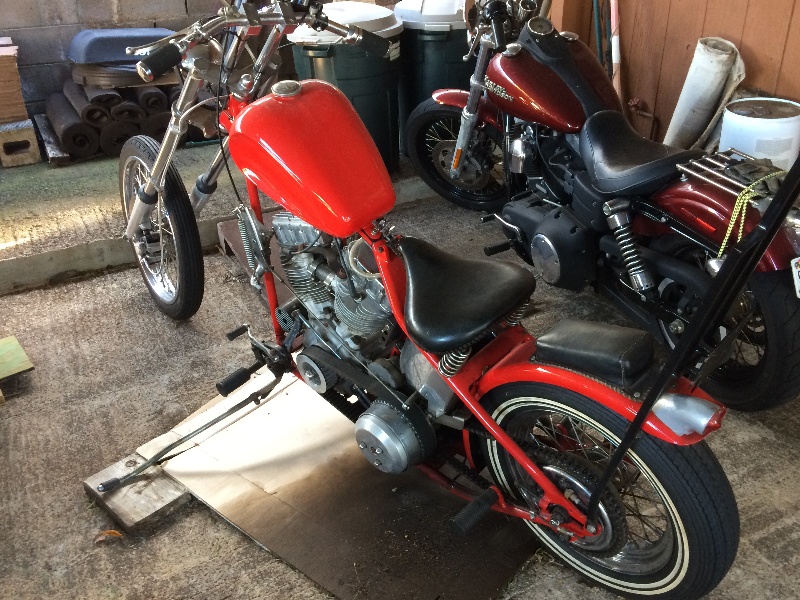 Still need to fix the rear brake master cylinder,
and get that front disk brake working,
and find and fix that oil leak....
Pulled this off the spare parts shelf....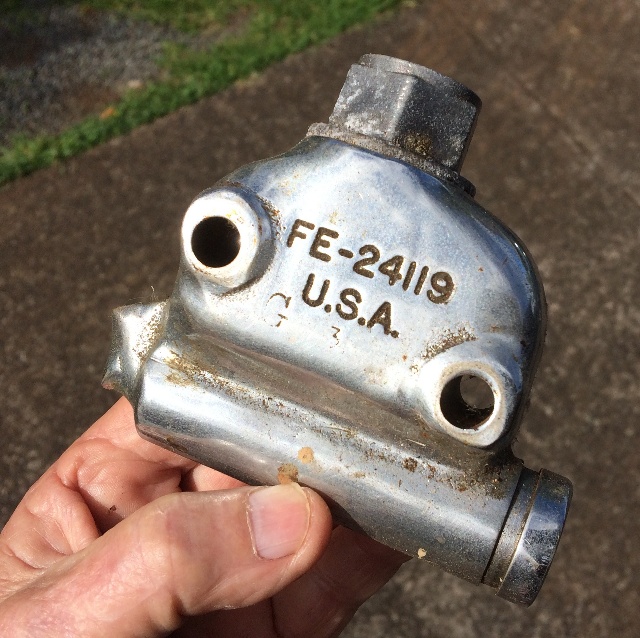 Am thinking of rebuilding it...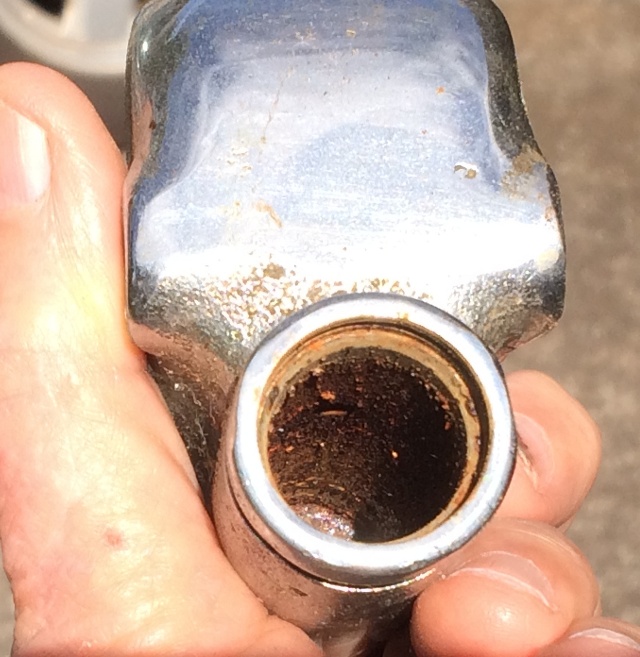 pretty rusty inside, need to run the hone and see if it cleans up ok....
Last page (so far)