HOMEPAGE for my '58 Chevy half-ton Pro Streeter......

Here's Some Links to Updates:

2005, making some changes....

I Thought It Was Done? Ahhh, They're Never Done!

2013: Rebuilding and upgrading the brakes....

2013: Decided The '58 Needed A Tow Hitch....

Fabbing and Installing A Tow Hitch....

Original Post:

My '58 Chevy Half-Ton Pro Streeter, put on the road in 1998, and it's a daily driver: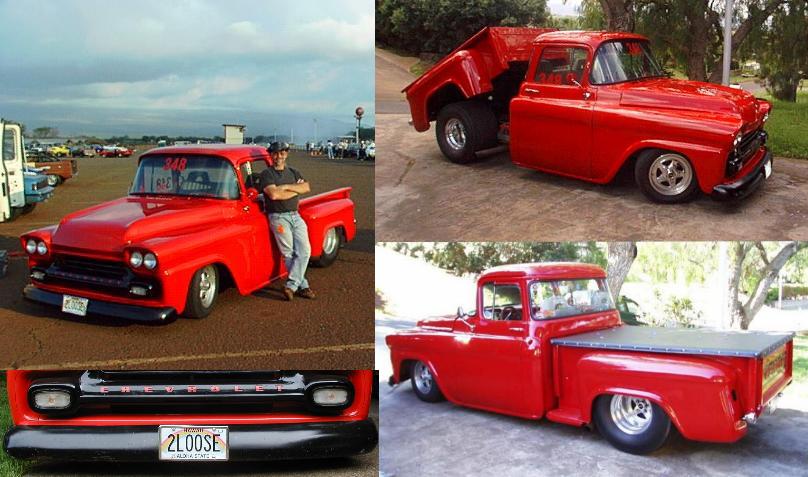 This rig has a '70 A-Body front clip, complete with the stock '70 power steering and power disk brakes, and a severely altered rear frame.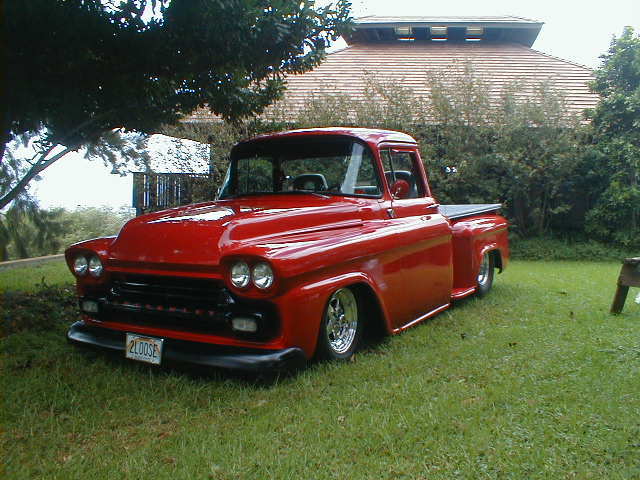 Narrowed Ford 9" rear runnin' a road cruisin 3.50 gear set, Detroit Locker, and 35 spline Strange axles. Tranny is a TH400 built up quite a bit with a manual shift kit, shifted "3 on the tree"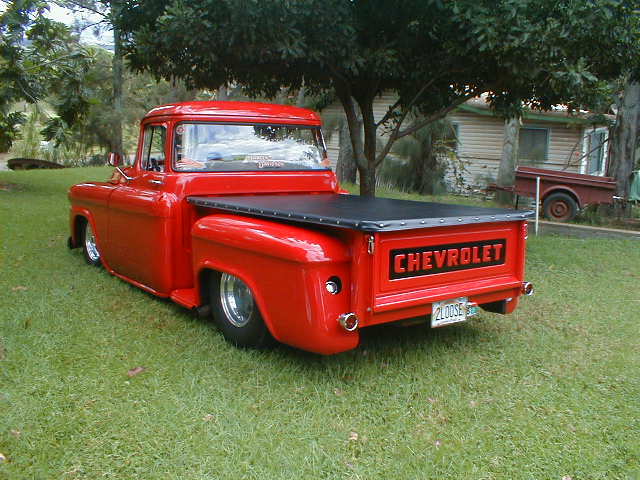 Fatso Tires: Mickey's Biggest at 33 x 21.5, I drive to the track with the slicks in the back and put 'em on and uncork the headers and I'm ready to race! I had to put the bed on a subframe and hinge it at the rear (pair of 1" bolts and home-made brackets) to get access to the rear and to get the rear wheels off.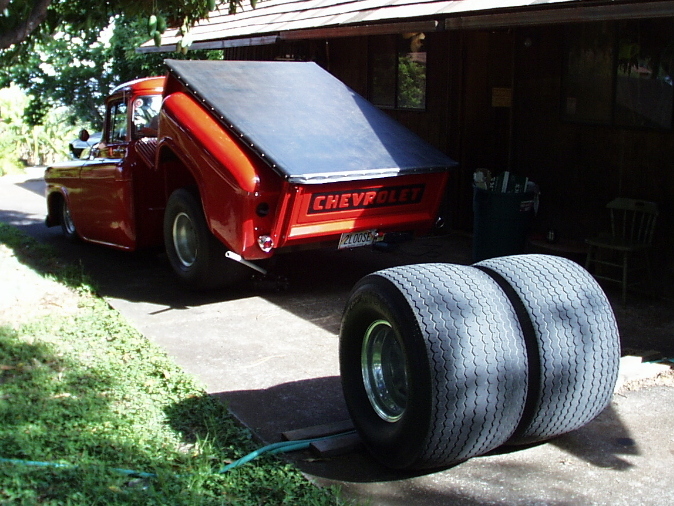 A nice clean 502 rat motor short block with Edelbrock RPM heads and intake, and a Holley 850, creates some stump-pullin torque! It used to crank through the lites in the quarter with 12.4's at 110, when I was runnin' 4.56 gears with a detroit locker in back, and this truck weighs in at a rotund 4100 lbs, includin the driver! That tilt bed in the back is necessary to get at the tires, and adds a lot of weight! Now runnin' road worthy 3.50 gears in back and gettin' better gas mileage! Time hasn't dropped that much either, with slicks can still hook up and run a 12.55 at 108.
Got yer shades on?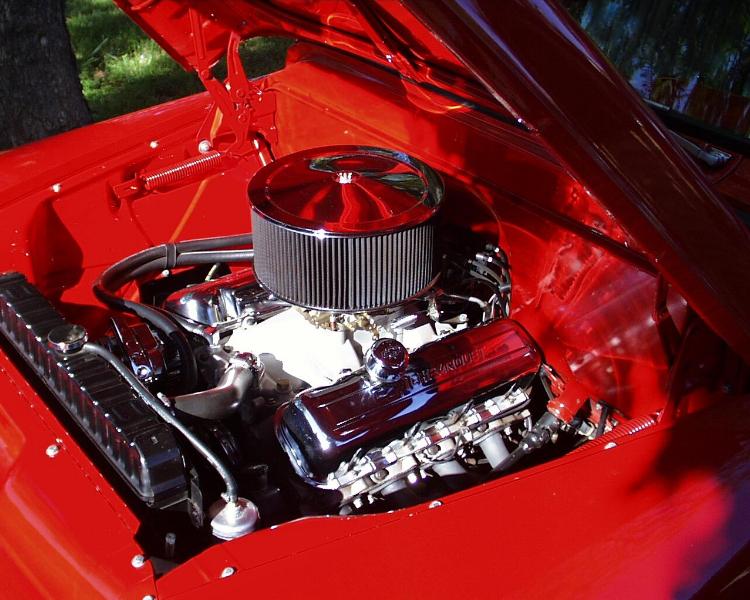 Been playing around with different wheels too. Here's a set of red primered steelies with the spyder and chrome ring setup. 16x7's in front, 15x14's rear.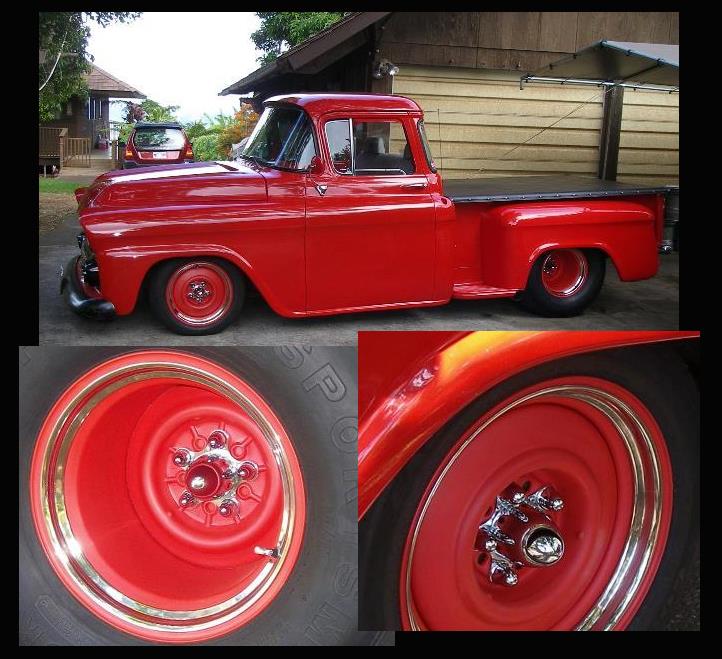 And a set of American Racing Torque Thrust II's, 17x7's in front and 15x14's rear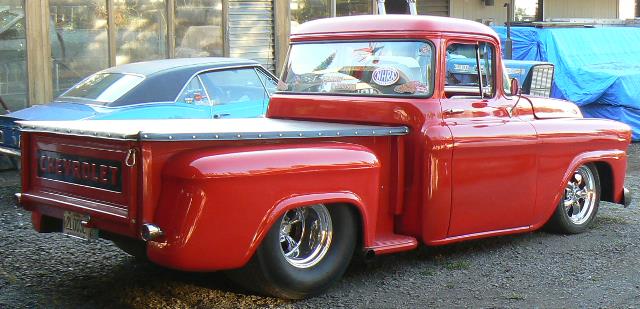 I had black primer on the truck for a long time, kinda miss those days, the flat black was a lot easier to keep up......

Below that is how it looked when we first put it on the road. The flat black covered that up pretty nicely.....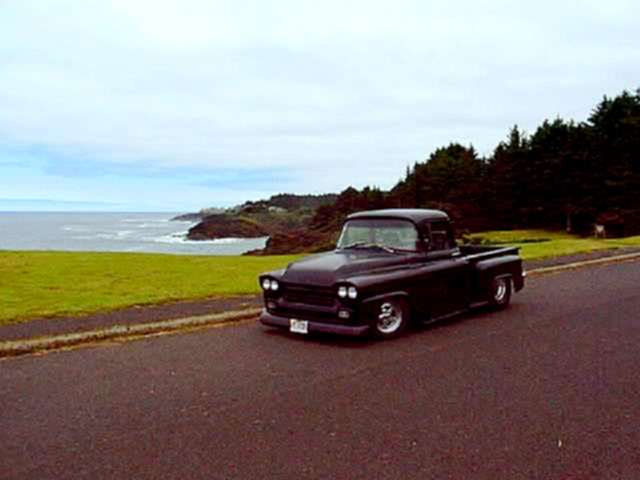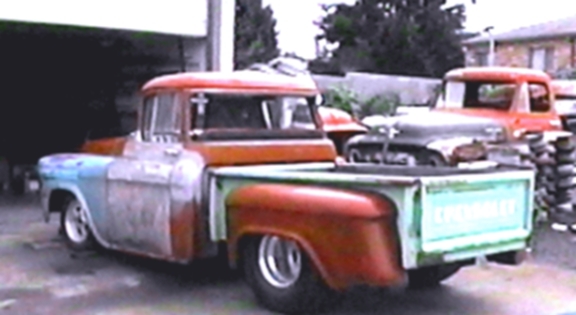 Here's some cutouts I got to use at the drags. Got tired of crawling under the truck to uncork a pair of hot cutout covers....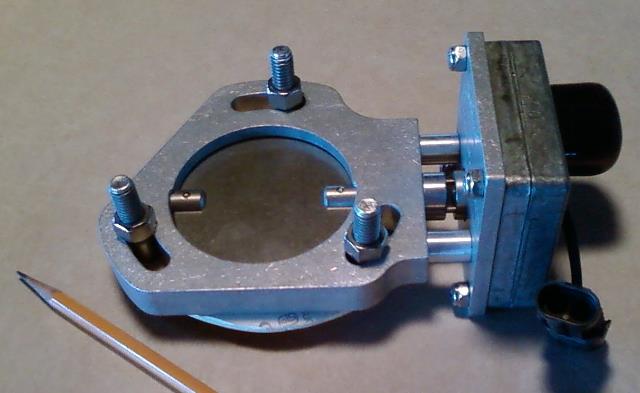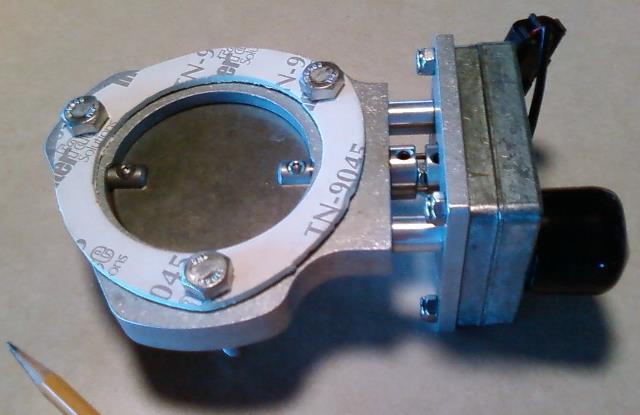 Home of the CoffeeCup HTML Editor