2Loose Willy's '59 FLH Gettin a 93" Rebuild .....................

And maybe even an early Magnuson blower....

August, 2013: Page 1....

I started collecting parts for this project many, many years ago. It was a '59 FLH basket case I paid $400 for in 1970, I put it together and got it running briefly, but it was in poor condition and needed a lot of work. The jugs were maxed out at .070" over, and it needed a complete rebuild. So I developed the idea to build up an S&S 93" motor and put a Jerry Magnuson blower on it and race it at our local track.

At the time our local sugar mill had a rum plant going, making ethanol out of molasses, and the manager was a buddy of mine. He agreed to make pure fuel grade ethanol for me to run in my blown 93" pan.

But while I was attending to job, family, home, you all know the drill I'm sure, the rum plant got closed down and I lost my source of fuel ethanol.

Got the bug to get this machine running though, on pump gas, keep the boost low so I don't go blowing things up, so I started pulling parts out of storage and making up a list of what I need to do to get this going.

Please bear in mind that I have two other 50's truck projects, and two '55 Chevy projects, as well as my '62 Chop, that never seem to be finished, always need attention of one sort or another....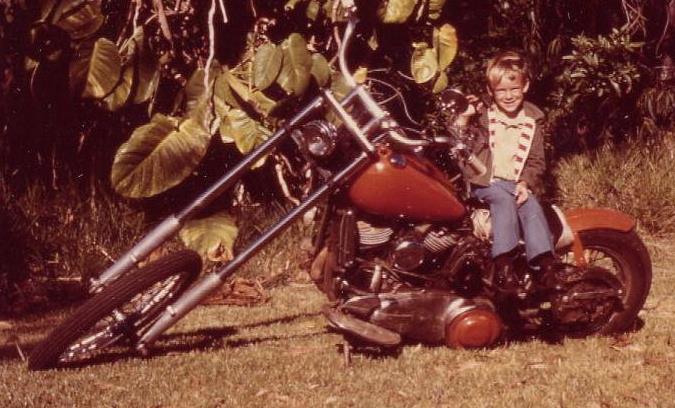 That's my oldest son, Vincent, in 1971, guess what he was named after?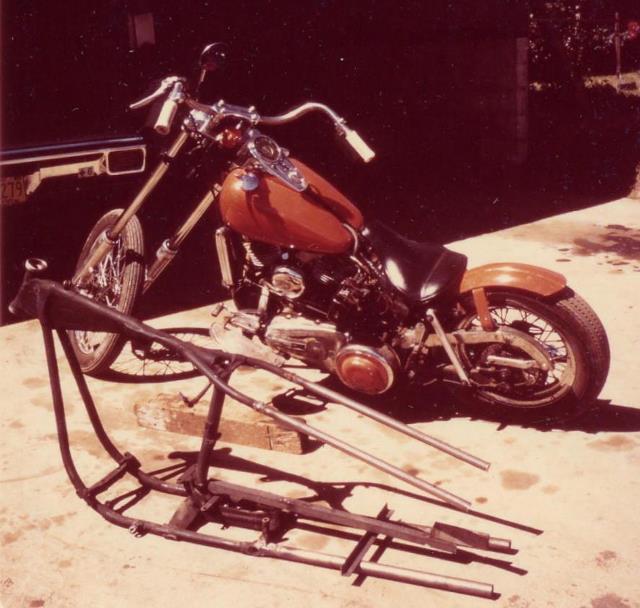 The frame I was working on in this pic was for my '62 FLH, that I built up a 60's style chop job and put it on the road in about 1969. It's getting a complete "head to toe" rebuild right now....

I found a chrome moley, tig welded, light weight swing arm drag race frame from Strociek Engineering, in Rockford, Illinois, that I thought I could use. Light, strong, well put together. When I started fitting the S&S Sidewinder parts together, clearancing the cases for the big jugs and the stroker wheels, I found out the bolt pattern on the S&S jugs was for shovel heads, and I had pan heads I wanted to run. So I packed up the blower and all the other parts to do this and stashed 'em away!

Then I found a pair of the early STD Pan Heads, with shovel bolt pattern, and machined them to fit the big bore S&S jugs, and stashed 'em away. I have two other Harley bike projects going on, a '55 Chevy blown Olds gasser project, a '55 Chevy 4x4 truck project, and a couple of others. So if I didn't get 'er together and running, one of my three sons or my daughter would!!! I completely understand the possibility of blowing these old '59 cases apart if I tried to really "honk" on this blown 93" old motor, it will never see a drag strip, except maybe on special events as a "Nostalgia Run" down the track...., mostly it will just be a fun road machine, and I am now 70 and finally (maybe) have a little common sense, I will never run it hard enough to blow it apart...... (my wife is laughing her ass off as I type this......)

Here I am just showing the STD heads I acquired for this project. Got 'em many years ago when I first wanted to do this project, but many things kept getting in the way of making it happen, health issues, family, job, other projects, and as I have always had another bike to ride, this one kept getting put on the "back burner"....

Here's the STD Pan Heads......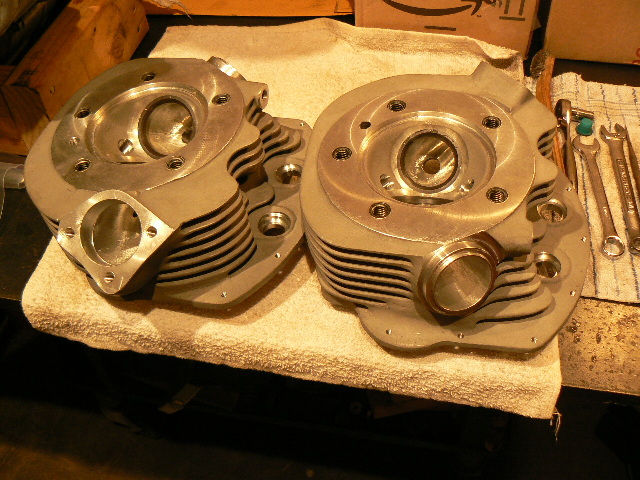 Yup, dual spark plugs.....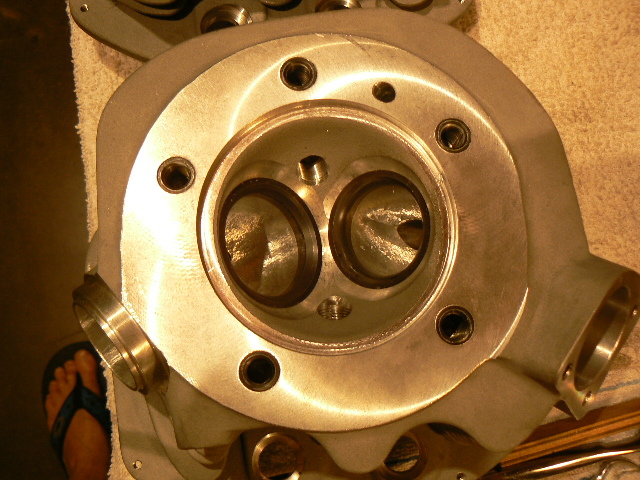 For comparison, here's my '62 FLH, which I am in the process of rebuilding for my old chop, that I first put on the road in '69....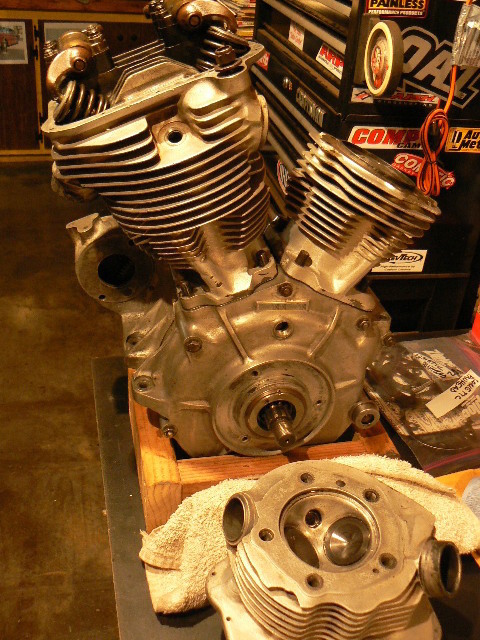 Oh those original '62 heads look pretty sitting on there....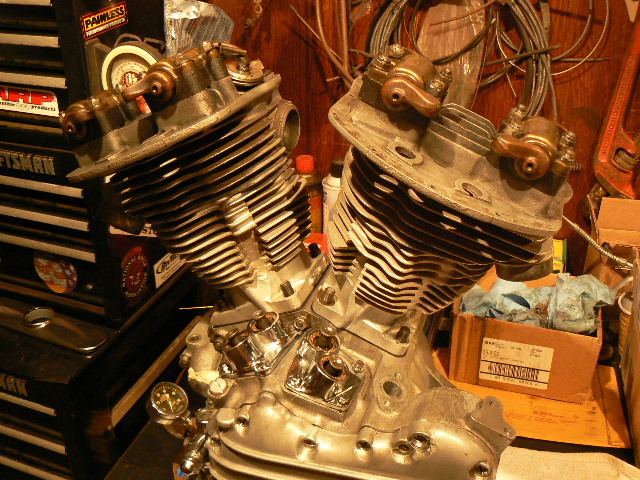 The bottom end of th2 '62 motor is rebuilt to stock specs, wheels aligned, rods straightened, bore is '060 over, heads are original stock, rebuilt with mostly new parts, and I am putting it back together in the next couple of days....

Just thought I'd set the STD heads on the '62 motor, just for grins....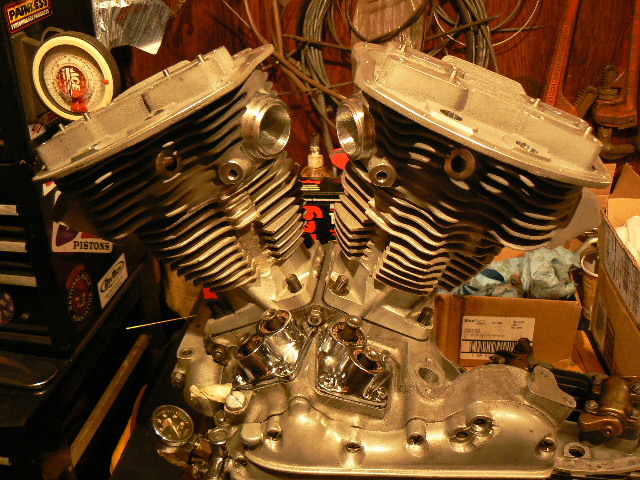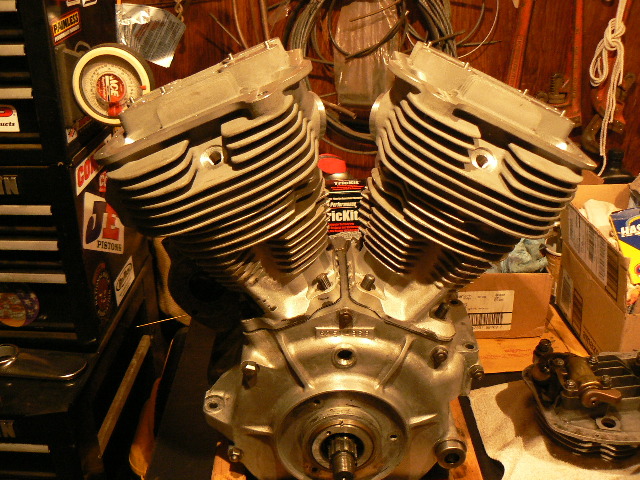 More pages on the '59:
'59 Pan Page 2, The Blower Parts....
The Blower Project Changes to a Jammer 88 inch.... (Page 1)
More Later as I get something moving on this blower bike project.....

Here's some links to more sites:
2Loose Willy's '62 FLH Chop Rebuild Home Page

Home of the CoffeeCup HTML Editor