55 Chevy Four Door "Gasser" new pg 3
Dealing with a Doug Nash 5 sp that is not holding up behind a '67 blown Olds 425 motor.

Keep blowing out gears in this tranny, latest is third gear, and can't find a replacement...
Went ahead and machined a spacer to fill in where the cluster shaft 3rd gear was
from a 2" piece of galv. pipe, it looks good to me...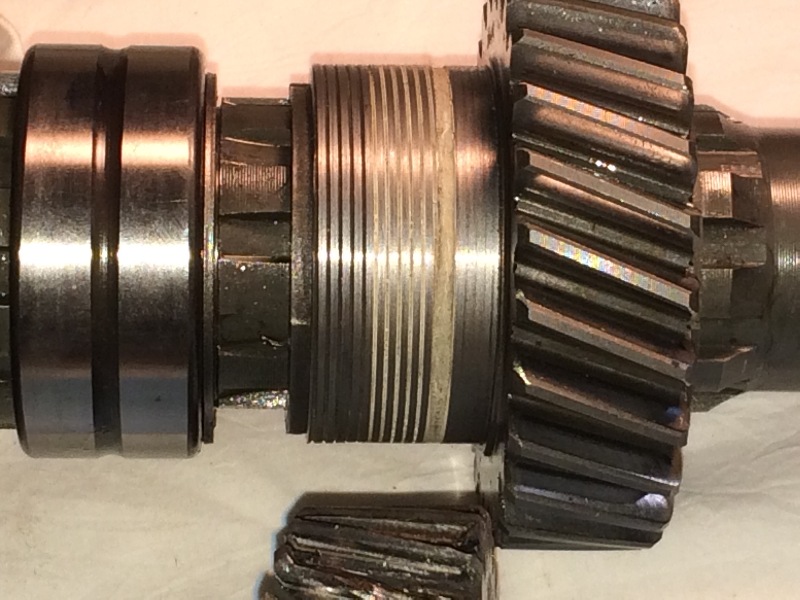 The final assembly, now a 4 speed, but whatta big gap from 2nd to 3rd (old 4th)...
Now to stick it back in the car and see how it goes...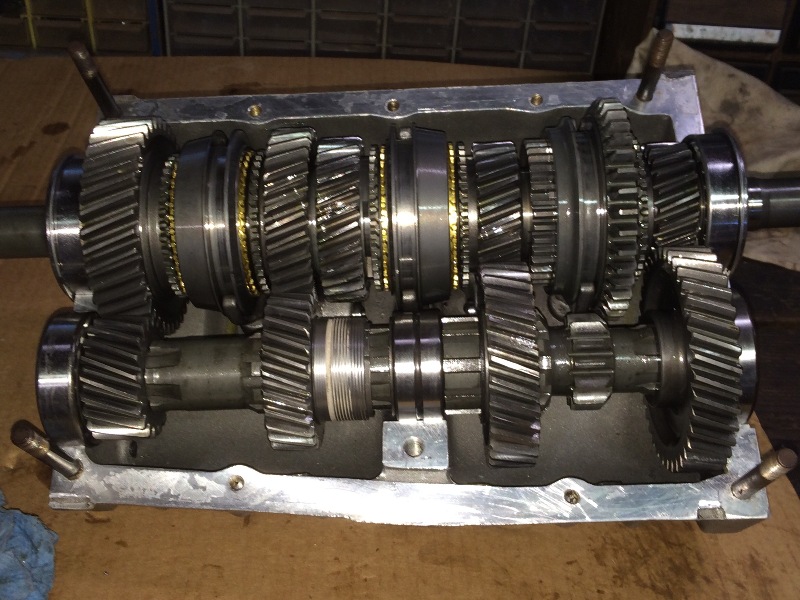 Silica sealer all around and she's all buttoned up and ready to go...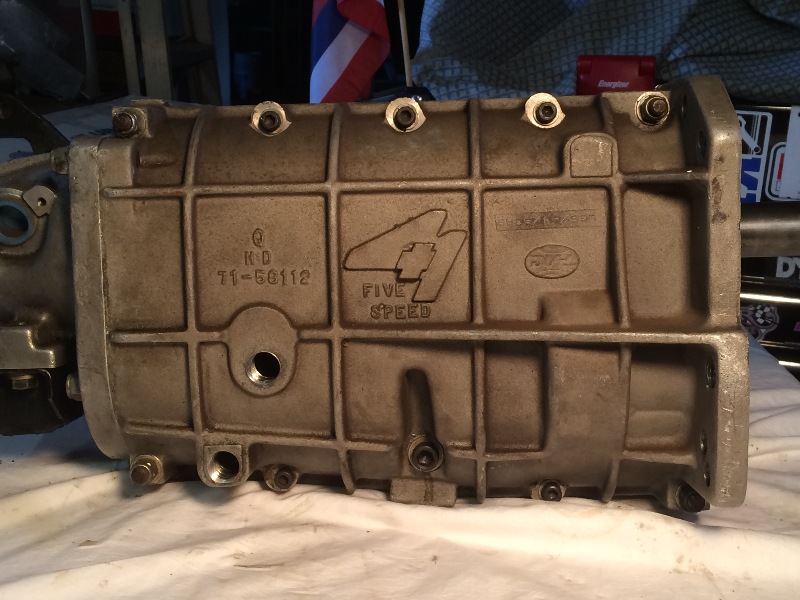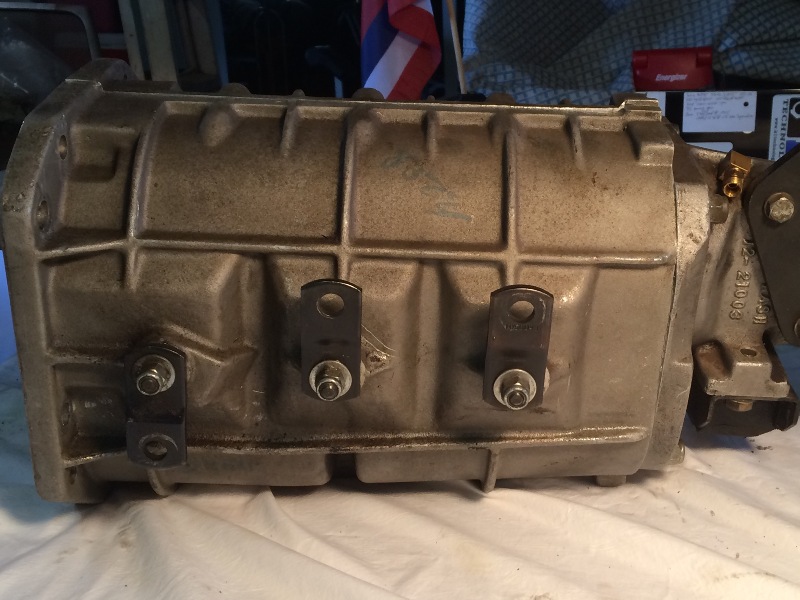 Had to block up the old floor jack to get 'er up there...

I used to lay on my back and put this tranny in the hole like it was nothing,
Sure can't do that anymore, ya think maybe it's 'cause I'm 73 yrs. old?
Nawww.....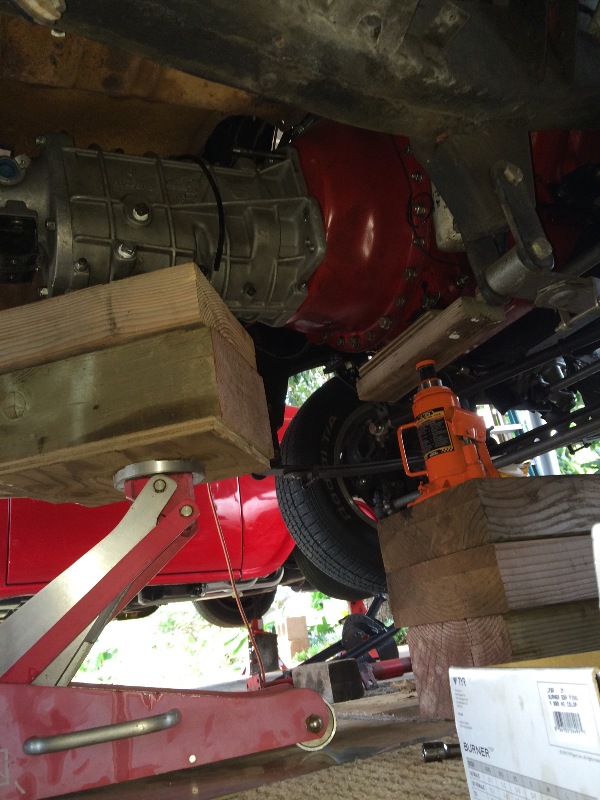 8" long guide bolts in the top holes help a lot to guide 'er in the hole...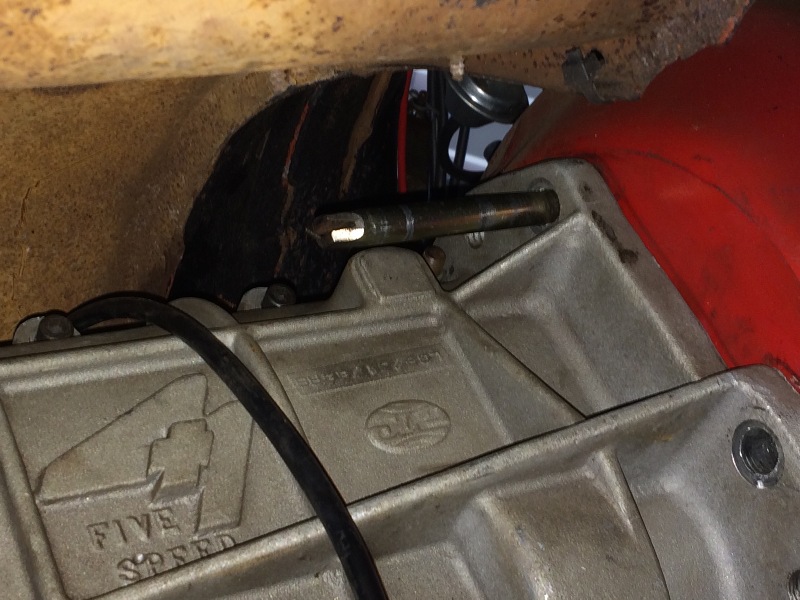 ....These long bolts, with the heads cut off, squared off and screw slotted, works
well to pull the tranny also...
Did a test run,
She runs great, had a good time, but I do miss that old 3rd gear....
Update:
I've just learned that Richmond Gear is now owned by a Company called MidWestTruck,
And they just told me in an email that they will not support the older
Richmond Gear Street 5 speed trannies.

So I will not be able to get the 3rd gear set I need to
put this tranny back into full 5 speed operation.

It's running just fine with only 4 forward gears, for now, and I've decided to get
an upgraded Tremec TKO 600 five speed for Patches.
Here's the gear splits vs speed and rpm for the current
3.50 rear end with the Doug Nash 5 speed: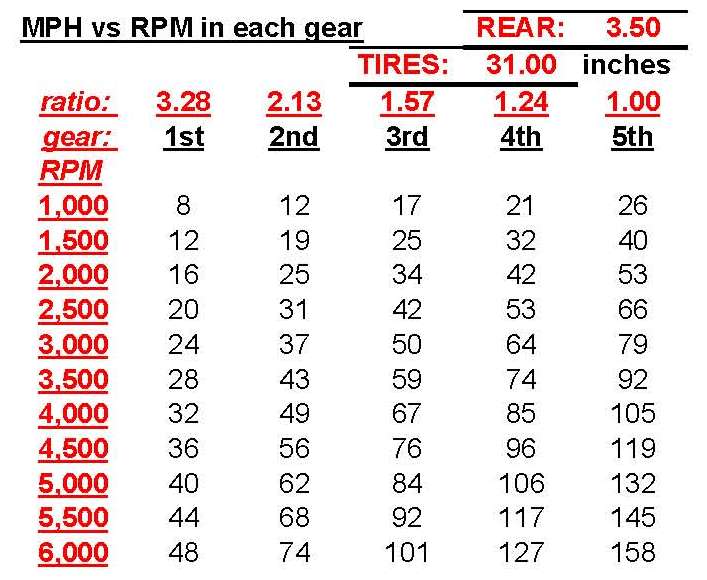 Here's the gear splits vs speed and rpm for each rear end with
the new TKO 600 trans:
4.ll gears: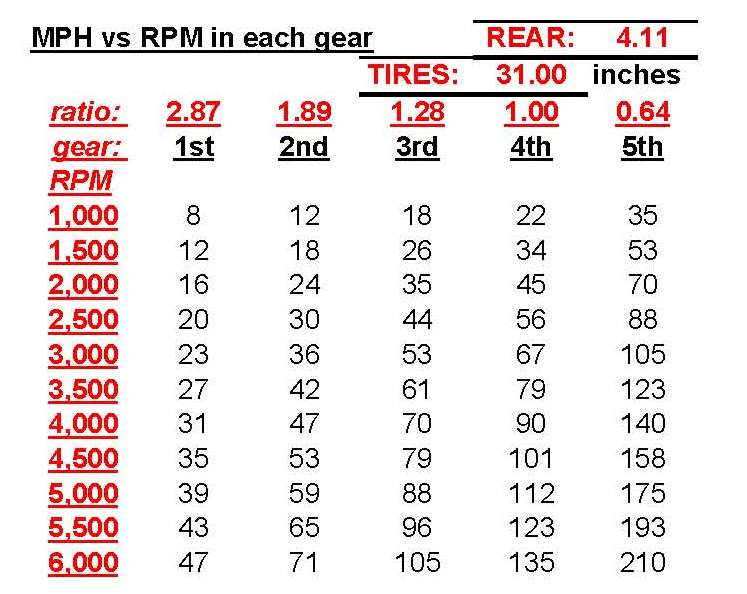 4.33 gears: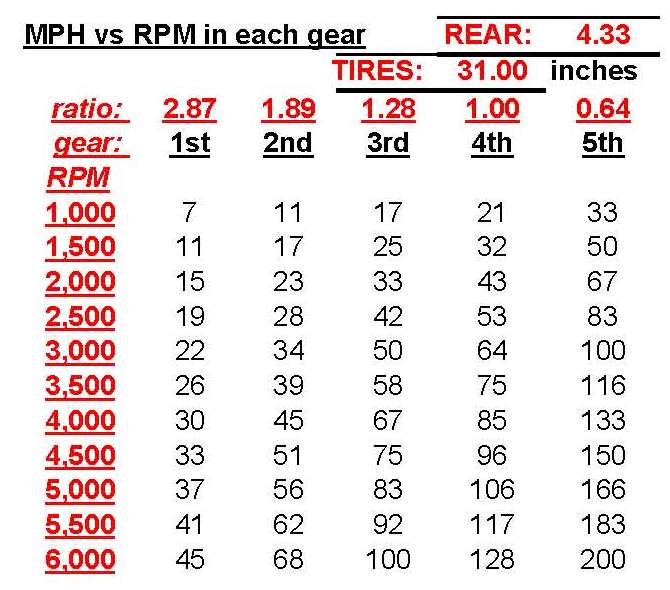 4.56 gears:


I'll set it up with the 4.56 rear gears first,
Let's see how all this works out....

More Later

It's Here.....
Silver Sport Transmissions (SST) in Tennessee put this one together
for me and shipped it out via UPS Surface Freight, it only took a week
to get here in Hawaii, pretty amazing!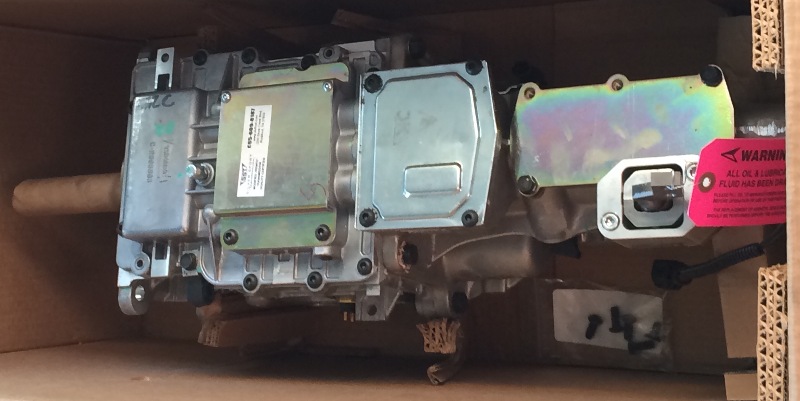 This tranny has the shifter location matched to my old location for
my old Doug Nash.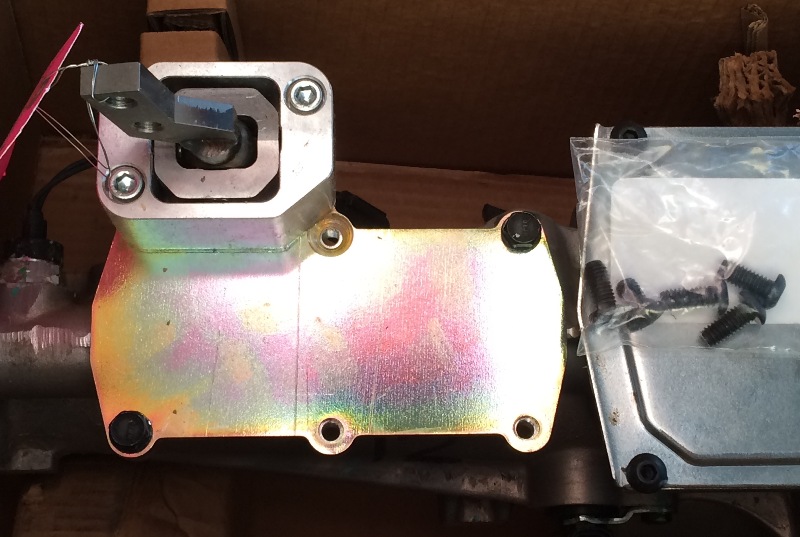 SST has a very nice shifter setup that
has many locations available, I chose this one as it very closely
matches the location of my old tranny....
I had SST build me a new driveshaft also, as this transmission is 2-1/2" longer than
the Doug Nash, and did not want to cut down my old driveshaft.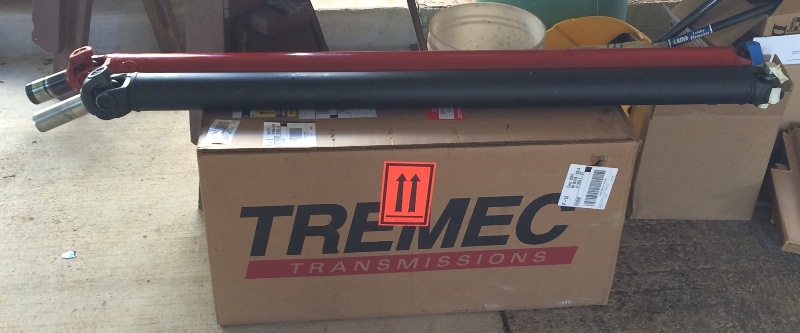 From these wear marks on my old tranny yoke,
I could have used a little more insertion into the trans...
I figure another 1/4" would be good...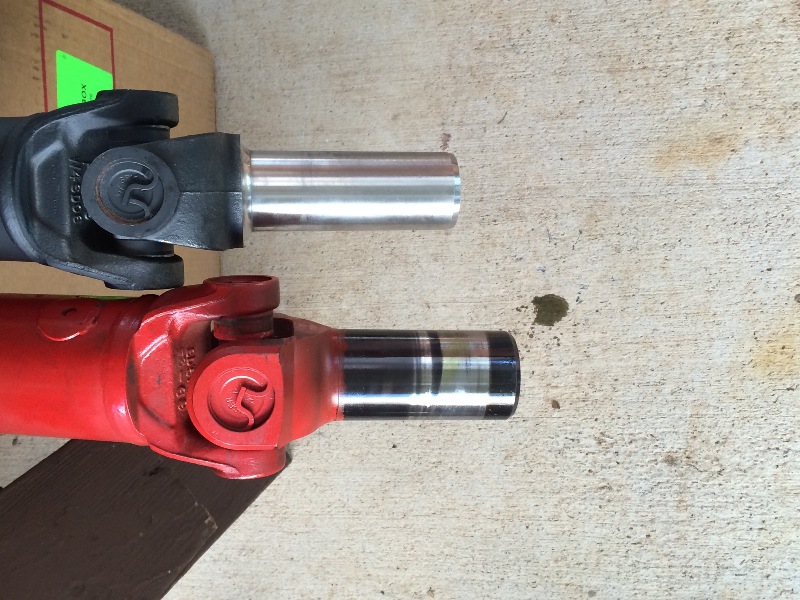 Normally, after checking all dimentions thoroughly, I would have spec'd
the new driveshaft to be 2-1/2" shorter, to match the longer transmission...
But, to get the additionl 1/4" yoke insertion into the transmission,
I had the new driveshaft made 2-1/4" shorter....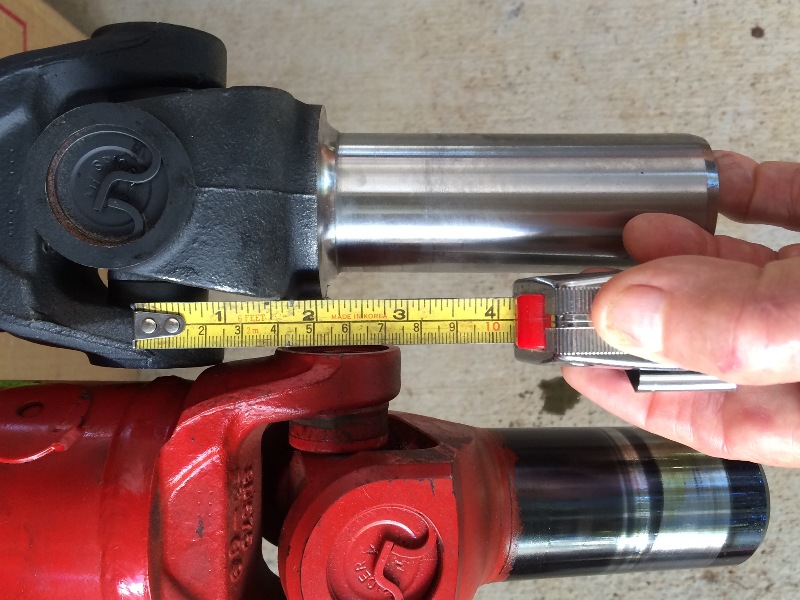 I'll carefully double check that once everything is back together...
Started the process of pulling the Doug Nash...
First pulled the shifter parts off the trans...
Easy to do with the DN, small hole in the floor
that I can easily poke the shifter through when
installing and removing....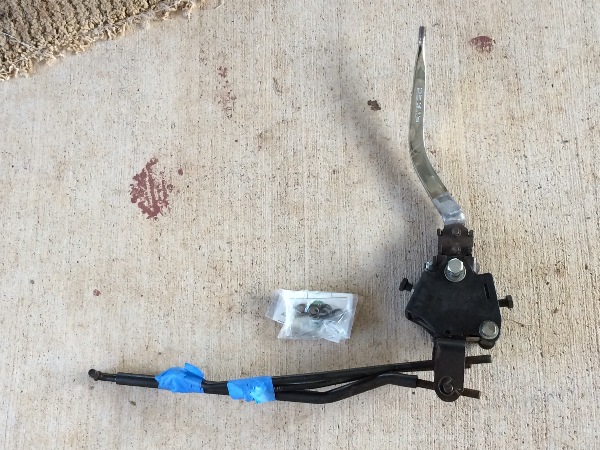 I tape the shifter rods to keep the length adjustments that have
worked well for me up to now on that Doug Nash trans....
As mentioned earlier on this page, I like to use a pair of long bolts
to assist in removing/installing these trannies, as shown here: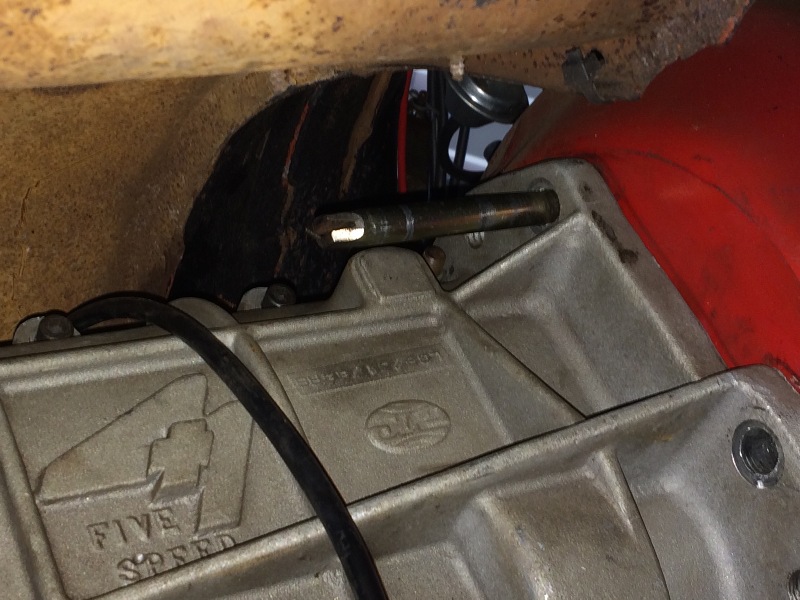 I like to use the two top holes, but could also use the lower right hole
for the Doug Nash, but the lower left hole on the DN
is blocked for a long bolt like this...

I thought I better check this on the Tremec, see if there are
any difficulties...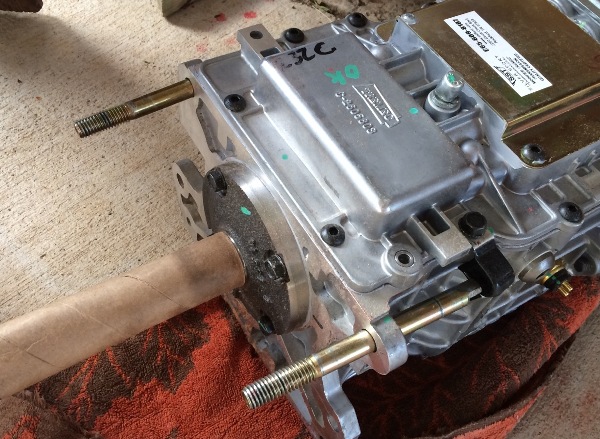 Sure enough, the bolts hit other parts of the Tremec using the top holes...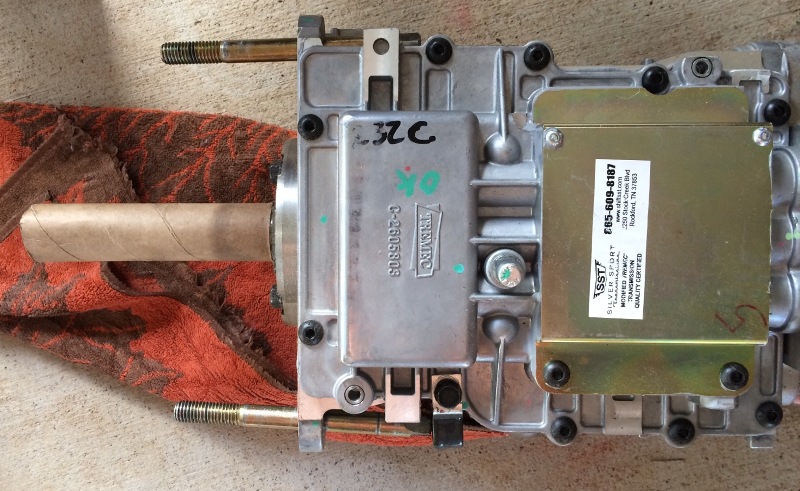 So I tried the bottom holes....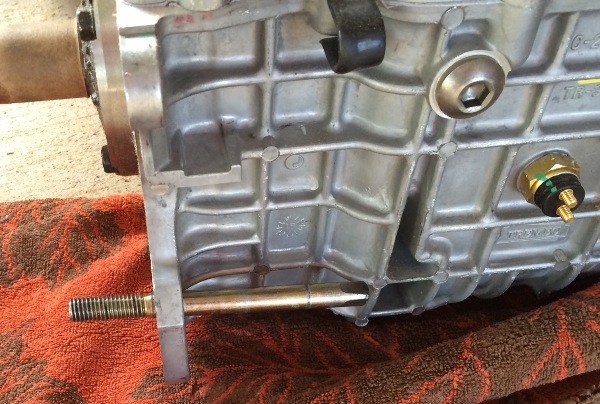 It looks ok, it's close on the lower left side, but it will work...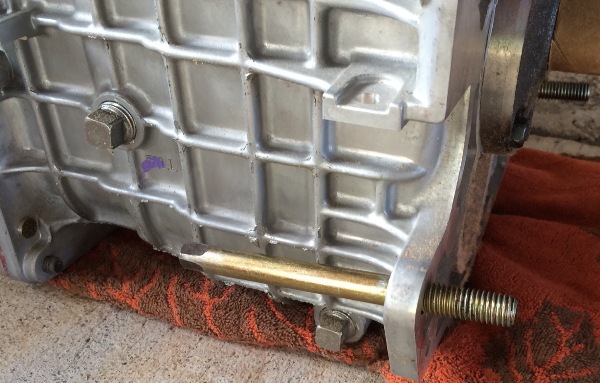 The lower right side, no problem !!

Put a bottle jack under the motor for support...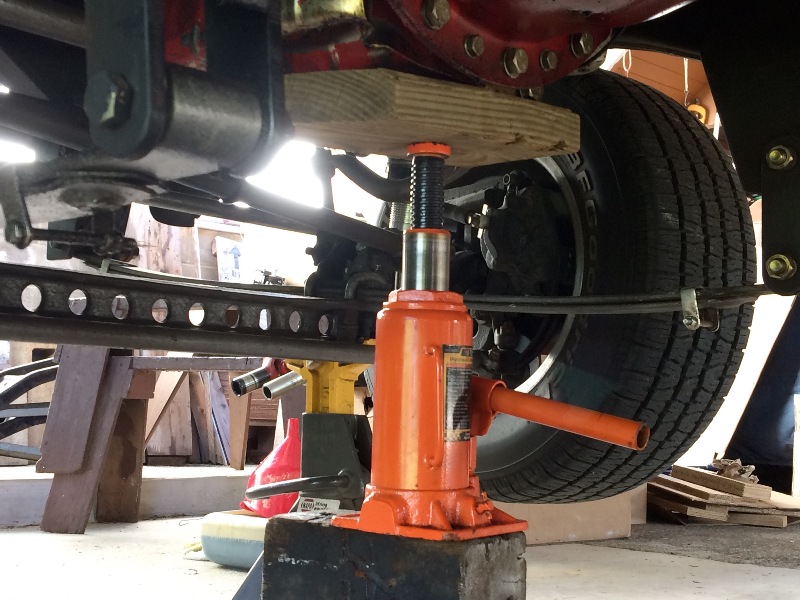 Loosened the trans rear mount bolts, and jacked with the bottle jack
until there was no load on the cross member...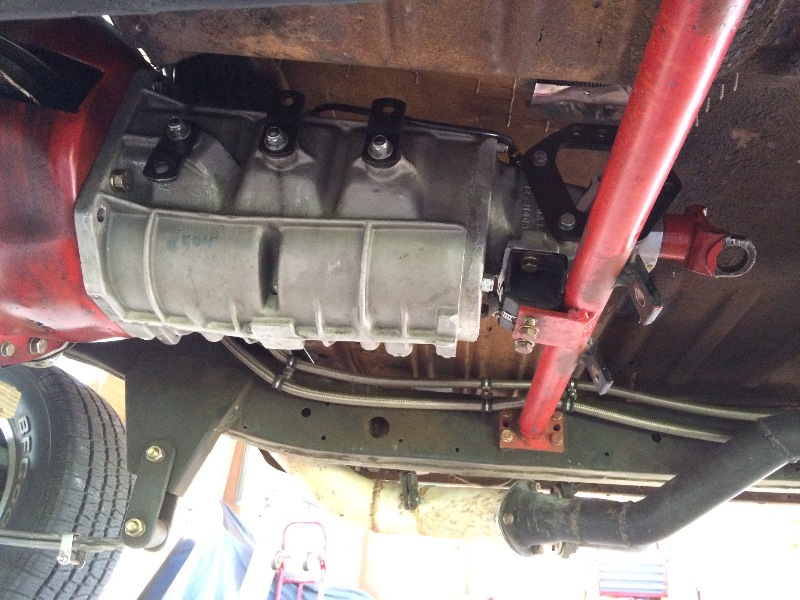 Then pulled the cross member out...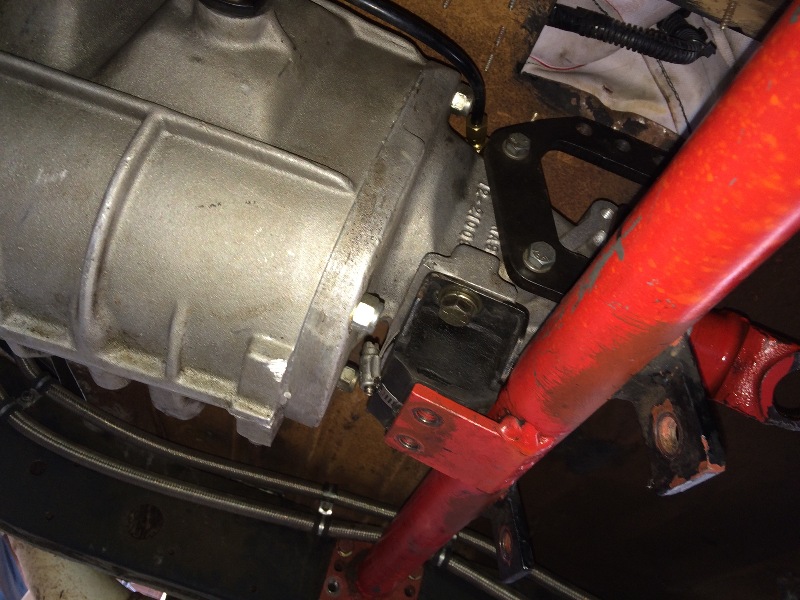 This cross member is bolted into threaded plates welded to the frame
on both sides, five height adjustments are available using
only two bolts on each side. With the DN I used the middle
height, which allowed me to use 4 bolts on each side...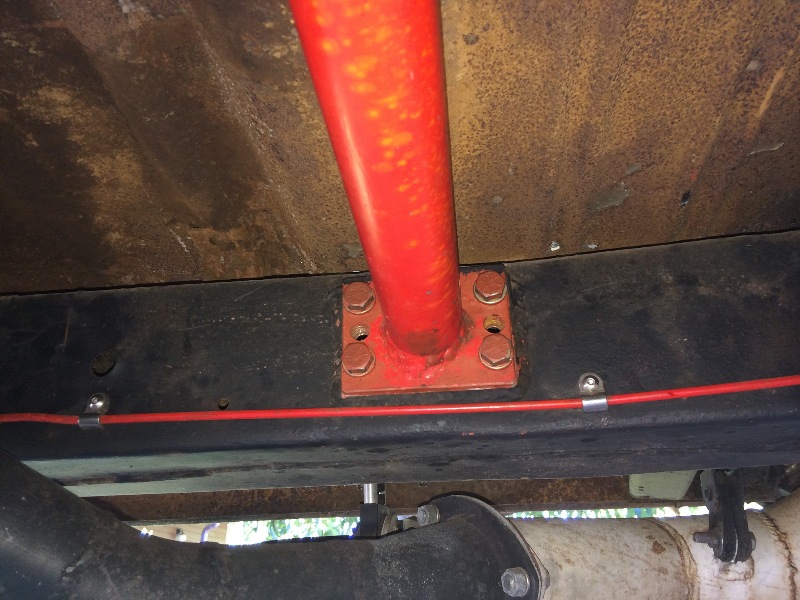 Put my long bolts in the upper left, and the lower right locations,
and pulled the DN tranny out...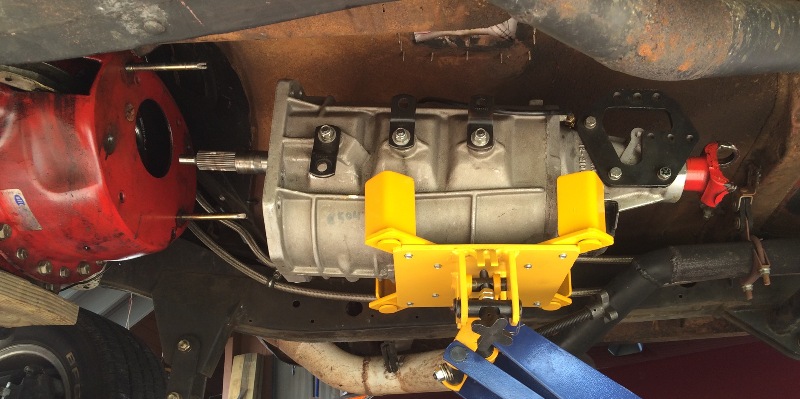 My new tranny jack from my local Napa dealer is sweet !!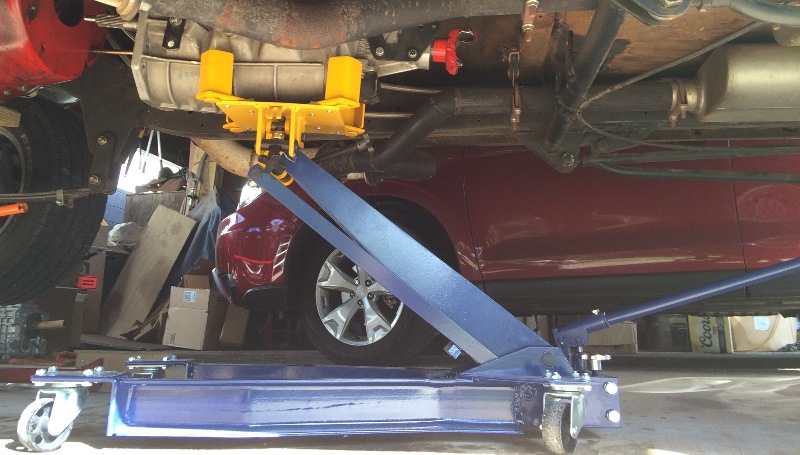 No more wrestling those trannies around for me....

Two 5 speed trannies....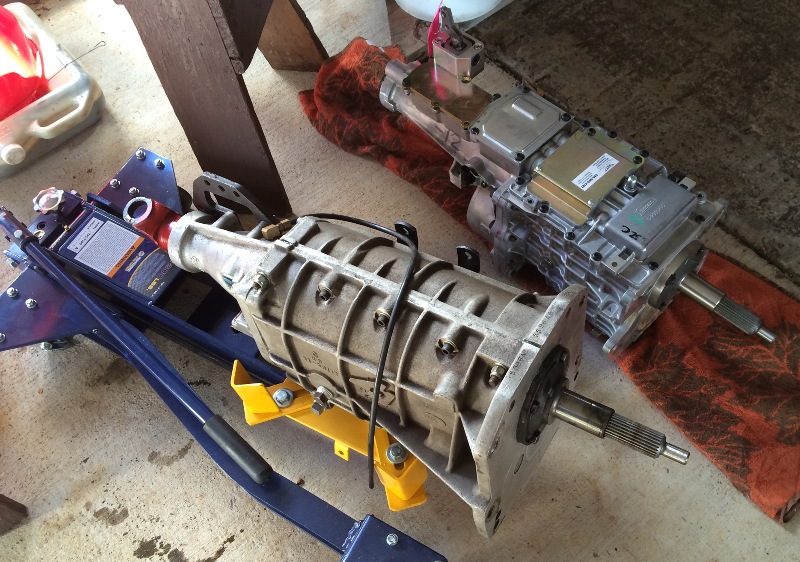 I'm gonna miss that Doug Nash, have had it for over 30 years now....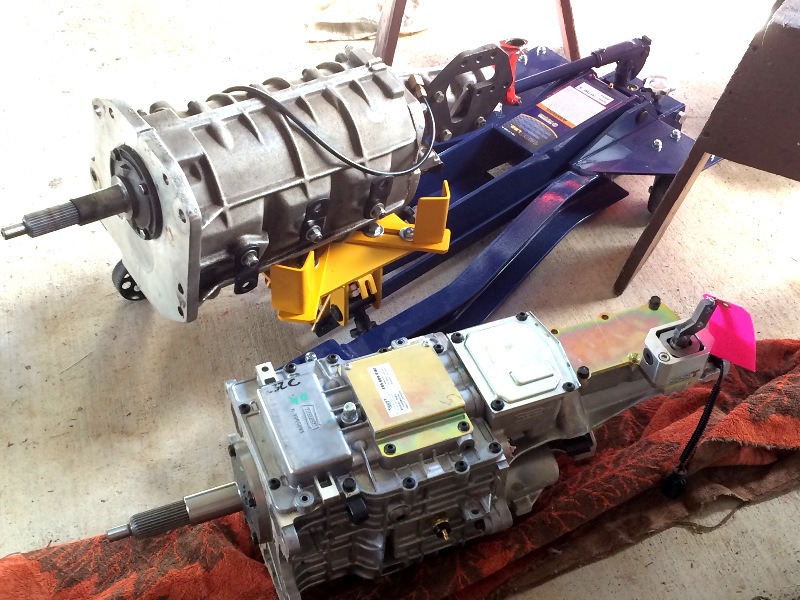 In the pix above you can see the Tremec shifter location that SST put on there for me,
it's almost exactly the same as the old DN shifter location. You can see the
mounting plate for the shifter on the DN box, with the three upper mounting
holes and three lower mounting holes. Those holes go in pairs, upper and
lower, I used the middle pair for the gasser, it cleared the bench seat nicely!!

Did a quick try to install the TKO with that shifter stub on the box...
Won't work, that stub hits the floor too much, preventing a clean install...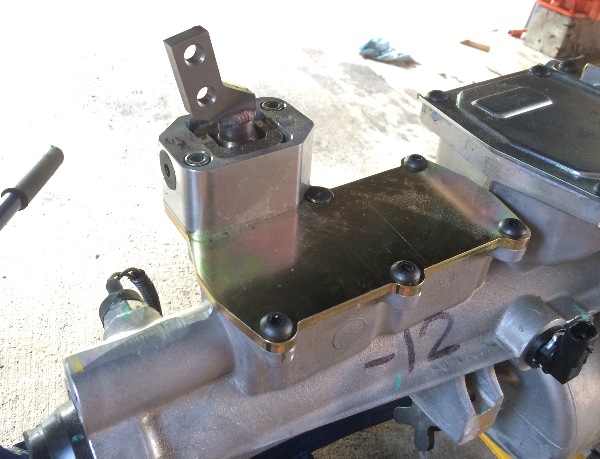 It's gonna have to come off for the install, and then re-install it
afterwards in the car.
That could be a problem, as the hole in the floor is quite small,
as with the DN shifter I could stick it up through the hole from
underneath quite easily and bolt it in place on that DN shifter
mount plate.
I just might have to cut a bigger hole and fab a metal cover
to screw down after the shifter is set up on the trans.

More To Come....

Back to the new Page 1

Back to the new Page 2

To the new Page 4

To the new Page 5

Back to the Old Pages

To The '55 Gasser Home Page