55 HT project page 31
Still working on that clutch problem....

NAPA doesn't even list the clutch release bearing
for this application ('93 Z28 LT1 T56)
I had to go online and found this one on ebay....
I consider that a fairly huge failure for NAPA that they
don't list this part for that Camaro....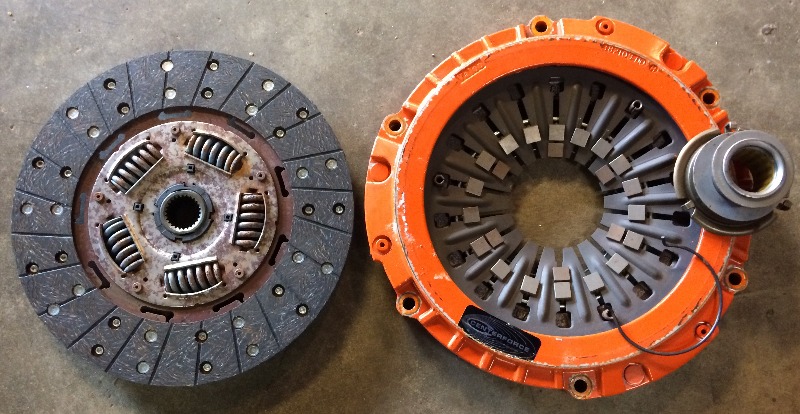 The clutch plate I selected has the organic material on the pressure plate side....
And the metallic pads on the flywheel side....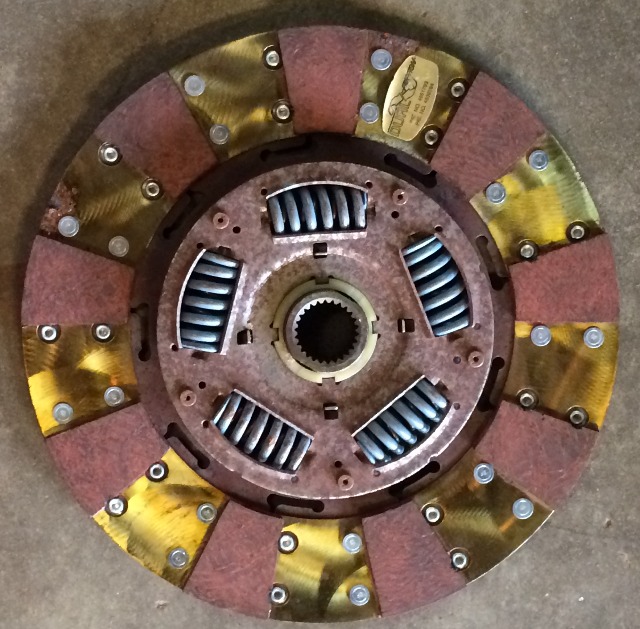 I had to look closely to see that there were three
openings between those fingers there that the three clips
on the release bearing fit into from the motor side of the clutch....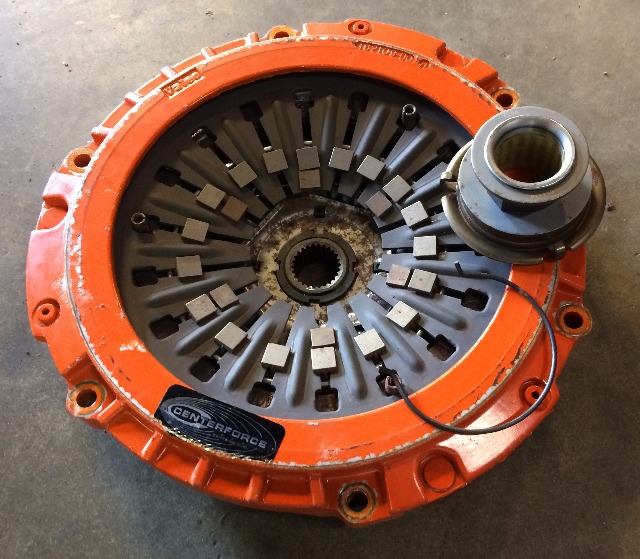 It just 'clicked' into place with a little 'persuasion'....
And a retaining ring clicked into place on the tranny side....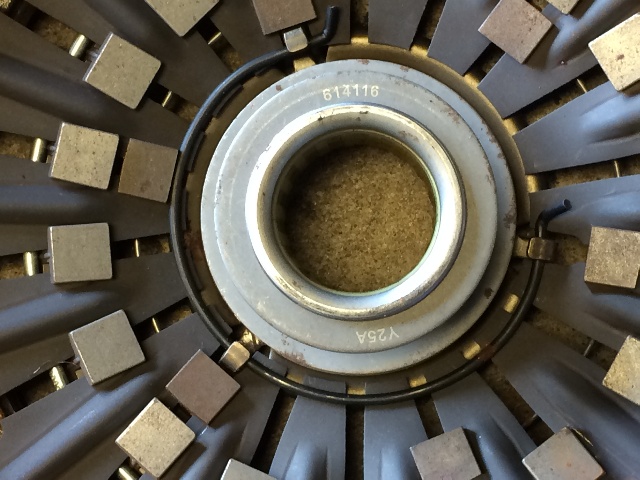 The clutch release arm has a sliding capability so the
tranny can be bolted up, then the arm is repositioned
to engage the release bearing collar...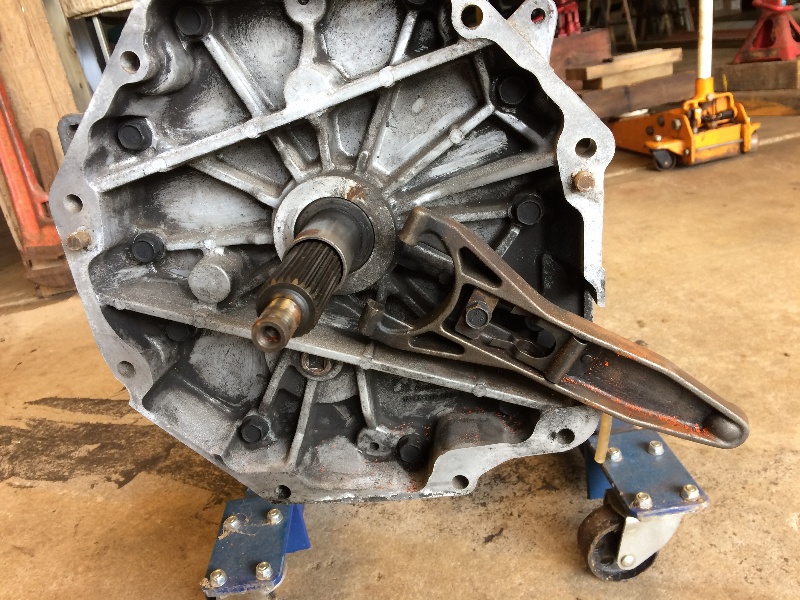 like this....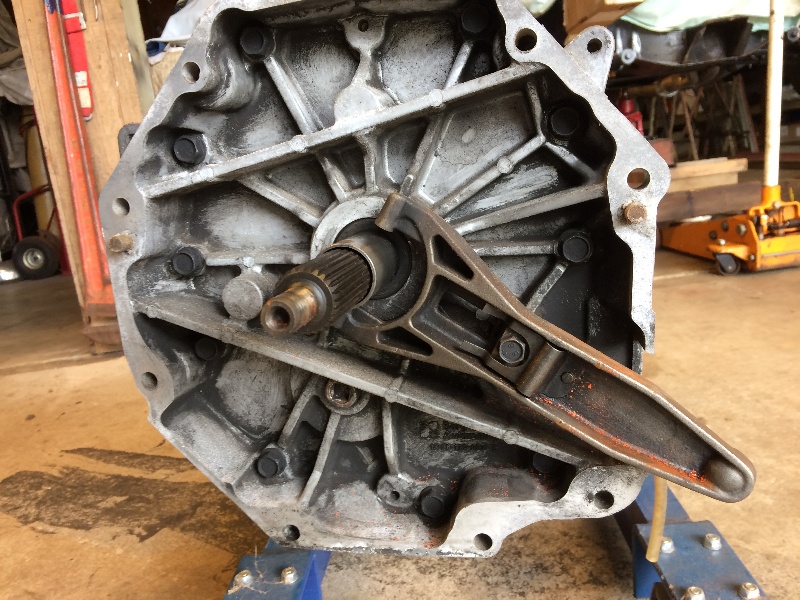 The clutch bolted up to the flywheel no problem,
And, yes, I did align the clutch disk with an old tranny input shaft....

Now to fab attachment points for a new cover....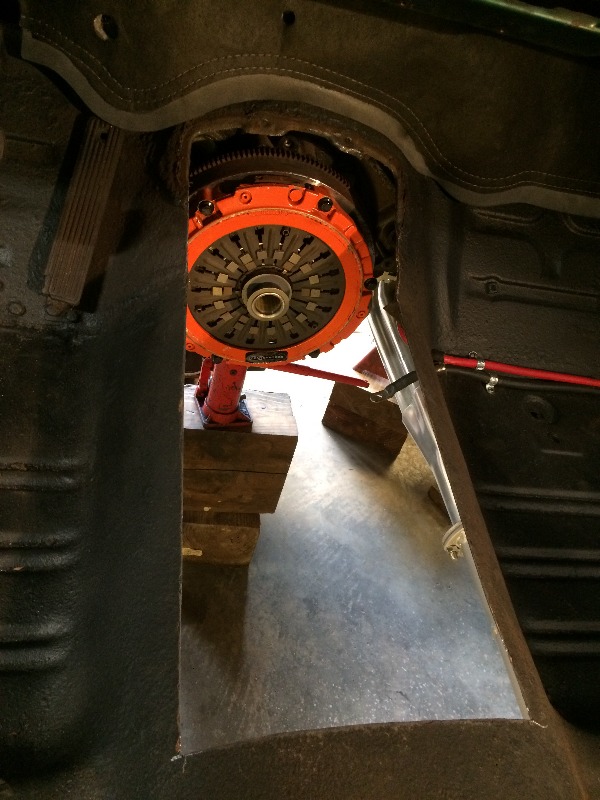 Found a piece of 14 ga.....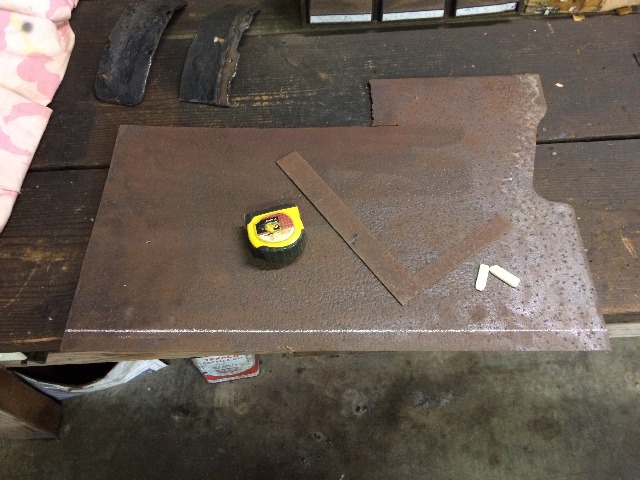 And cut two strips out of it, 1" wide....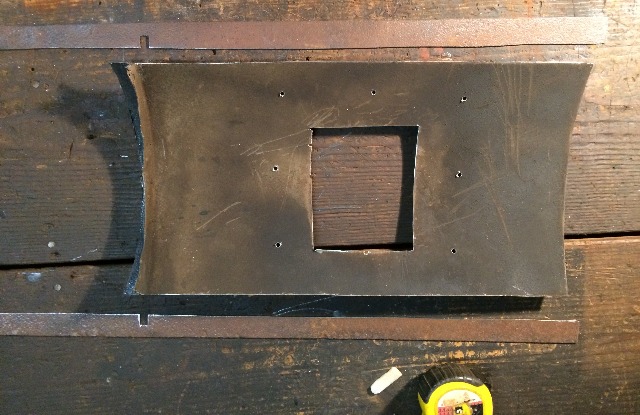 Had a few minutes so drilled 1/4" holes 2" apart in the floor along
the right edge of the opening, and spot welded one if the
1" strips under that side with 1/2" exposed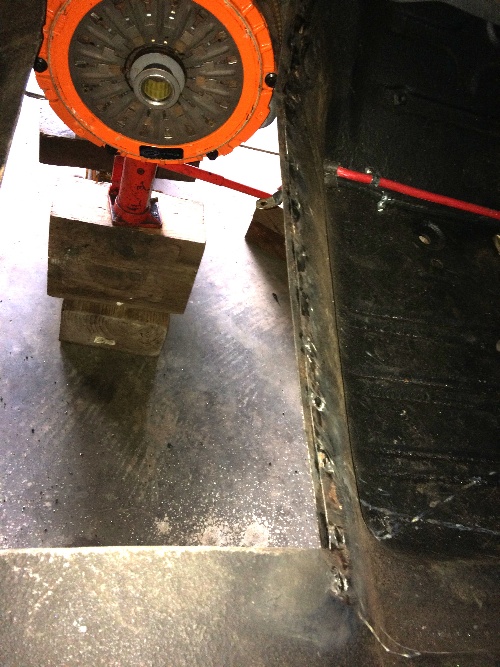 Got three sides done...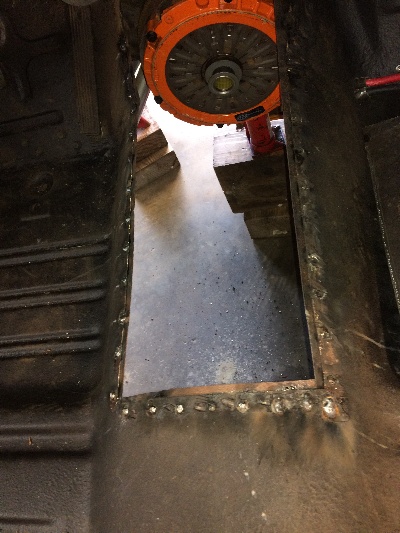 Trial fit, looks pretty good...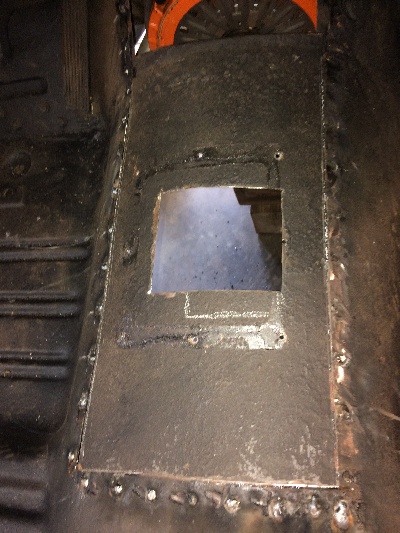 Tested some bits and settled on an 11/64" for the pilot hole
for these #10 sheet metal screws. Drilled them 2" apart,
will use this as a template to drill 11/64" holes in the strips
I welded in under the edges of the hole....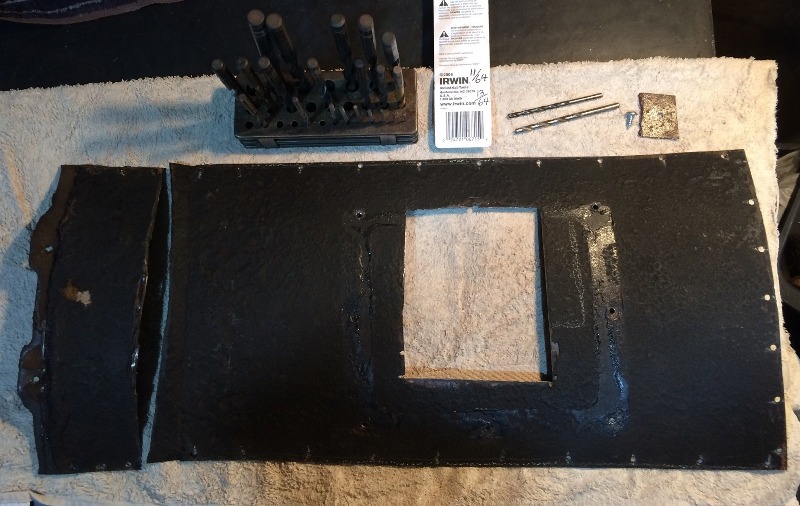 Later I'll drill these holes in the cover to 13/64" to better accomodate the screws...

It's solid, now to deal with those two upper pieces....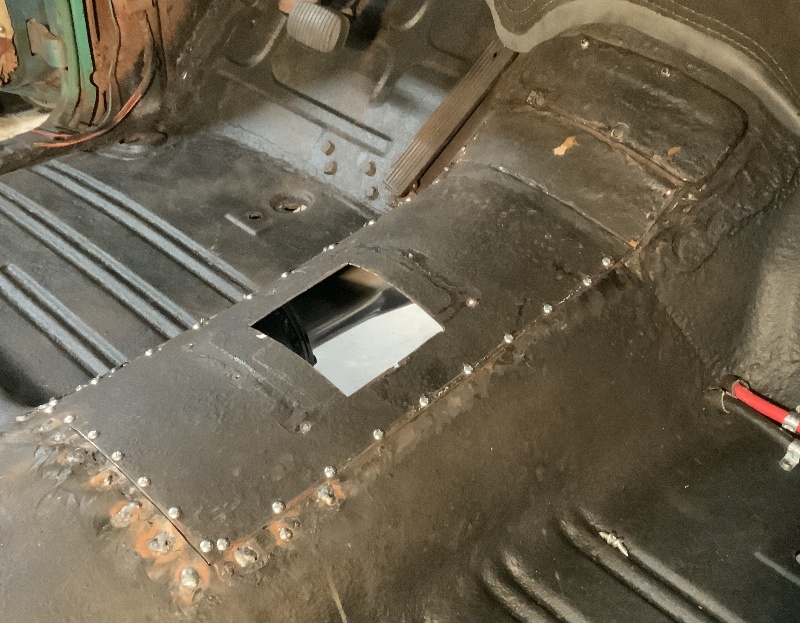 Had a few minutes so I welded the three pieces together and painted it...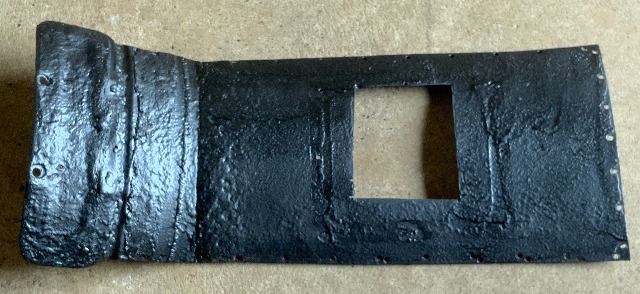 This is what my '93 Camaro six speed clutch release fork looks like...
That T-stud and bolt is what it pivots on...
Chevy also had a 5 speed option for the Camaro,
it is the "old style" clutch setup...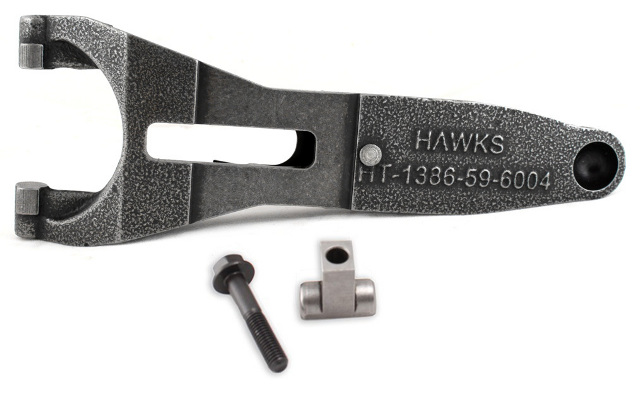 A view of the back side...
You can see how it slides in and out to engage the clutch release bearing collar
during assembly/installation...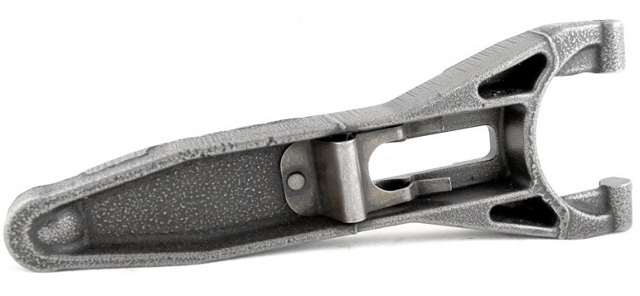 By carefully milling the base of that T-stud to shorten it,
I should be able to locate the fork away from the pressure plate
where it can function correctly....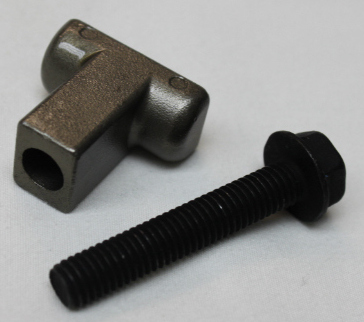 More Later....