Willy's "2Loose" '55 Chevy Half-Ton Pickup, Converted to 4x4:

Put on the road the summer of '02, those front fenders and grill are off of a "Viking" medium weight commercial 1955 Chevy truck. They are wider than the standard truck fenders, and have a different grill, as you can see, but do fit the stock half ton cab and hood very well:

The finished product: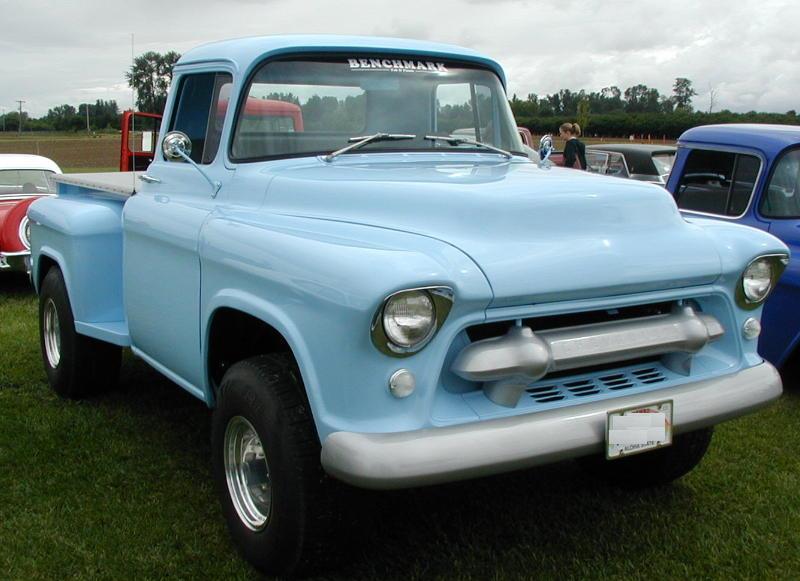 Box is 6" wider than stock, plus fenders are another 2" wider each side, overall 10" wider than stock.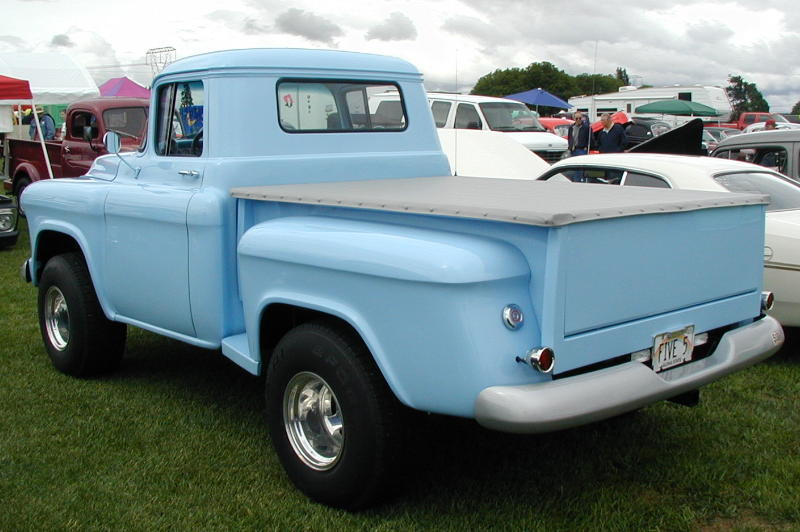 Rear Bumper is a front bumper that was widened and modified with a step. The paint on both bumpers and the grill bar is a BMW silver wheel paint from PPG.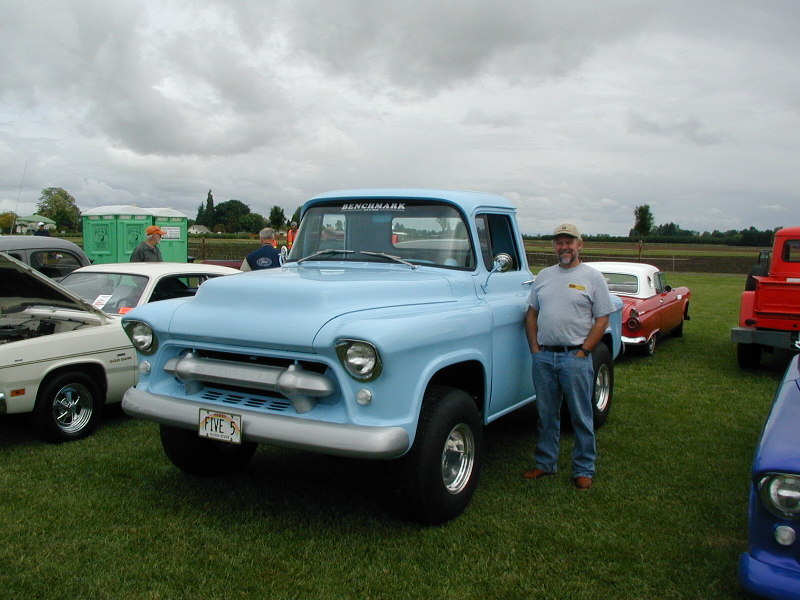 My wife Dorothy picked out the powder blue color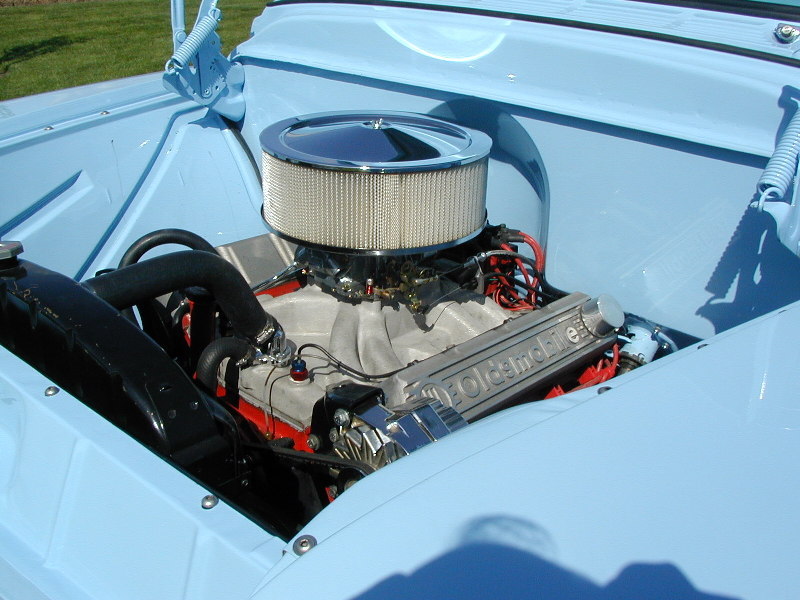 When I found it in '99 this is what it looked like....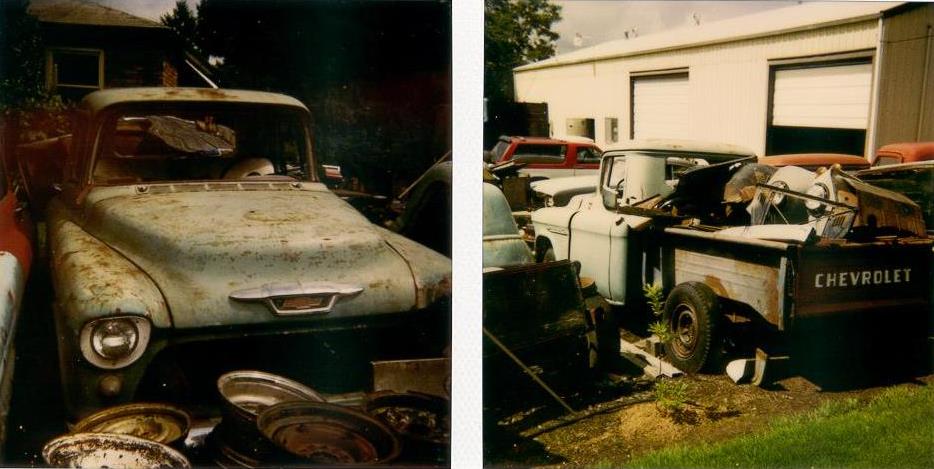 Here's some construction pics.......
'70 Olds 455 out of a Toronado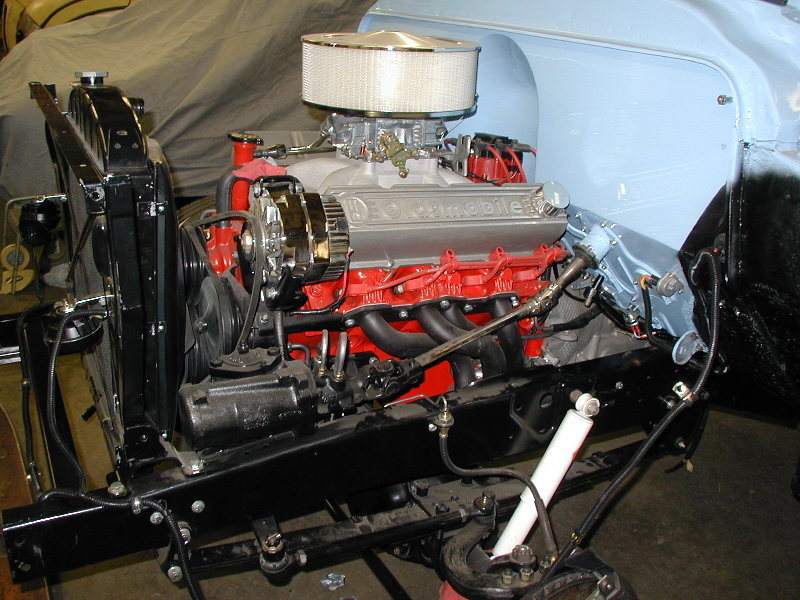 Tranny is a 4L80E with transfer case out of late model GMC diesel truck.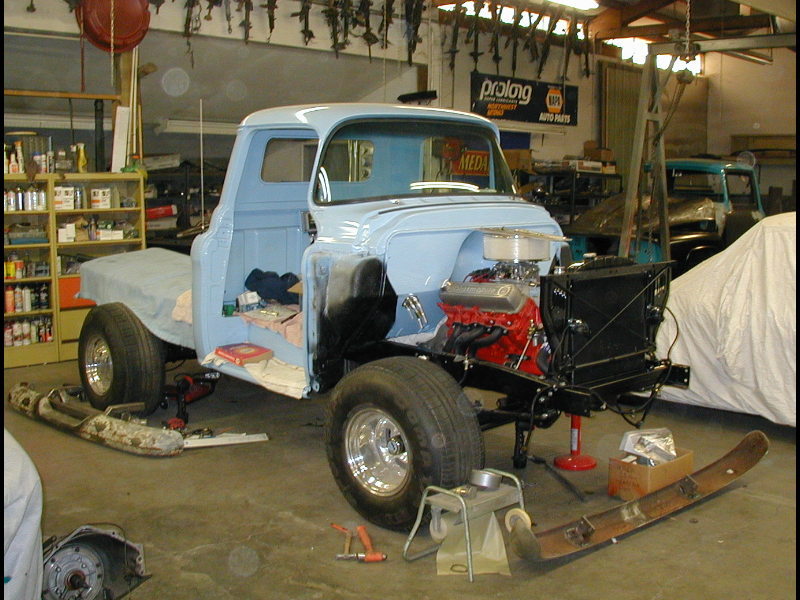 The truck has Ford axles, with a 9" rear, an early Ford 3/4 ton front axle, and a home-made 30 gal gas tank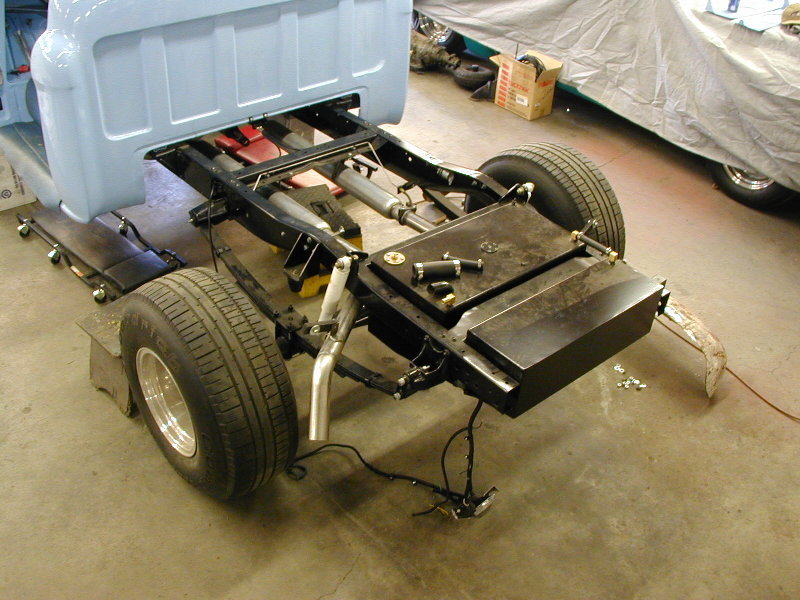 Fitting the front fenders and grill off of a '55 Chevy Viking commercial rig, they are wider then the pickup fenders, and the grill is different...

Fitting the rear fenders, fiberglas and as mentioned above, 2" wider than stock, had to fab a custom step in front of the rear fenders to match it...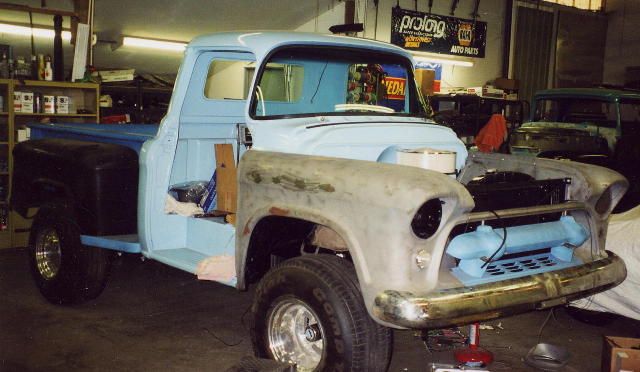 Cut and fitted a front bumper to the rear, welded in a step while doing that, these trucks did not come stock with a rear bumper...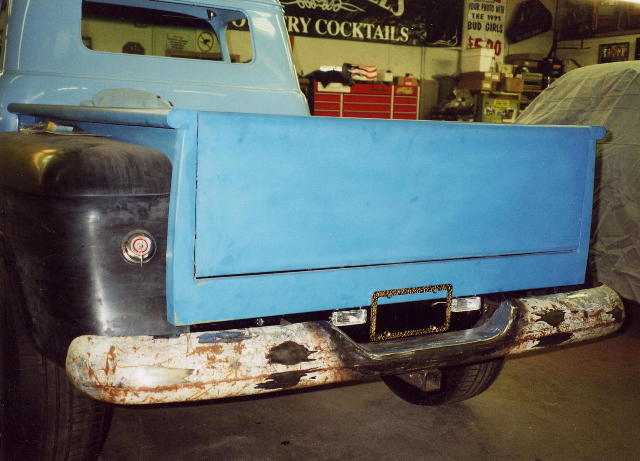 Fabbed an under dash mount for the radio and two of the AC vents...

Lots of wiring going on here....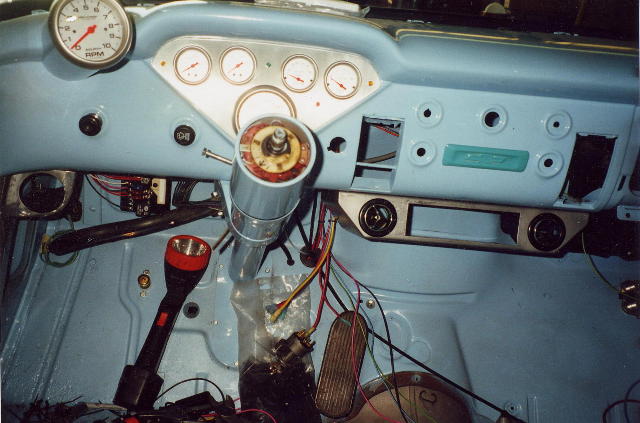 A TCI controller and my laptop and the tranny works great!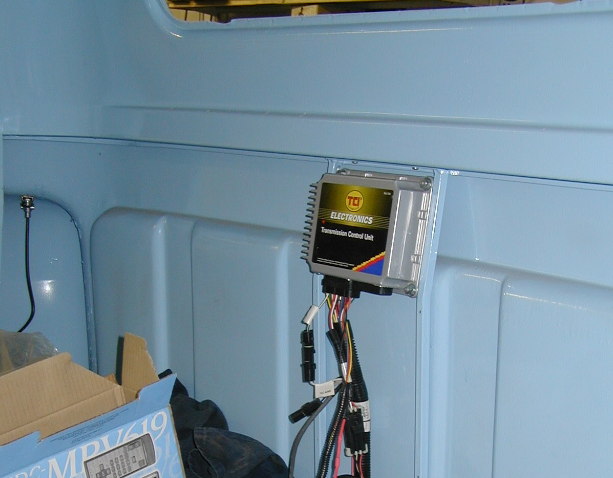 A buddy of mine does great custom body work. Recently he did a custom hood for his '55 Chevy truck, by inserting the center section from a '58 Chevy truck hood into the '55 hood, it came out great! Follow this link to a couple of photos:
Link To Custom '55 Truck Hood Photos
Update: Recently the engine develop a knock, it was a used engine anyway, so tore it down for a complete rebuild. TRW pistons, Crane H-272-2 cam, Edelbrock heads, Comp Cams pro magnum roller rockers, Performer intake, and a 625 Road Demon. I'm keeping the HEI ignition, it has never given me problems. It should make a good torque motor for this 4x4 application. There already is a set of Hooker Super Comps and a 2-1/2" exhaust system (with glass paks!) in the truck.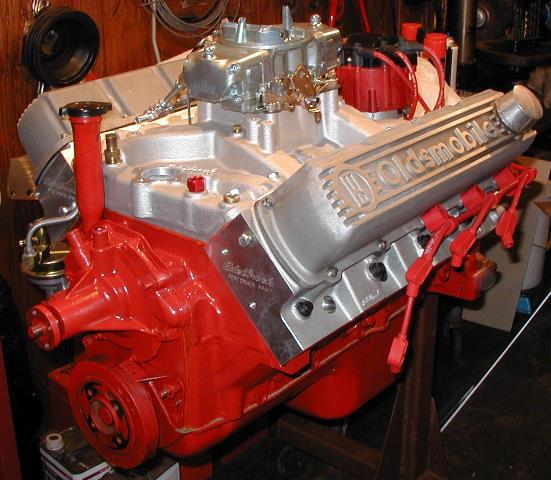 Also, there is a "bump steer" problem I am working on. Turns out the left side steering setup produces a fair amount of self steer to the left when the front end hits a bump! Not good! I can control it by steering right and then back left to correct it when I hit a bump, but it is not a safe setup! So I have fabbed a steering arm to mount on the right side axle knuckle, and convert the steering to a cross-steer setup: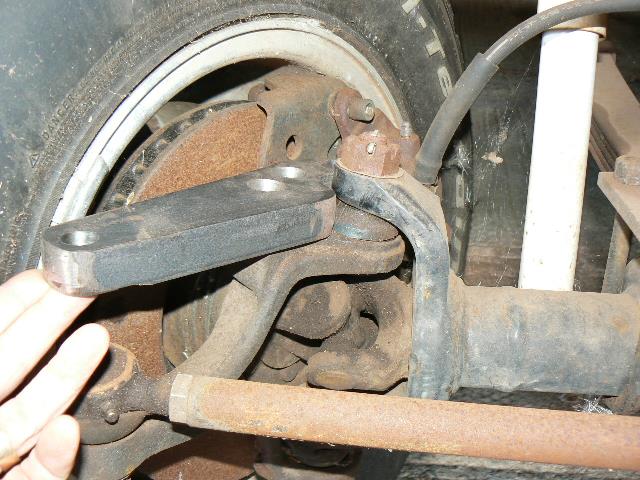 Page 2: Link To Cross-Steer Conversion
Pae 3: Link To Cross-Steer Conversion
Pae 4: Link To Truck Conversion
Pae 5: Link To Truck Conversion
Pae 6: Link To Truck Conversion
Link to the "Too Loose" Home Page
At one point I had a severe oil use problem, when this truck was first put on the road. It turned out to be a Joe Mondello intake manifold that had a casting flaw in the bottom of the plenum and was sucking oil up into the intake from the motor. Here's a link to some info on that problem:

Home of the CoffeeCup HTML Editor