2Loose Willy's '62 Chop Gettin a Rebuild ..................... Front Forks Rebuild Page:

I needed to rebuild these front '62 FL glide forks I had originally rebuilt and extended 40+ years ago....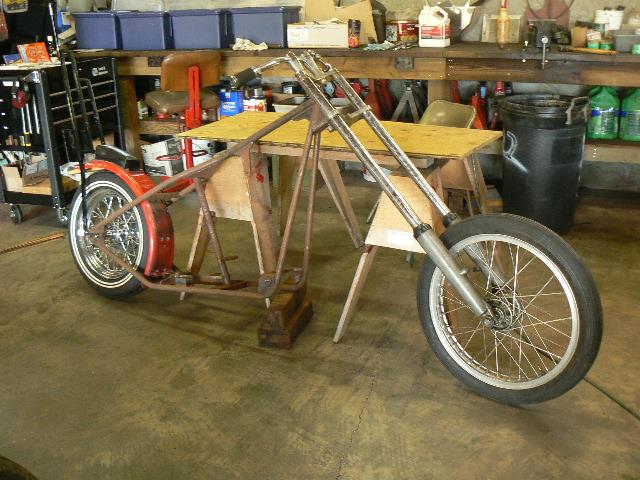 So I pulled 'em apart and sent the lower legs off to get new bushings....

Yesterday I got my rebuilt lower legs back from Advanced Cycle Machining in Wisconsin, they put in new bushings and align reamed to fit new 16" over tubes from Frank's Maintenance and Engineering in Illinois (Forking by Frank's). I've had a 40 year relationship with the folks at Frank's, good people!.......

My original tubes were also 40+ years old, and were a bit worn, and were also from Frank's. there was just too much wear on the lower portions where the sliders ride. Mostly that's from a home job I did way back when I attempted to replace and hone the bushings to fit the new tubes myself. It can't be done properly without an align reamer specially designed to line ream both the upper and lower bushings in the sliders to fit the tubes.......

After I stripped down my old 16" over legs, I thought I'd show what I had done way back when to get it to perform and handle decently. Originally these extended tubes come with a spacer to use the stock springs in them. But with a long front end like this the weight on the wheel, and the rebound effort on a 45 degree raked fork, is much lighter then on a stock fork. So I used two sets of springs, kept one stock length and trimmed the other down until I got a spring rate that I liked for this bike. I ended up shortening the upper spring, a little at a time, quite a few times, and then adding a spacer until I got the spring length, and the associated spring rate, and the amount of preload, just right for me. The lower spring currently measures no-load 19-3/4", the upper spring measures no-load 14-3/4", and I have a 3" steel spacer on top of that for the preload.

The 16" over tubes measure 36-3/8" long.

Here's an overall shot of the layout, the piece of paper in the spring is where the lower and upper springs meet.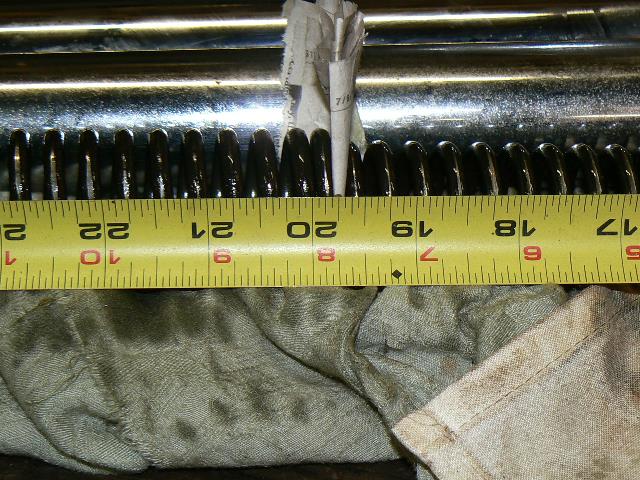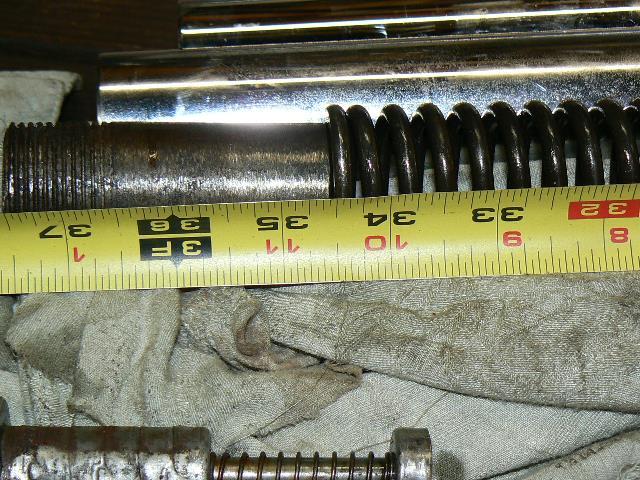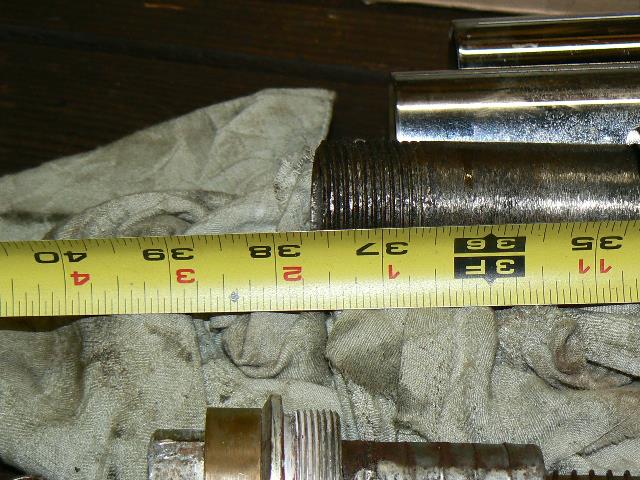 I pulled apart the fork dampners, there was some corrosion due to moisture that had gotten into the forks. They cleaned up pretty well, I think they will be just fine.....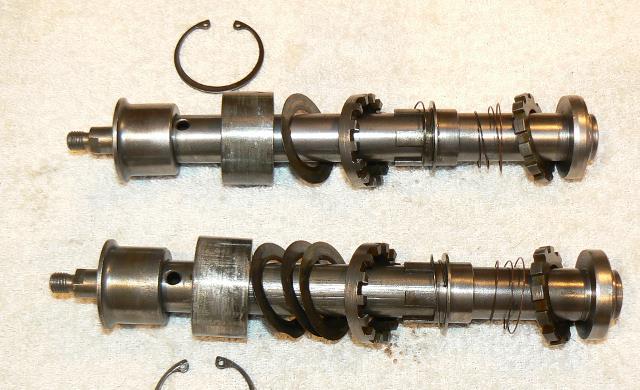 I also had found that I needed a lighter oil in these forks in order to get the compliance working the way I wanted. I used automatic tranny oil, that seemed to work just fine for this setup.

In 1975 I shipped this bike from Maui to San Francisco, and did a 6,000 mile ride, staying along the coast highway up to Canada, across Canada by way of Jasper Park, through Edmonton, worked my way over to Winnepeg, then down into the States, Milwaukee, Chicago, Nashville, then west, hitting Des Moines, Salt Lake, Reno, and back to SF to ship the bike back home. The bike ran perfectly the whole way.

This front end handled just fine all the way on that trip, it only would top out hard on really bad pot holes. On the highway at 70, 80 this bike cruises very nicely with a 25 tooth sprocket.

Thought you might like to see some shots from the shop I'm working at, my '55 blown Olds powered gasser is in this same shop.....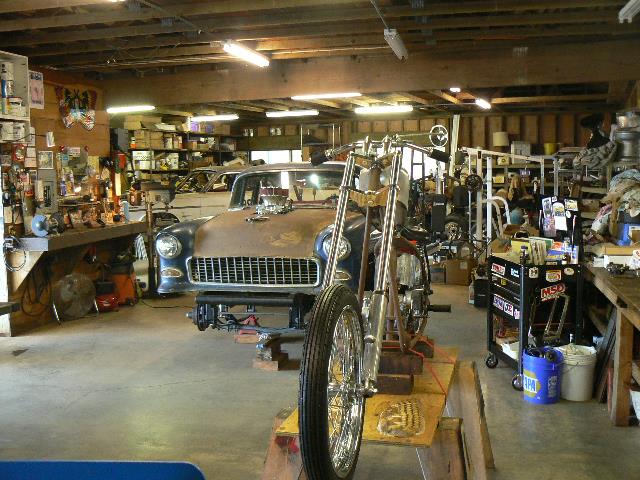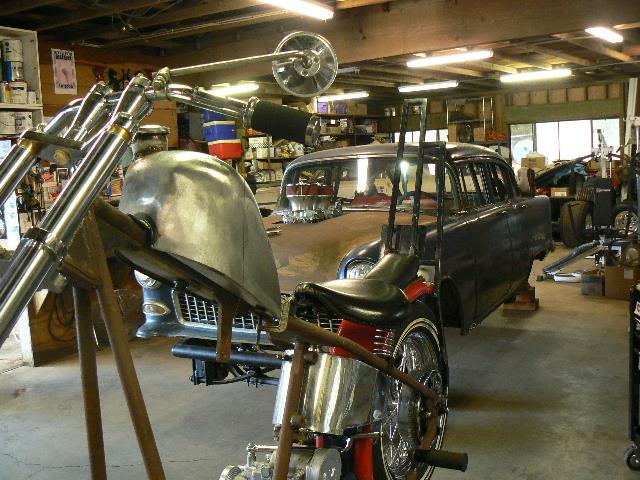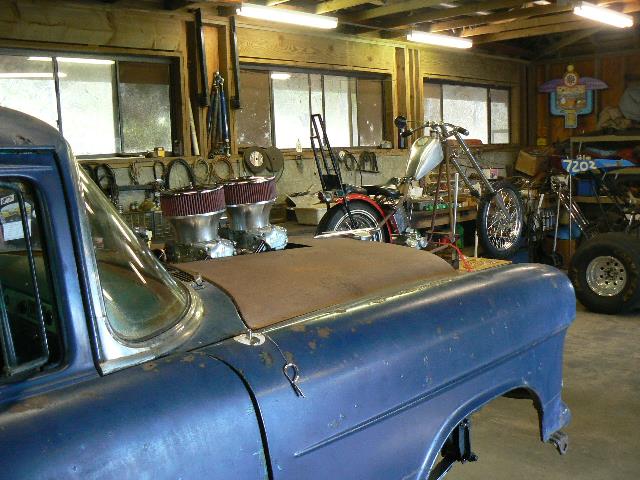 More later......

Here's some links to more pix:
Some History ........ and ...... First Try Setting Up The "New" Frame (Page One).....
Moving Parts To The New Frame (Page Two)
More Moving Parts to the New Frame (Page 3)
Let's Get This Show On The Road! (Page 5)
Splittin' The Cases, Bottom End Rebuild (Page 6)....
Gettin' That Motor Together.... (Page 7)
Home Pages:

Home of the CoffeeCup HTML Editor