2Loose Willy's '62 Chop Gettin a Rebuild ..................... (Page 6)

UPDATE #2 (for this page).....

Yup, those lifter block gaskets didn't look too good with that sealer on them, but they cleaned up nicely....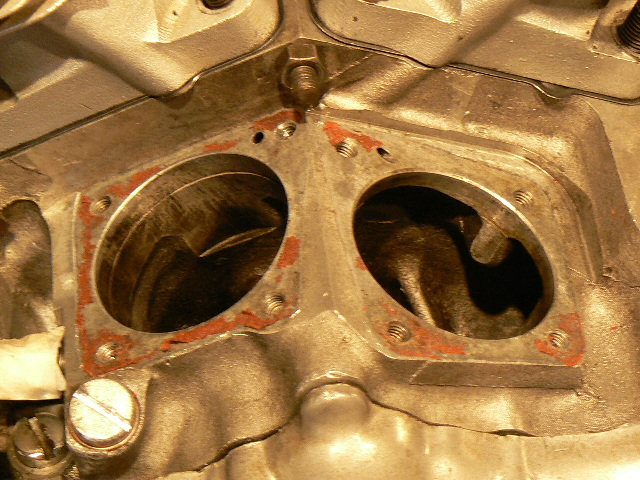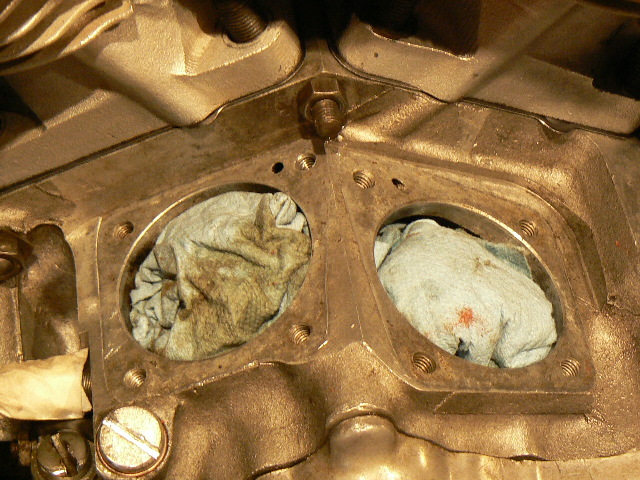 Too much loose red sealer, any of it could come loose and cause problems with the oiling system, not a good thing!!!

But it cleaned up nicely.....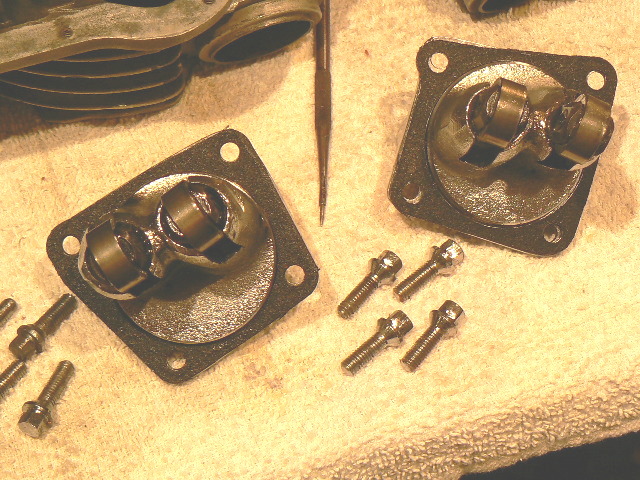 Fitted the pistons on without rings and dropped the base gaskets on and the jugs, the piston fit in the cylinders is perfect!

I even managed to drill a 3/32" hole for the front lifter block so the outer pushrod oil will drain properly....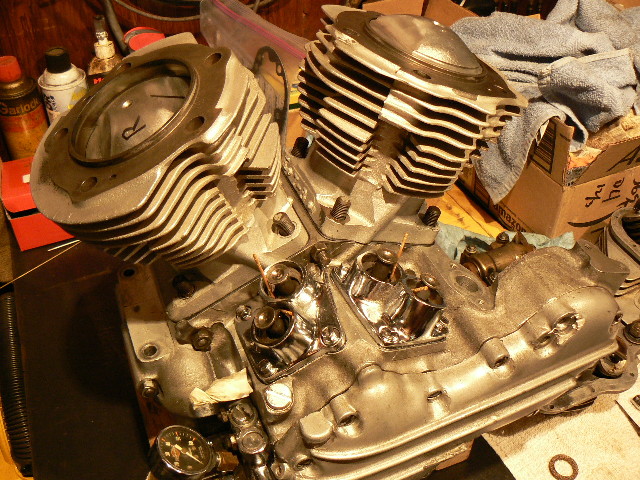 Earlier I had rebuilt the heads, seats were good to go, new valves, guides and springs and retainers, seated the valves properly and we're gettin' real close to startin' this old gal up, first time in over 20 years! But I rode 'er every day for well over 20 years before that!!!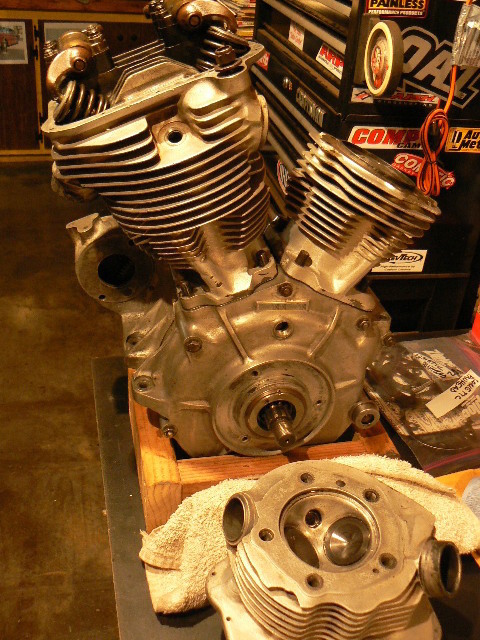 I bought these pan covers from AEE, an old biker supply house back in the sixties. Think I'm just going to get them real clean, and put some high temp clear coat on 'em, let 'em show their age, they've earned it.....

The pushrods covers too....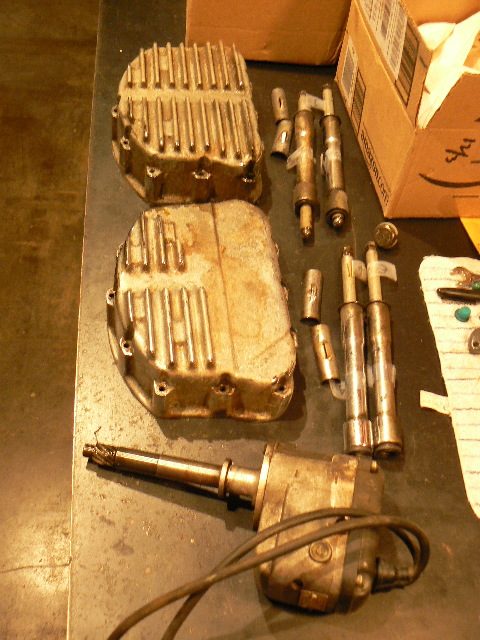 Now I will check the end gap in the new rings, and file to fit if needed, and put it together....



UPDATE #1 (for this page).....

Timing side was in good shape, the idler gear had a bushing in it that was worn more than I like, it was replaced. I put in a new cam. Andrews J grind. New cam bearing. Main bearings and rod bearings all good! Flywheels were slightly out of true, straightened that out. Rods were slightly bent, which I think was causing the unusual wear pattern on the piston skirts. straightened that out, rods are straight and centered now.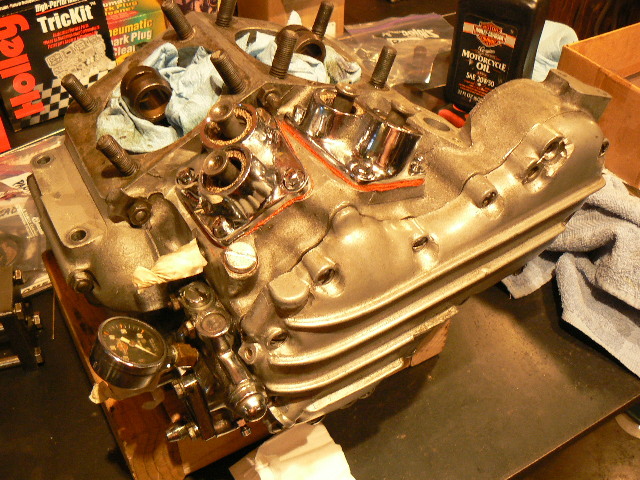 There's a bit of a mystery here though, the rear lifter block has two oil drainback holes, one for each pushrod (see toothpicks), but the front lifter block only has an oil drainback hole in one side (intake?), but not for the other pushrod....

I wonder if that's why this area of my motor was always so messy? I was always cleaning it up during the 20+ years I had this bike on the road, always thought it was the gasket under the lifter blocks....



First Post for Page 6......

OK, Got a wear pattern on the thrust sides of the pistons that doesn't look good (see page 5), indications are that something is moving around down below more then it should, most likely the rod bearings, but gotta split the cases and find out.....

The flywheels could be a little out of alignment also, causing that sideways thrust pattern on the piston skirts....

I was hoping I wouldn't have to do this, but I want this bike, a piece of our family's history, running smooth for many more years, all three of my sons and my son-in-law are gonna be sharin' the old man's bike and ridin' it for many years to come after I'm gone....

I've been away from this project for a bit, working on a 55 Chevy gasser and a 55 Chevy 4x4 pickup, but finally got back to this the other day and split the cases, had some problems doing that, as the cases have never been split while I've had this motor, 44 years now, but finally got them apart and took the flywheels to a buddy who can check them out, put in new rod bearings, and get them properly aligned....

Meanwhile I'm scrubbing the cases clean in the solvent tank, checking out the timing side gears for wear, and might do a bit of polishing on the cases....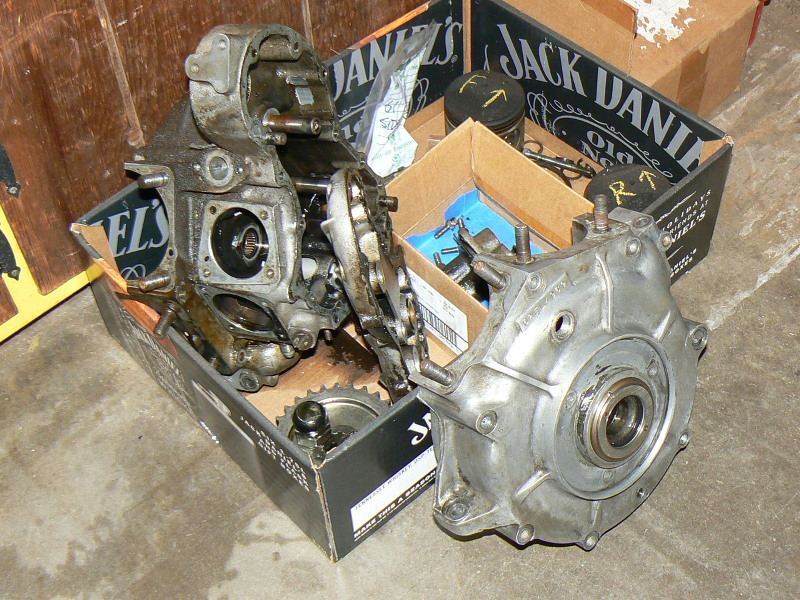 I'm also checkin' out my old Joe Hunt mag to see if it can still shoot some fire.....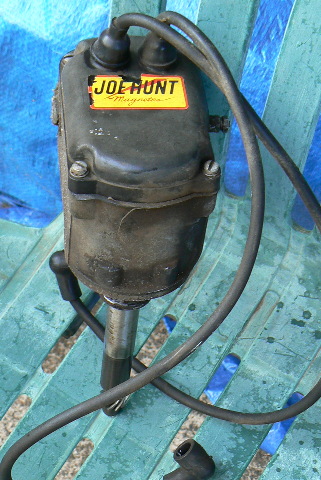 That's gonna need some careful scrubbing in the solvent tank too, a bit grimey lookin' there........

More later......

Here's some links to more pix:
Some History ........ and ...... First Try Setting Up The "New" Frame (Page One).....
Moving Parts To The New Frame (Page Two)
More Moving Parts to the New Frame (Page 3)
Rebuilding The Front Forks.... (Page 4)
Rollin' Chassis, Trial Run, Peek Inside the Cylinders (Page 5)......
Gettin' That Motor Together.... (Page 7)
Home Pages:

Home of the CoffeeCup HTML Editor