2Loose Willy's '62 Chop Gettin a Rebuild (Page 5) .....................

Starting to put all the final pieces together..... Pulled the old motor out of the old frame after a session with a pressure washer....

Most of the old chrome on those old pan covers came off in bits and pieces.....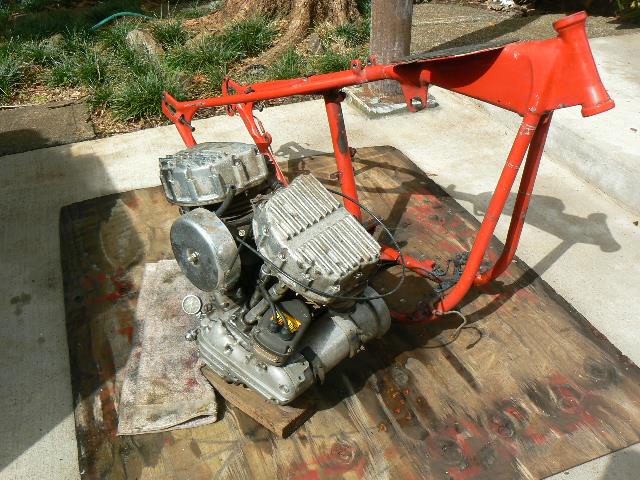 My old front foot rests/crash guards would not fit the "new" frame, the "new" frame it turns out is 1-1/4" wider than the old frame.....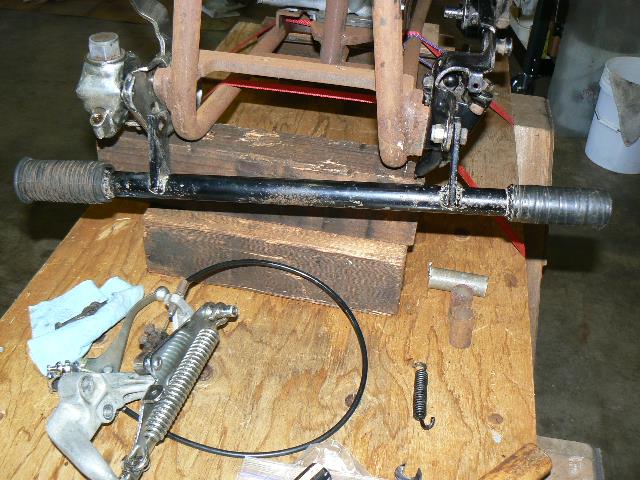 So I whacked it and cut a piece of heavy wall pipe to widen it. Not solid rod like the old piece, but it will work ok....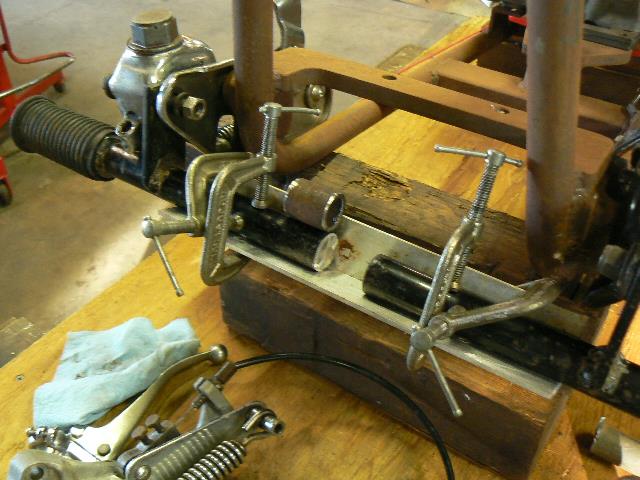 It's a done deal....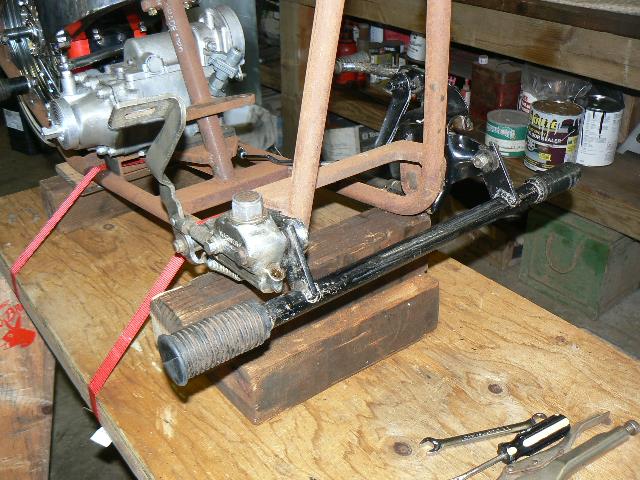 Needed to check out the kickstand, if it needed any custom bending here and there, so we had a few beers and unloaded the bike down from the bench....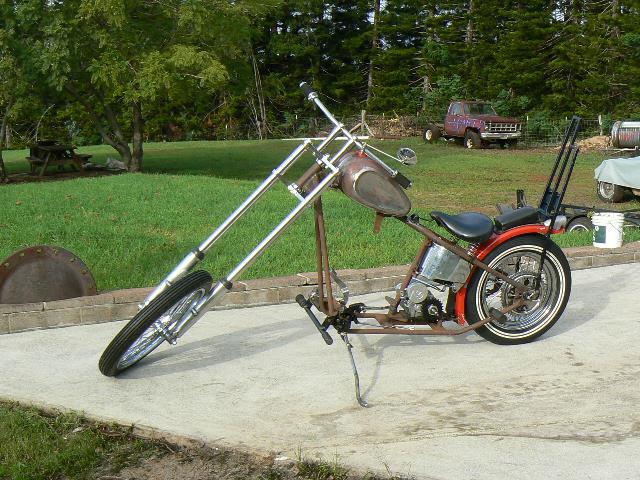 Kickstand looks good as it, the bike setup feels good, need to get the motor in there and go for a ride to really check it out....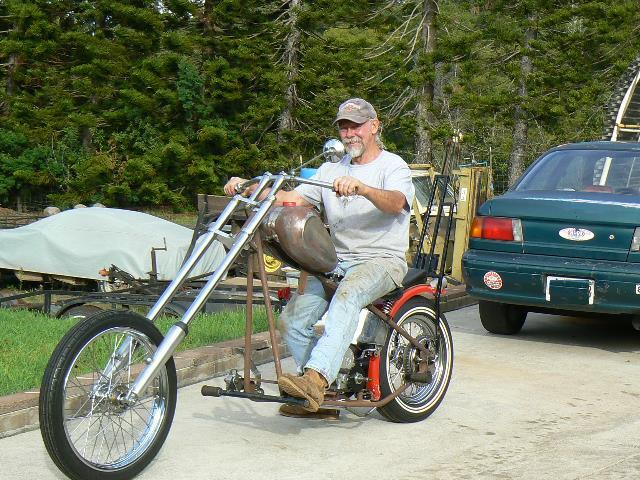 We pushed it around the yard a bit and it feels just like the old bike, but I can feel the lower center of gravity already, need to get the motor in there, as that will really be the true feel.....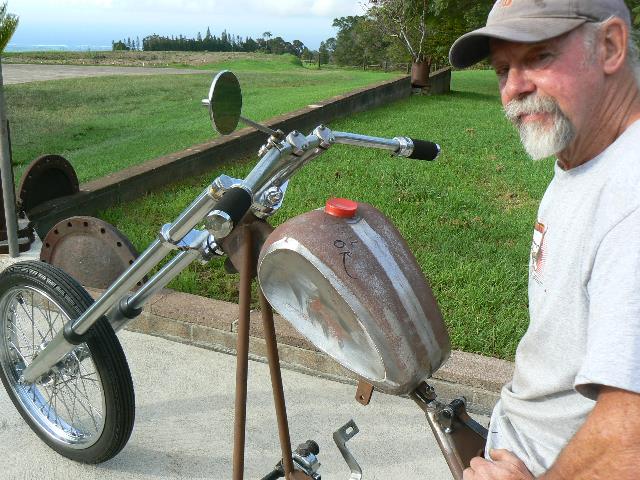 Found this set of handlebars in a junk pile, shortened them a bit and tried them out, think they look pretty good.....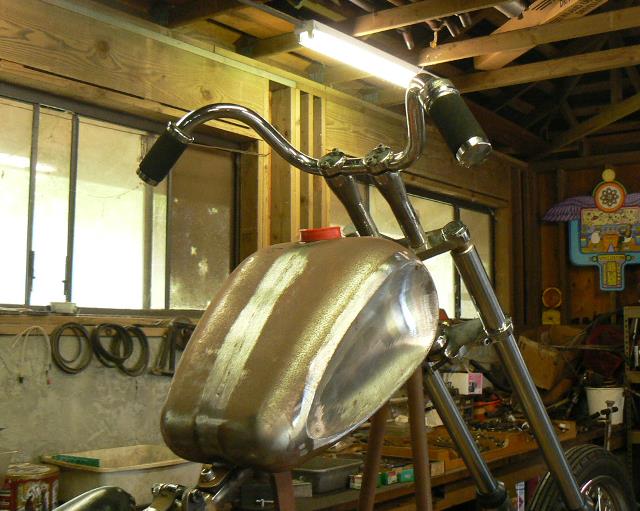 Another shot....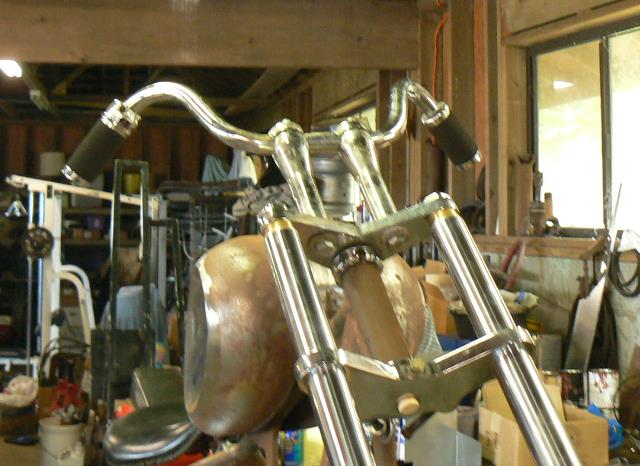 UPDATE:

Pulled apart my '62 pan motor, first time it's been apart in 40 years, have been trying to clean it up, and the black crap baked on the cylinder fins and heads is really stubborn!

Have tried gasket remover, and oven cleaner, with limited success, scrubbing with a wire brush with the oven cleaner gave the best results, but can't get in between the fins with the wire brush to thoroughly clean it. Maybe if I could find a smaller wire brush that would fit down between the fins........

I had those barrels metal sprayed with an aluminum finish in 1970, it has lasted well all these years, but as the motor aged and has some small leaks here and there, if I didn't keep it scrupulously clean it got baked on! Parked this bike in '92 with tranny problems and lots of leaks, but now that I am restoring the '62 (slowly, and carefully), I am trying to get the jugs, heads and cases really sparkling clean! Not polished, that's not me at all, just clean.....

Am hesitant to do a glass bead job, which I am sure would clean them up, but might also take off that metal spray finish, which I want to keep!

The jugs are 0.050" over bore, and I can't find more than 0.001" taper in the cylinders, and there is no ridge to cut, so am just going to hone, put in new rings, do a valve job, and go with it! The bottom end is solid! Been running a .468 Sifton solid cam all those years, just going to leave it and see how she runs!

Always ran AeroShell straight 50 weight, and always warmed up the motor before getting on it, it paid off, the motor looks great inside!

And yes, that broken top fin on the front barrel has always been there for the 42 years I've owned this bike....
Tried some gasket remover, to see what it could do....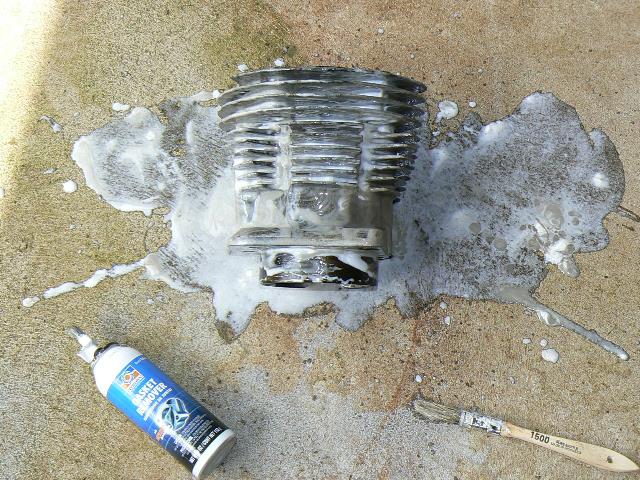 It helped a little, but I'd like to do better....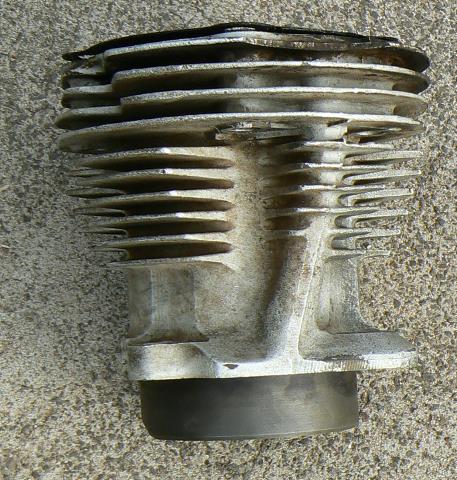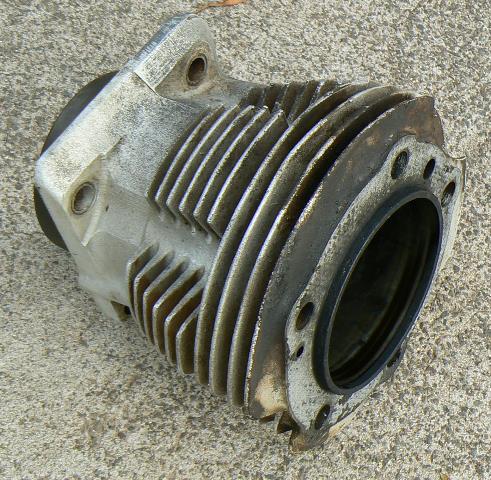 Here's some piston pix, lots of carbon, I suspect from fuel, as the old Linkert always ran rich, always seemed to run best that way, didn't run so good and ran hot when I tried to lean her out....

I suspect I can learn more about how to tune this Linkert, or run another carb, the Linkert might just be worn out....

Front piston, front side....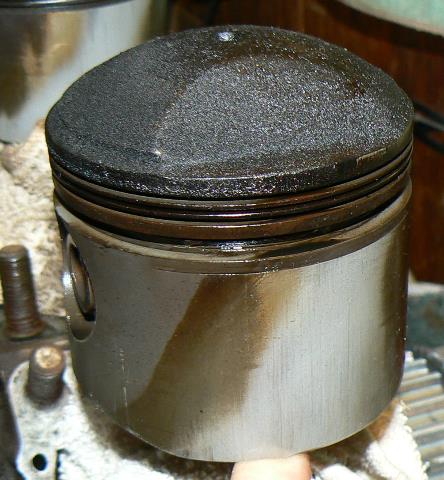 Front piston, back side....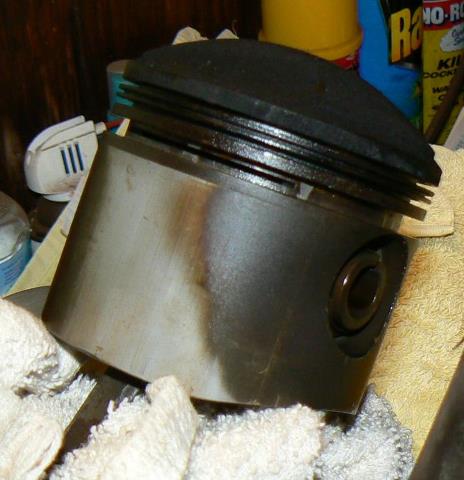 Rear piston, back side....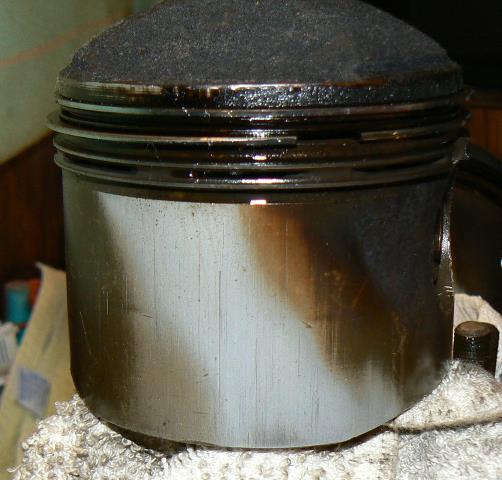 I don't like those wear patterns on the thrust surfaces of the pistons.... indicates bottom end wear is a bit excessive. I could put it back together and it would probably go many, many more miles, but it could get much worse and fail completely!

Could be just rod bearings worn, but flywheels could be out of alignment, could be a lot of things, just need to split the cases and check it all out.......

I'll start a new page for that work....

Now I gotta remove those pistons and try to clean them up....

A session with more oven cleaner on the barrels, and scrubbing with a stiff wire brush, wearing rubber gloves, eye protection, and trying not to inhale any of the fumes or mist, and the barrels came quite clean, I'm happy with them now....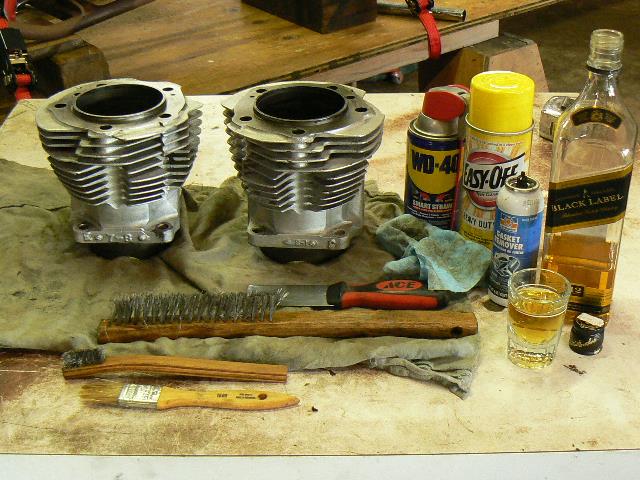 Here's the bike, ready for the rebuilt motor, man I'm itchin' for a ride, a long one, gotta get this baby back on the road.....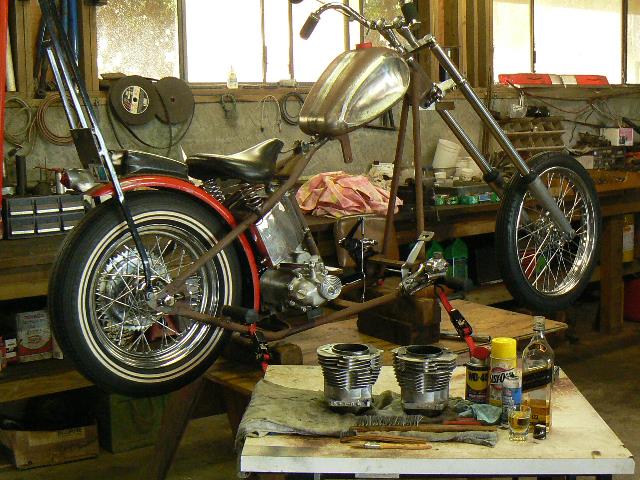 Had to haul out my buddy Johnny W. for a little toast to the cleaned up barrels....

More later......

Here's some links to more pix:
Some History ........ and ...... First Try Setting Up The "New" Frame (Page One).....
Moving Parts To The New Frame (Page Two)
More Moving Parts to the New Frame (Page 3)
Rebuilding The Front Forks.... (Page 4)
Splittin' The Cases, Bottom End Rebuild (Page 6)....
Gettin' That Motor Together.... (Page 7)
Home Pages:

Home of the CoffeeCup HTML Editor